Following our day in Princess Cays we had a day at sea before arriving in country number 80. Falmouth is on the north coast of Jamaica between Ocho Rios and Montego Bay and is the capital of the Trelawny parish. A regular stop for cruise ships it is the birthplace of sprinter Ben Johnson and footballer Luther Blissett.
Jamaica gained independence from the UK in 1962; the first Caribbean country to do so and has a population of around 2.9m of which only about 30,000 are Rastafarian. I thought it would be more. Jamaica is the third biggest island in the Caribbean at 4,244 square miles or a similar size to Cyprus. The country has three counties – Cornwall, Surrey and Middlesex and is subdivided further still into 14 parishes. Well known for sending the first bobsledding team from a tropical country to a Winter Olympics in 1988, a lesser known fact is that Jamaica has more multiple births than any other country. The country has no venomous snakes, Ian Fleming wrote all of his James Bond novels there and the hotel brand Sandals was started in Jamaica by Butch Stewart in 1981.
I went on a tour with Leslie, one of the California 3 to arguably the number one tourist spot on the island, Dunn's River Falls. Located about an hour from Falmouth to the east nearer to the popular resort town of Ocho Rios, meaning eight rivers, the falls lead directly to the sea on which is where our adventure began.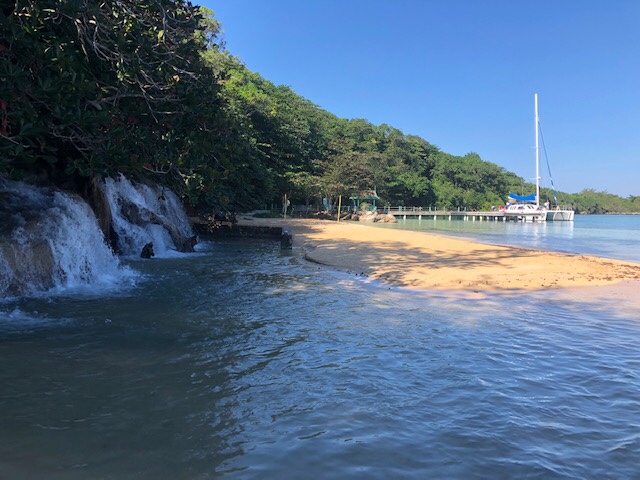 20 of the singles group were on the tour which made things different. Normally the tours are made up from a mix of people around the ship most of whom you probably haven't met yet, but we all knew one another which made it rather more enjoyable from the get go.
I wasn't sure what to expect other than we might get a bit wet. Soaked would have been a better description. For those who haven't done the trek, we all walked down to the beach where the falls finish and slowly start ascending in human chains. The water moves quickly and the rocks can be slippery hence the safety but I soon realised that going off-piste wasn't a problem or indeed a contravention of any health and safety guidelines. The climb must have taken us about 90 minutes and it was the best 90 minutes since Arsenal beat Spurs last weekend. Absolutely wonderful experience. The course is only 600 ft in length and rises 180 ft. The falls are made up of a natural stone terraced staircase with fresh pools along the way for those who aren't wet enough. Leslie and I had a terrific time – she's great company.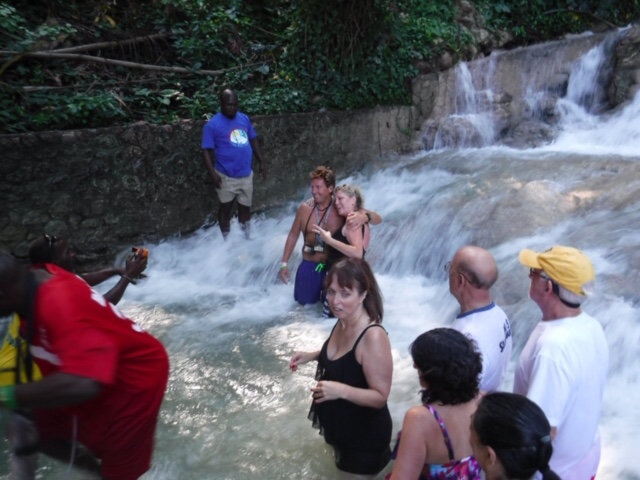 We lunched in Ocho Rios and she proved a bad influence on my abstemious intentions. By the time we got back to the bus we'd had a fair amount of rum and then of course we had to have bus rum too.
Back on board I needed a nap before meeting the rest of the singles crowd for our usual 6 pm rendezvous. In the evening I came tantalisingly close to winning the blackjack tournament only to be thwarted by a loud mouthed Japanese American who also won biggest arsehole on the ship. He won 500 bucks.
One of our singles, let's call him Dr. Bob, went out and found some pleasures of the flesh with a local lady who provided him with a menu. He was very pleased with his day. I must admit I expected more from an orthodontist from Utah.