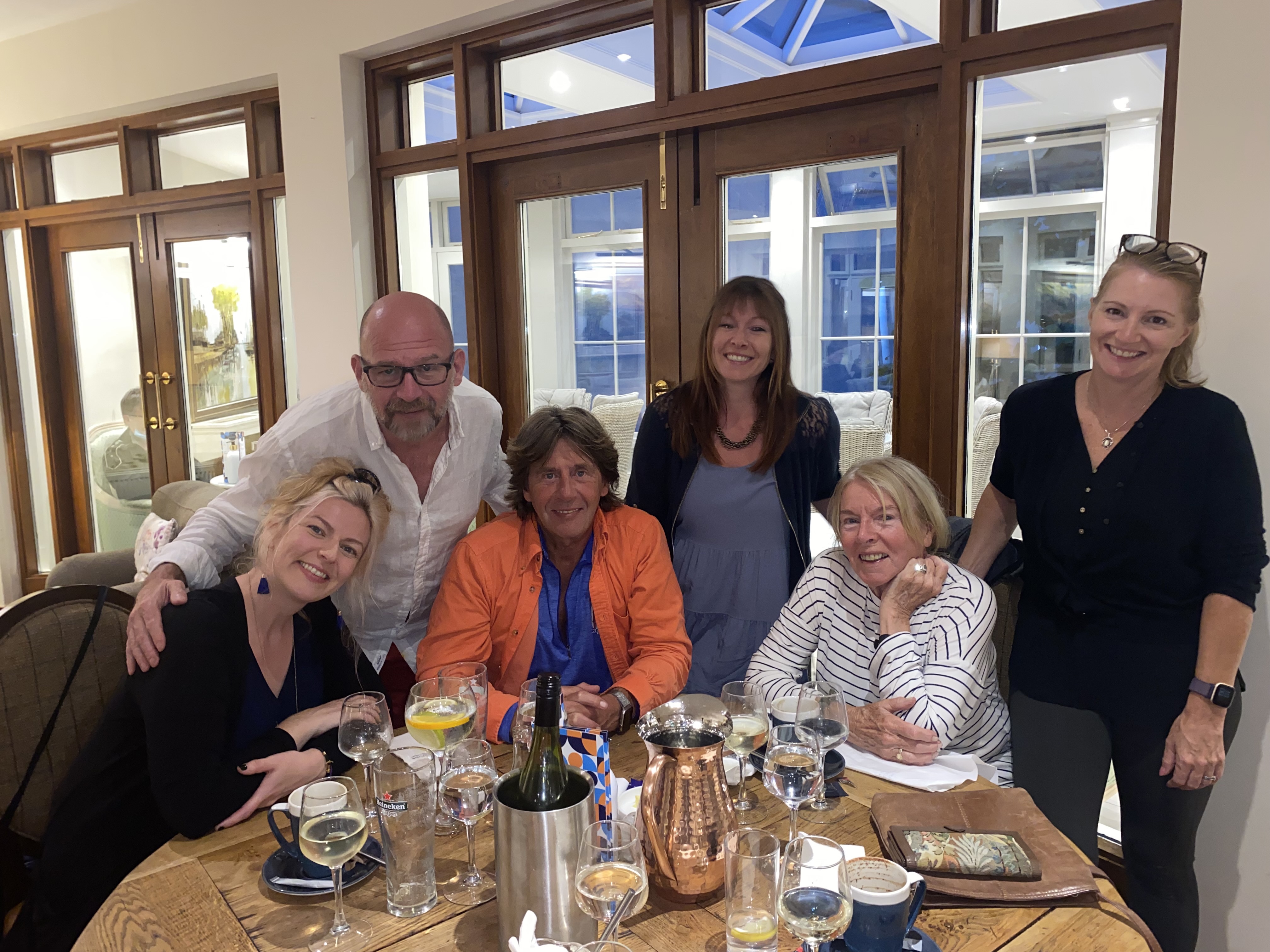 We descended into Dublin on three separate flights, for a 3 night jaunt to Ireland in celebration of some sort of milestone.
Gatwick was heaving with newly released school kids and the security queue was intimidating. I then saw a priority line, normally reserved for those with a better class of travel, offering a fast track, for six quid each. It was a no-brainer, so five of us skipped about 40 minutes of queueing time.
Matt was there to meet us at Dublin Airport, as we debarked the Aer Lingus and Ryanair flights, which landed within 20 minutes of each other.
I left the others to pick up the rental car. It was meant to be a Ford Galaxy or similar. When I arrived, she told me it was a caddy. I thought she meant Cadillac which excited me no end. It turned to be a Volkswagen Caddy. I felt cheated. I was forlorn.
We piled in and headed west from the east side of Ireland all the way to Westport in the west. There's a clue in the name.
The Purple Onion was our chosen lunch spot on the River Shannon. My first mistake was having a beer, because it made me feel sleepy for the rest of the drive. I was the only one on the insurance, and with some "dodgy drivers" in the family, I had to carry on regardless. A pit-stop for some Lucozade did the job.
We arrived in Westport, supposedly the prettiest town in Ireland, and checked-in to the Westport Hotel for two nights. For Ireland it may have been "pretty", but it didn't live up to its billing in my opinion. However, things improved greatly when I landed in my room, and was delighted to find a trouser press.
We dined in a restaurant called Coveys on a round table/booth thing which was highly convivial.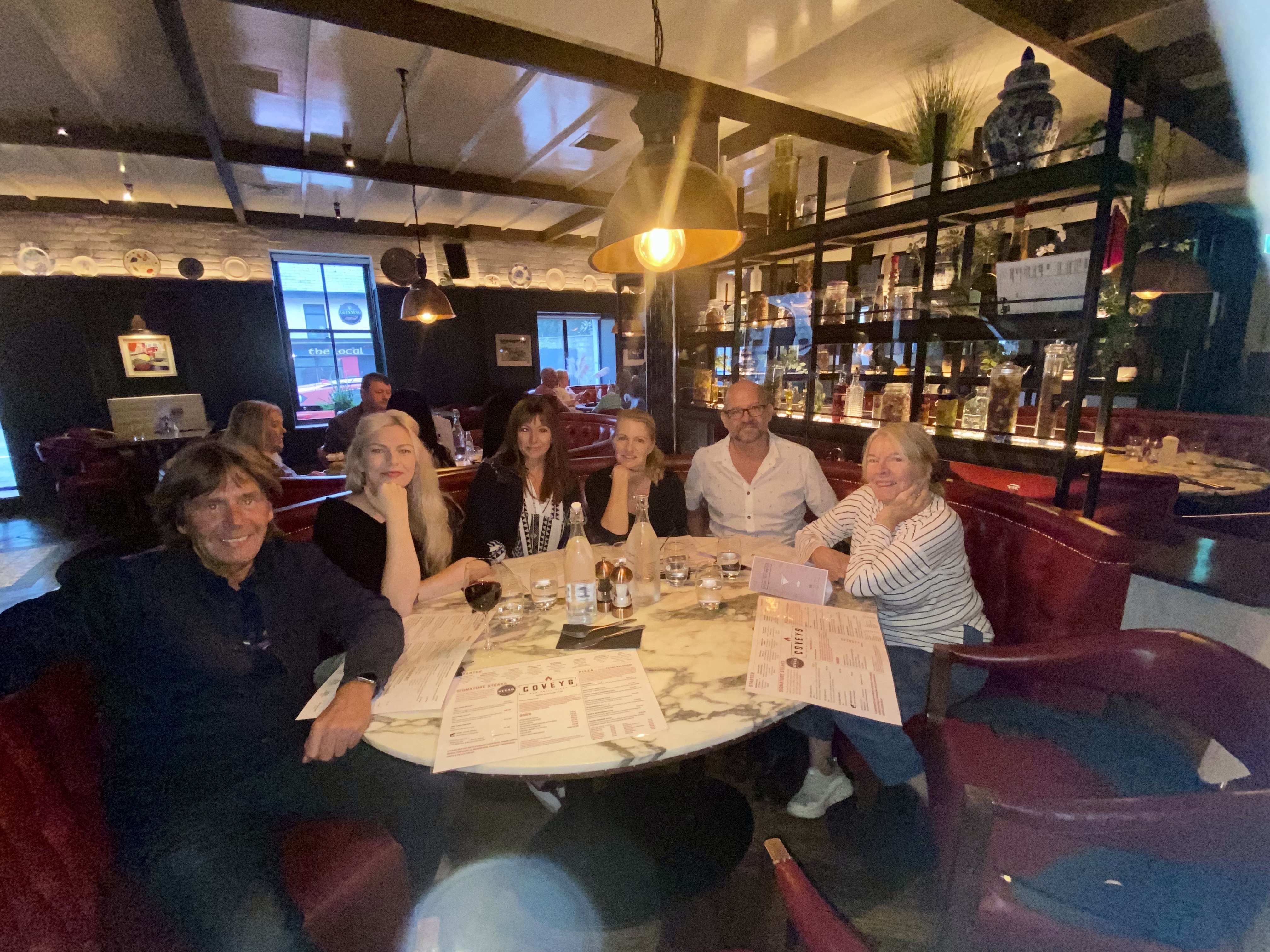 On Friday I rose early and walked the town of Westport attempting to find the reason why it was voted prettiest town in Ireland.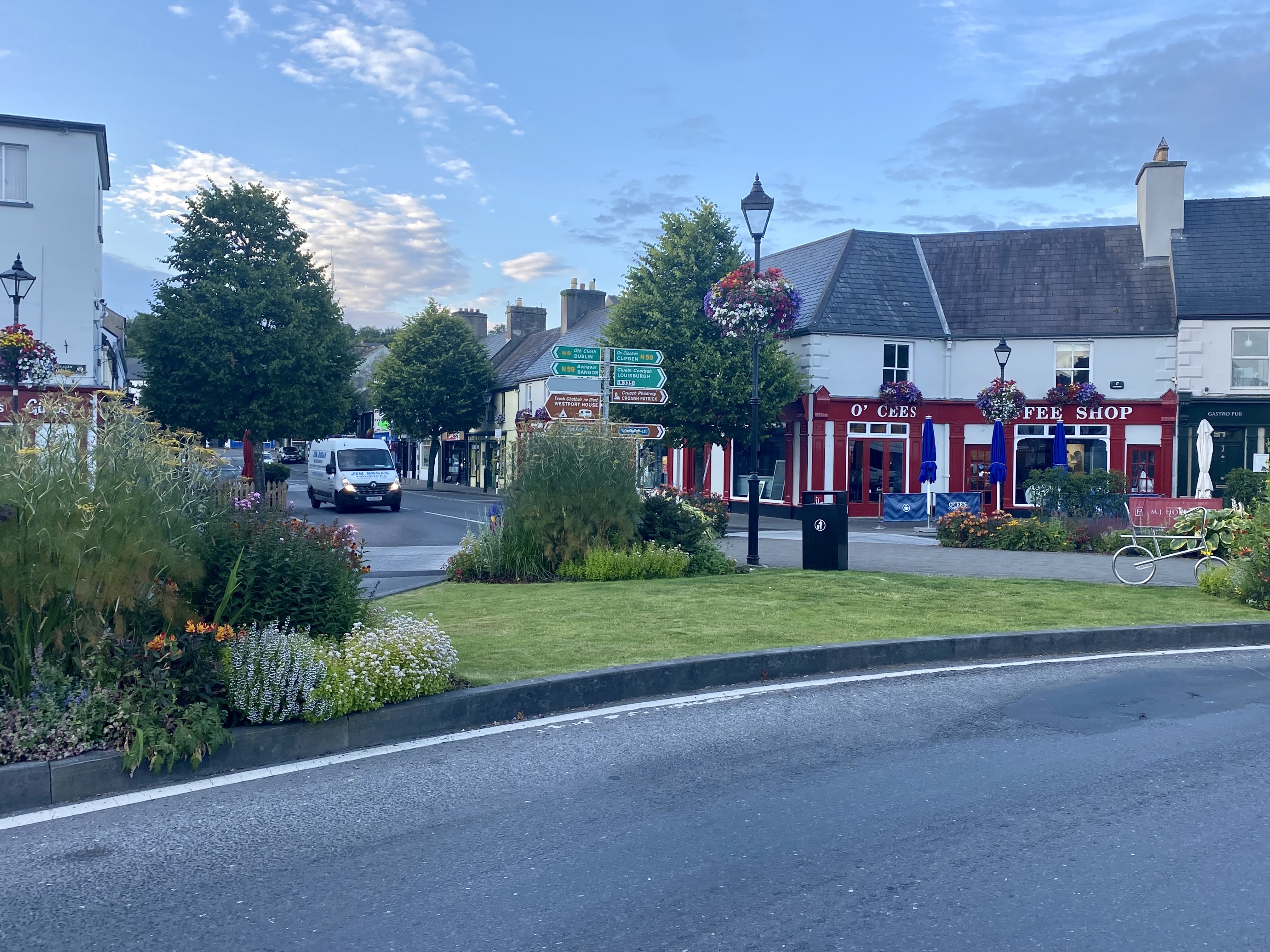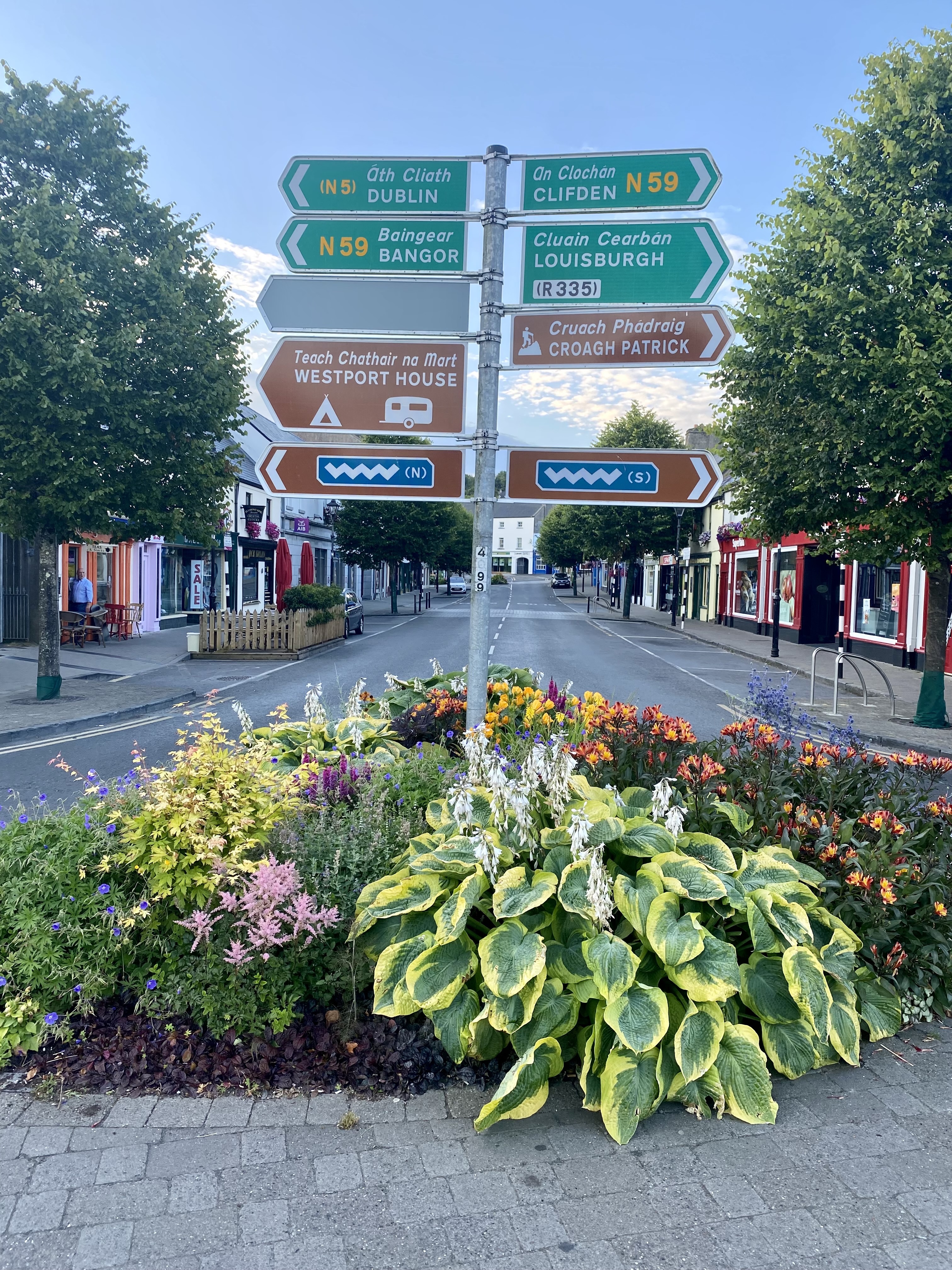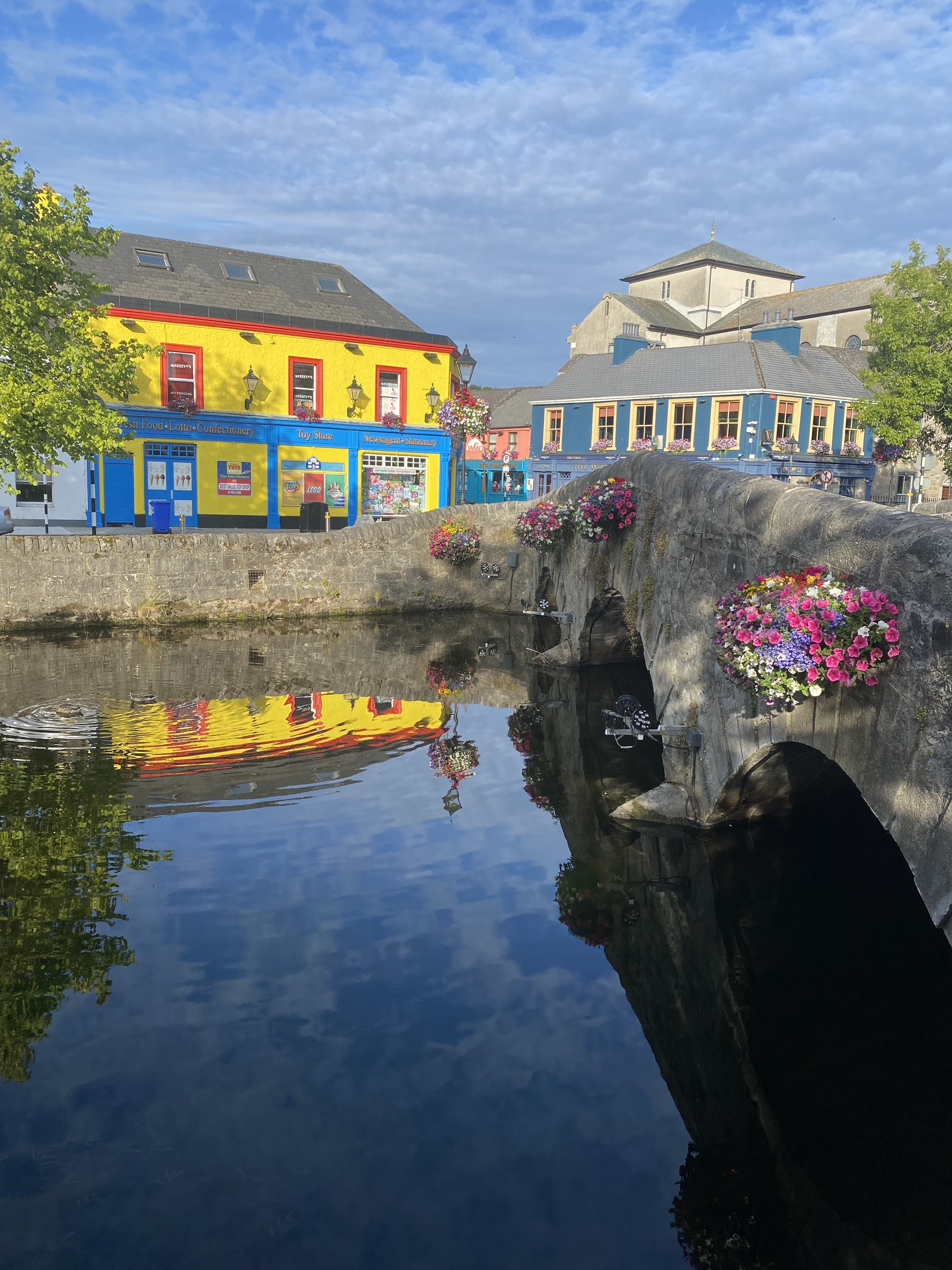 Mum, and the first tranche, met for breakfast and then headed for Ireland's holy mountain, Croagh Patrick. Laura and Caroline declined. Laura had the wrong footwear and Caroline couldn't be arsed.
30 minutes later we arrived in the rather empty car park and prepared for the ascent. It started out well enough with a paved pathway, but that quickly disappeared and we were provided with a gravel path, rocks and stone steps. At around 600ft, mum decided that she'd had enough and perched herself on an elevated grassy mound, perfect for sitting.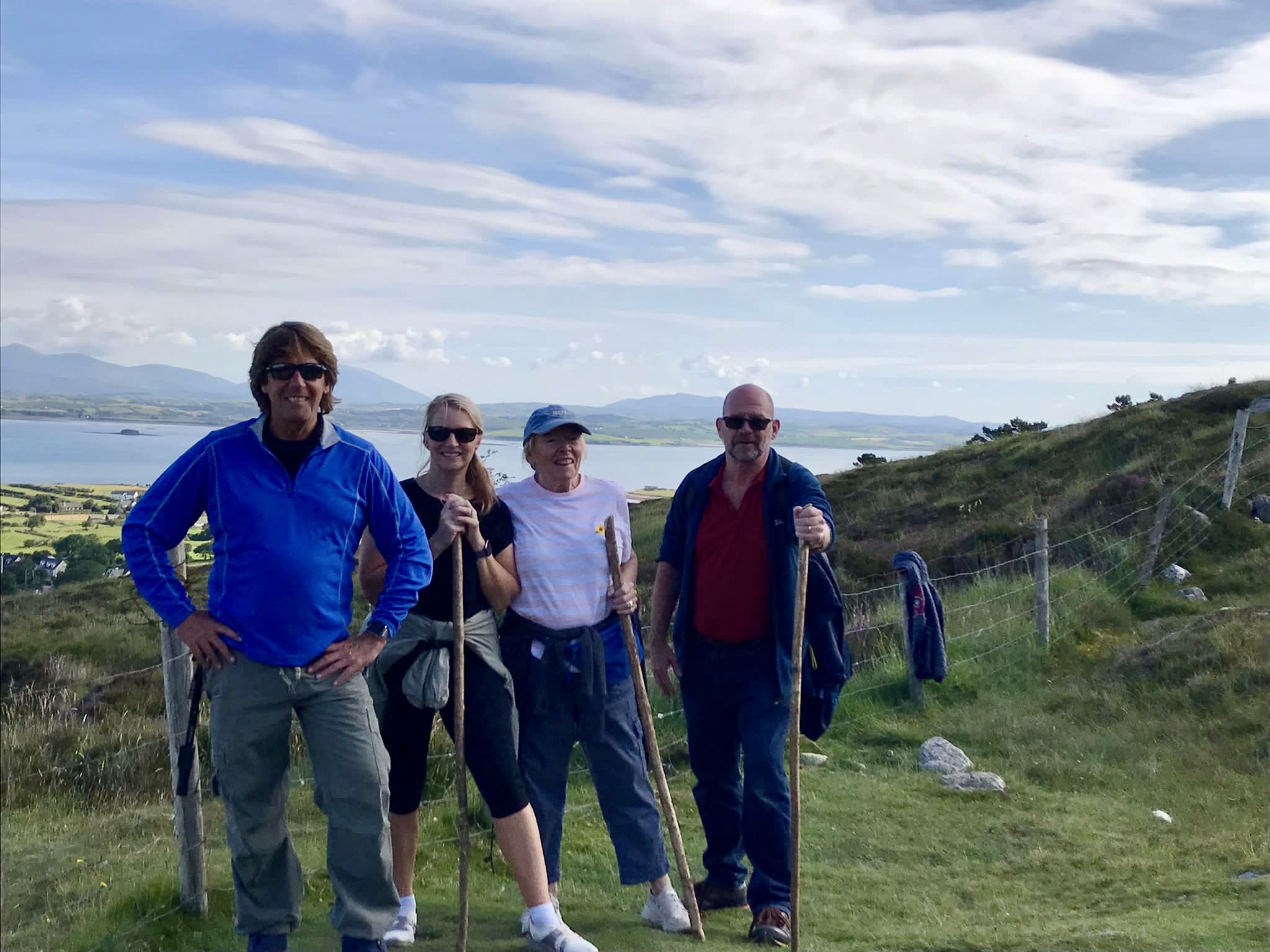 I wanted to carry on but was mindful that I was the only driver and it would be hours before I returned from the summit. Instead, I chose a target point that was visible from where we were, and headed off. Matt followed with his stick. The views of Clew Bay were magnificent.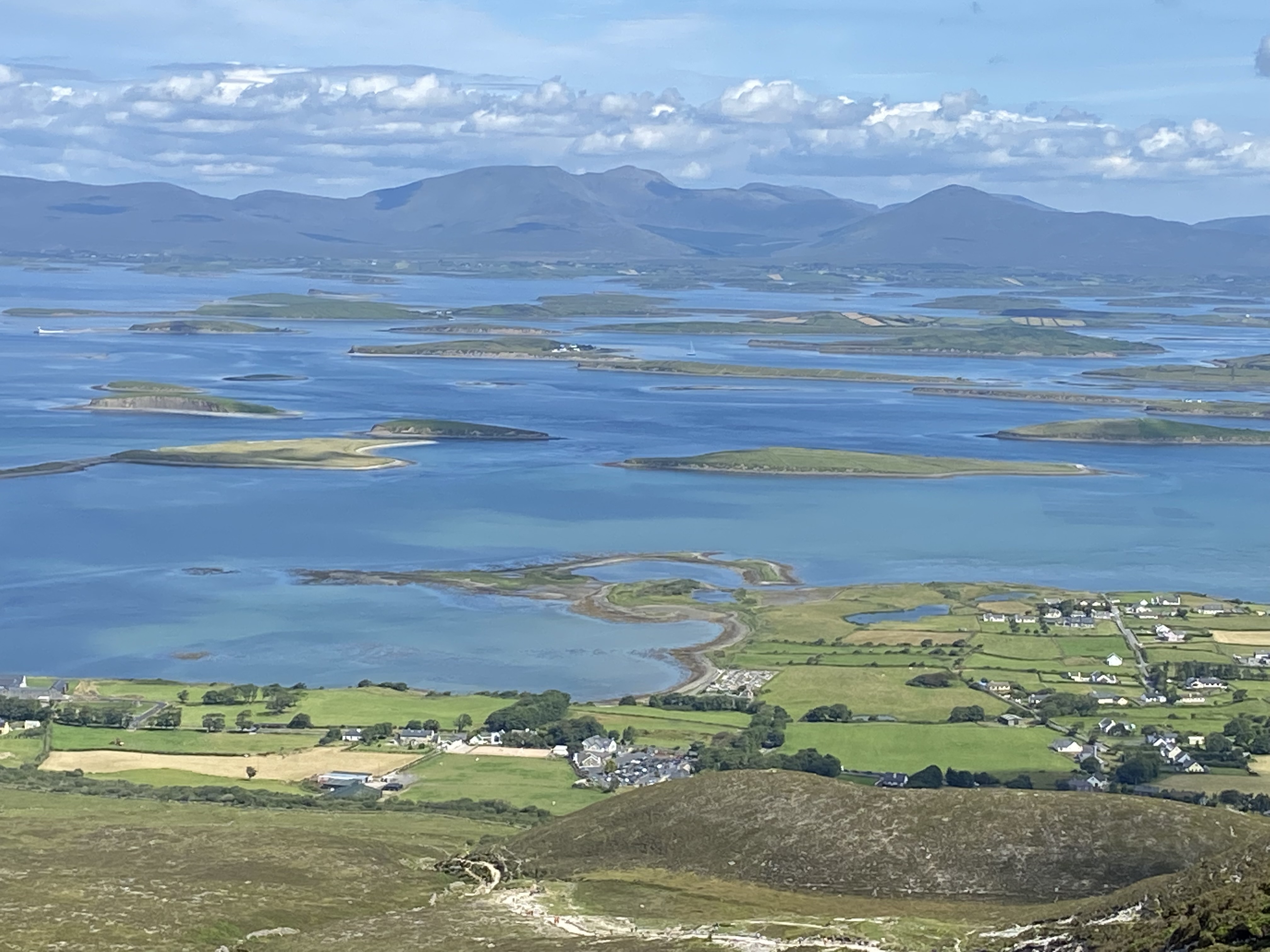 The trail got progressively worse and mum certainly made the right choice to stop where she did. I reached a plateau and Matt joined me about fifteen minutes later, at around 1450ft. The pinnacle of the mountain is some 2500ft, but I'd done enough. And of course, I had the perfect excuse not to climb to the top!
The way down was treacherous because of the loose gravel and I fell twice, injuring my thigh. My two walking poles probably saved me from more falls.
The mountain was becoming quite busy with ill-prepared walkers passing us on their ascent. People of all ages and shapes, and a number of kids. There were even some dogs going up. It was certainly a very friendly mountain with the shared adversity bonding people.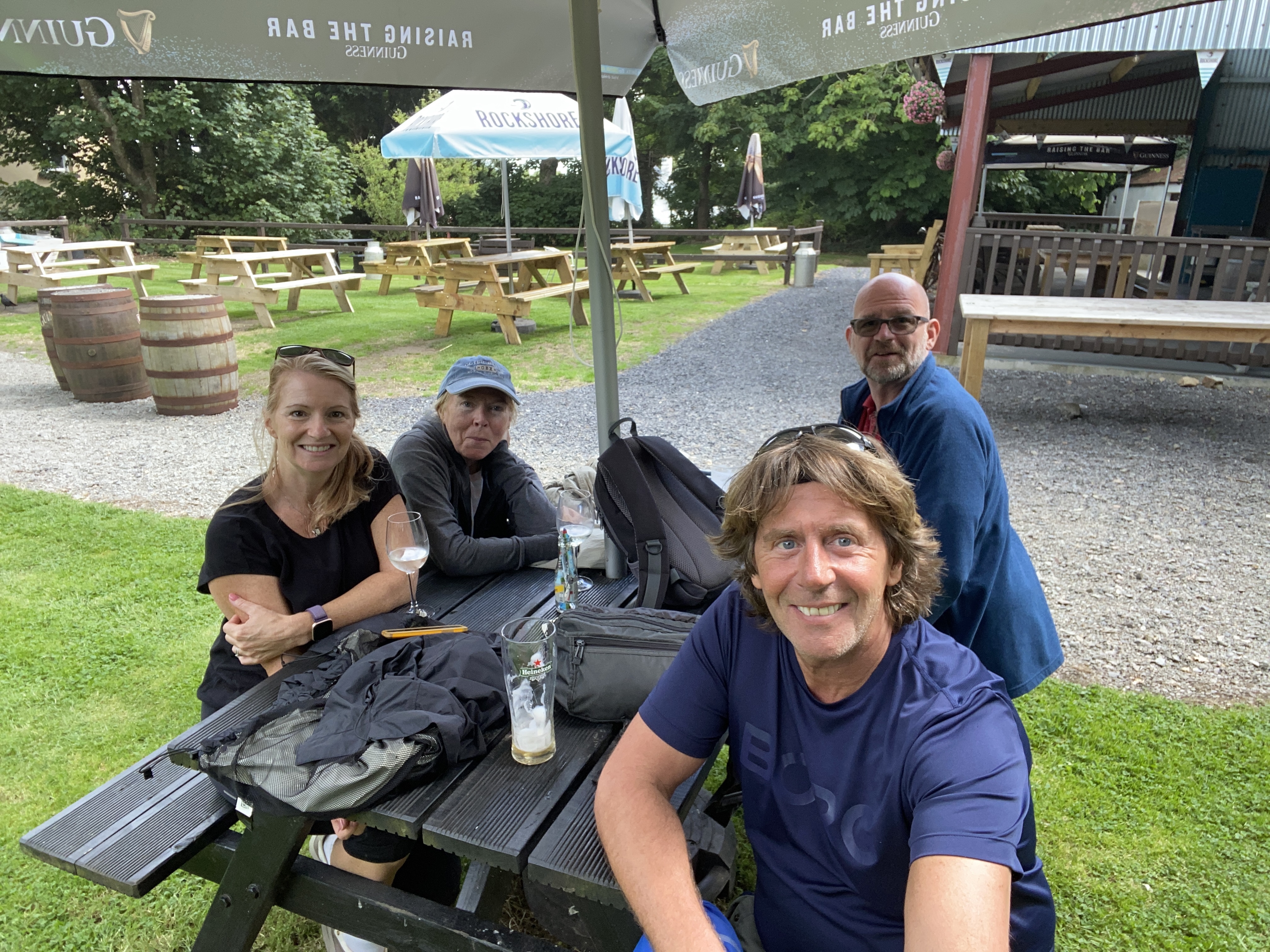 After climbing the mountain and having a nap mother and I headed to the spa. I'd signed up for the lymphatic drainage "thing", as I'd never had that, but the more I thought about it, the more unfulfilling it sounded, so I opted for Swedish instead.
Whilst mum got a cute Romanian, I got Elena, the stocky Italian with cropped hair and tattoos. She did look like she'd be useful in a bar fight though. I like to find a unique feature from every massage, and this one was no exception. At the end, while I was still lying on my back, Elena put my flip-flops back on my feet. I hobbled back to the hotel on my injured leg.
We dined in the Wyatt Hotel restaurant, a short stroll from our hotel. Another round table and a very pleasant dining experience. It was good to be with the siblings.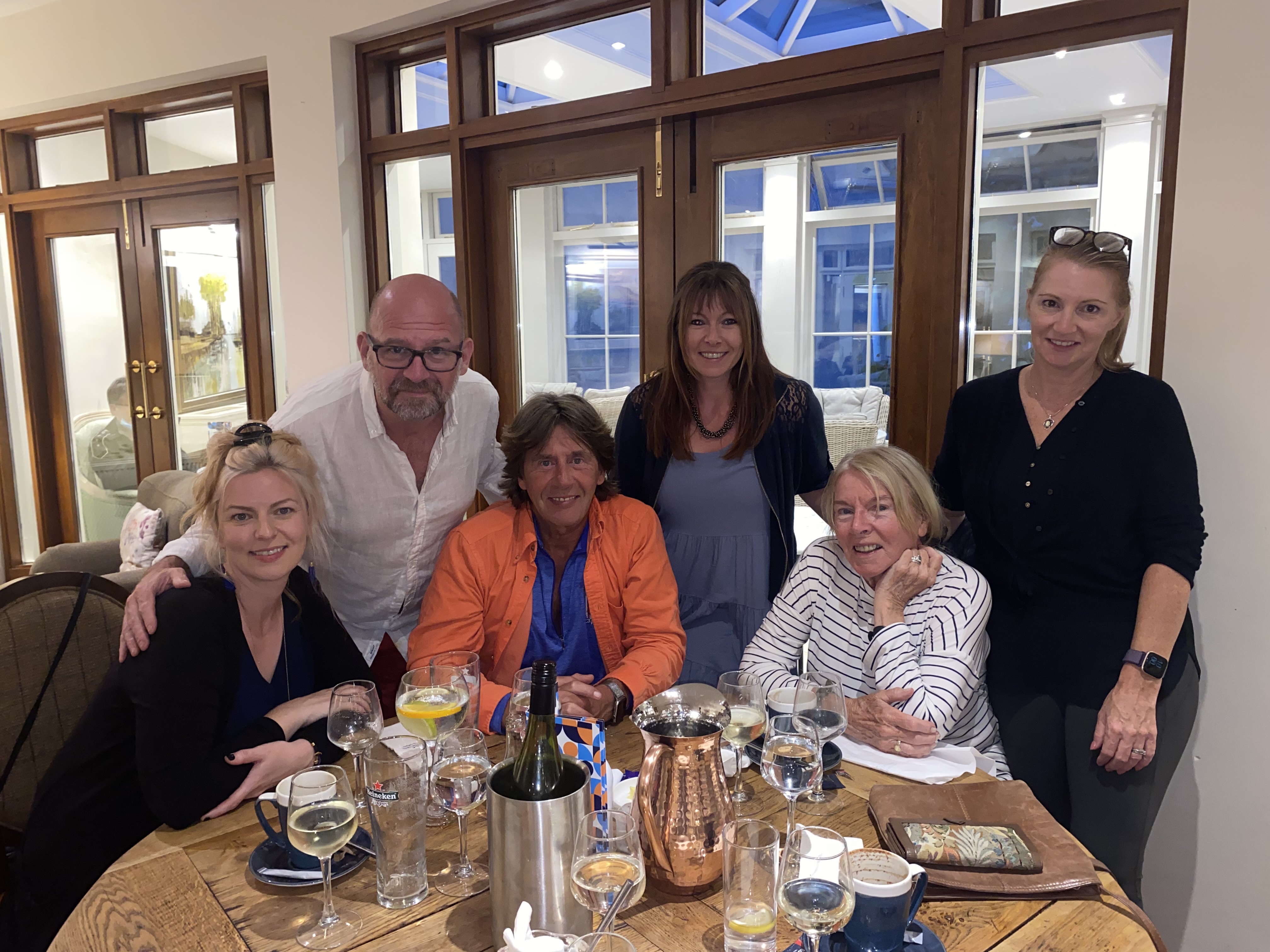 On Saturday mum, Jo and I trotted off to Westport House which was right next door to our hotel. This is one of Ireland's historic houses set in several acres. The house was very interesting and it occupies land which was previously a castle owned by Grace O'Malley who was a female pirate queen. The weirdest room was upstairs where there were 10 waxwork models sitting round a table. One of them was particularly lifelike and wouldn't stop staring at me.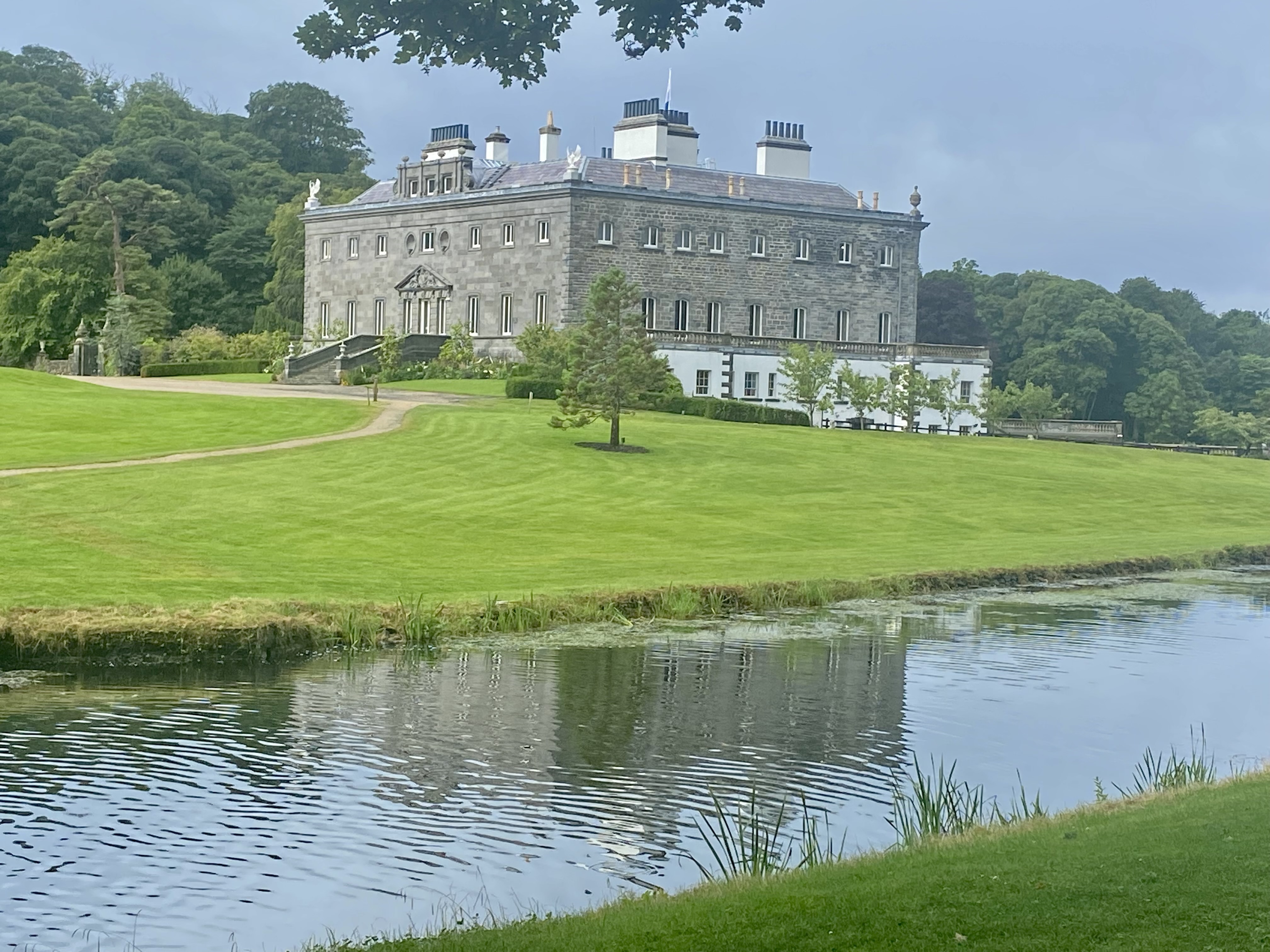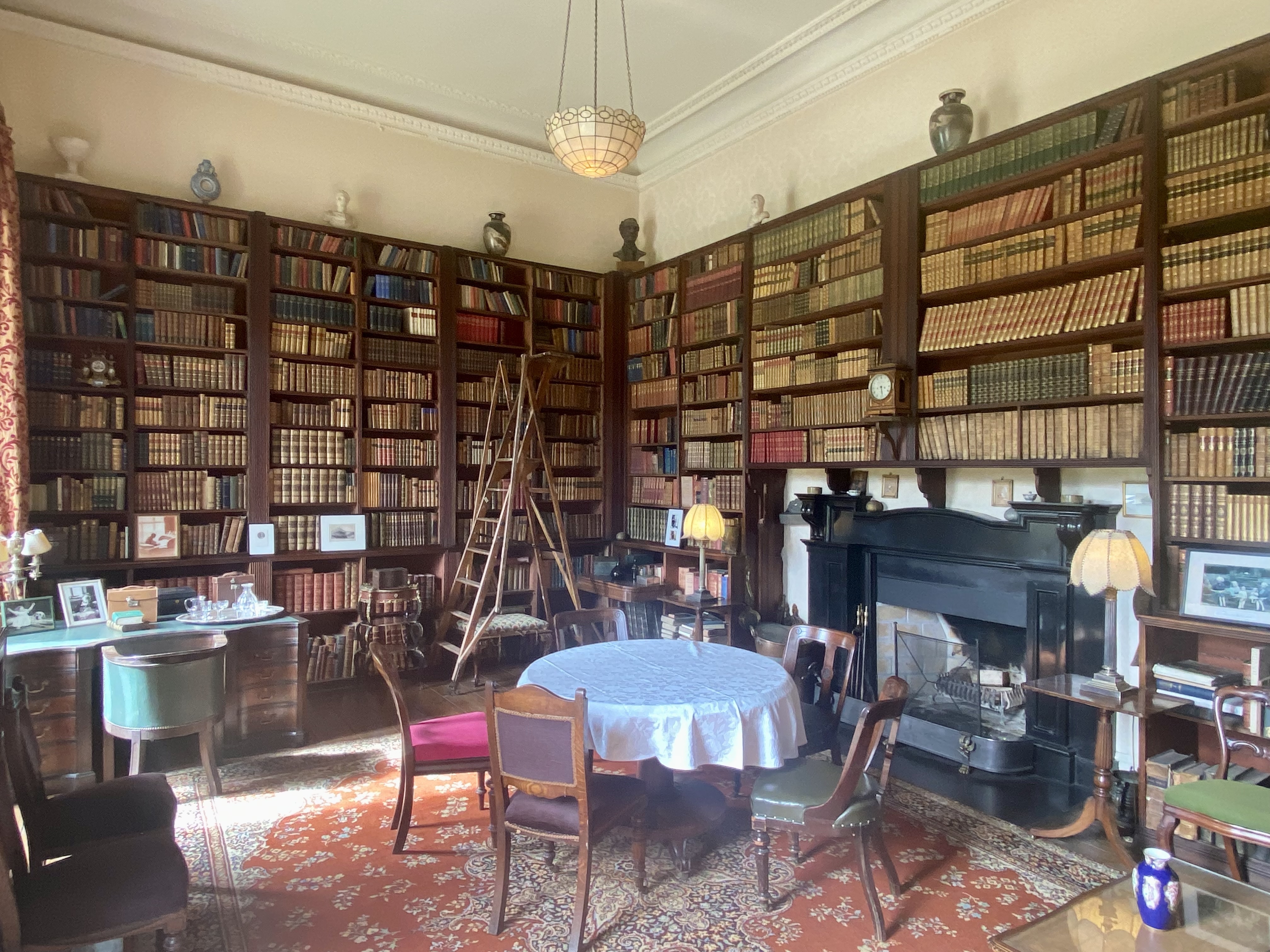 The waxworks included the poets Alfred Lord Tennyson, W.B Yeats and William Makepeace Thackeray. The chap staring at me was James Arthur O'Connor who was a landscape painter. I liked his hair.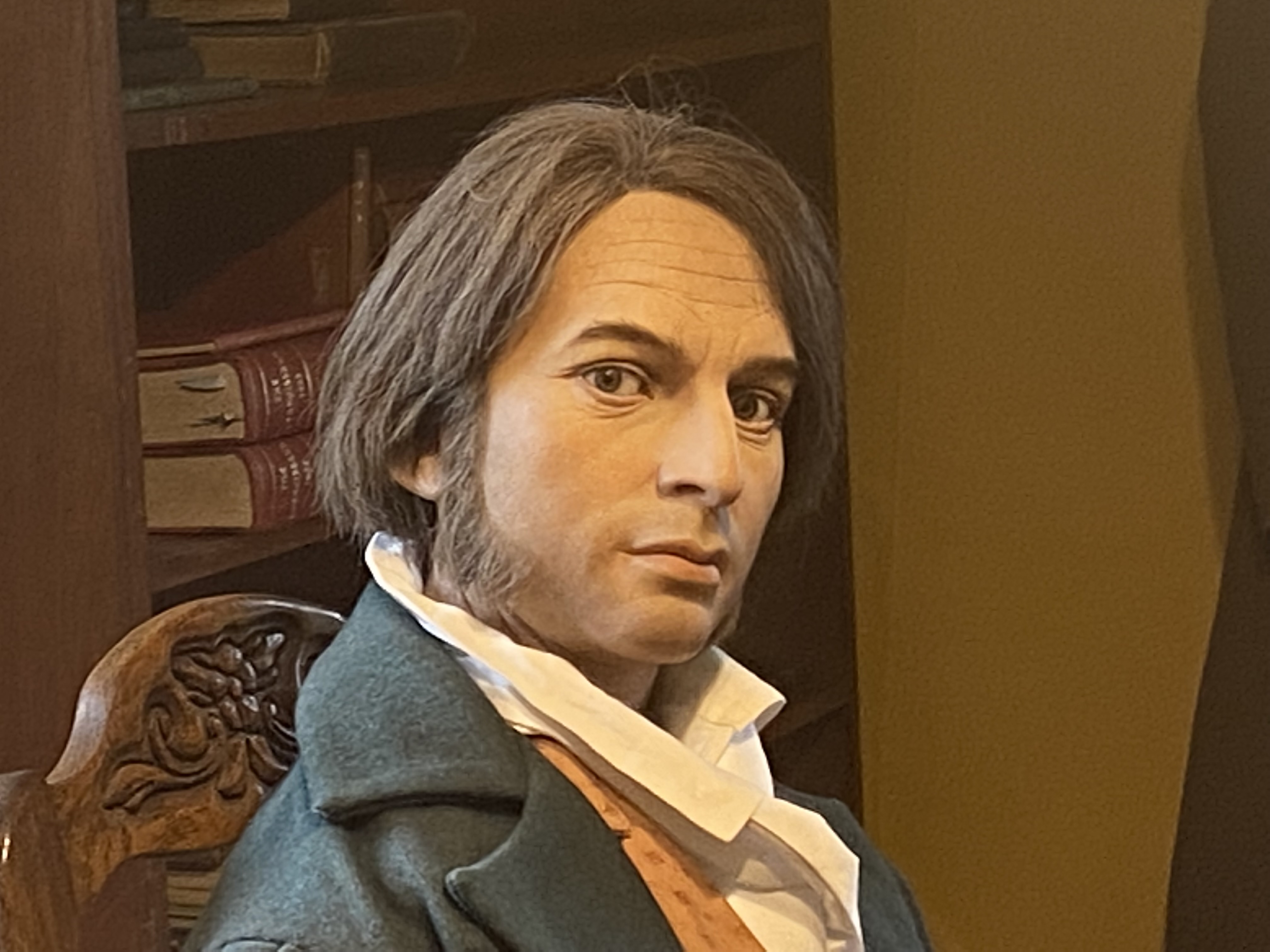 We left at 11 am for a 160 mile drive from one side of Ireland to the other. It was a rather grey day and the scenery was far less than spectacular. Architecture is obviously not "a thing" in Ireland. We stopped at a town called Athlone, about halfway, which had a castle. Laura and Caroline looked around the castle while the rest of us found a bar.
We continued to Dublin and arrived at the Fleet Hotel at 4 o'clock. Dublin was heaving with stag parties, hen parties and football fans ready for the All Ireland Gaelic Football final between Kerry and Galway, which was kicking off on Sunday. It was hell. That type of environment is my worst nightmare. I didn't even like it back in the day when I was "age appropriate". Every other establishment was a bar.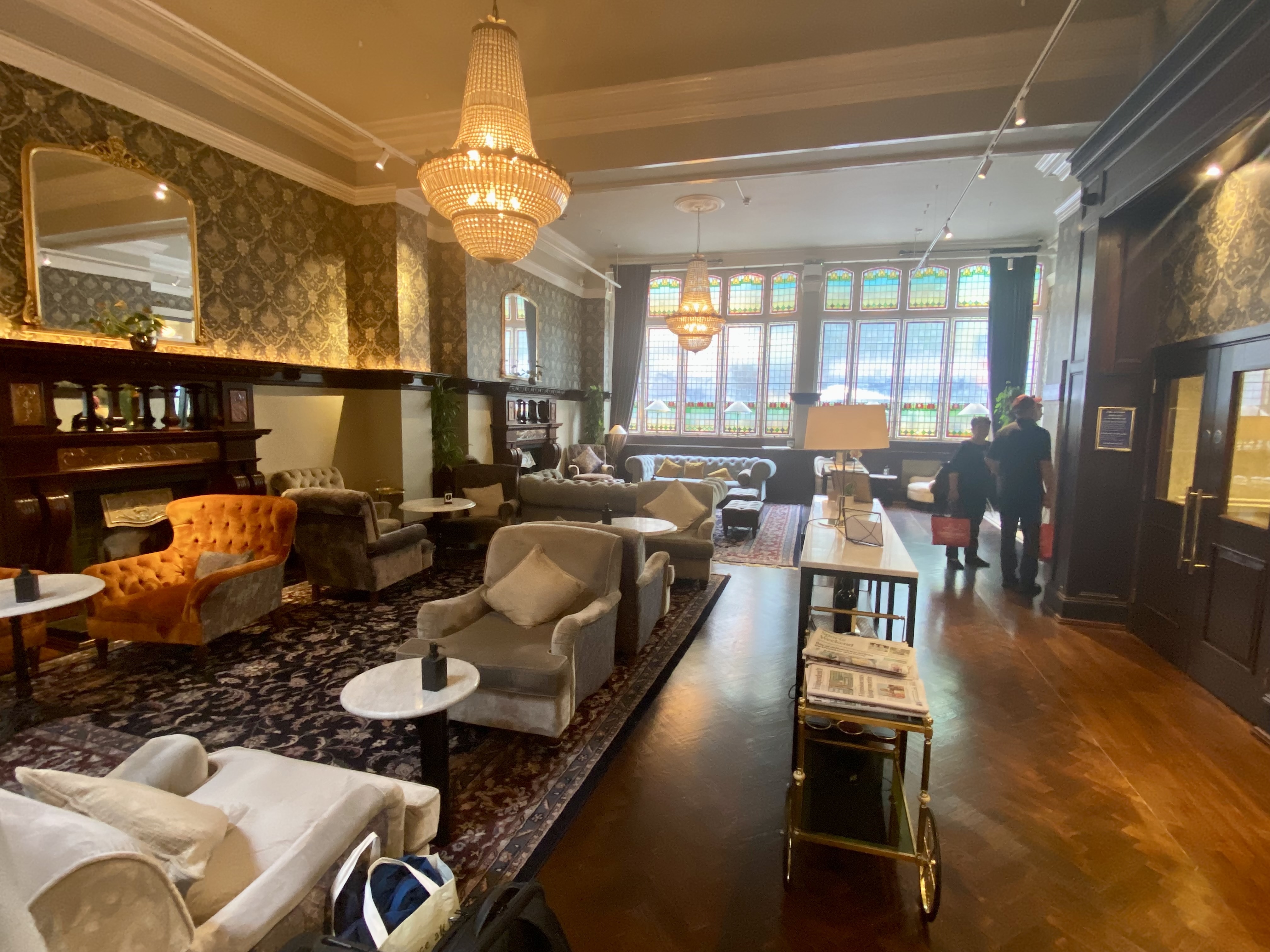 However, as we stepped from the streets, full of day-drinkers, into Fleet Hotel, we managed to find a little bit of sanctuary. After a quick spruce, we were off to meet Yvonne, Lynsey and baby Florence at a restaurant for a five o'clock dinner. I know – way too early, but Florence needed to be in bed by 7. It was great to meet Lynsey after all these years. 38 to be precise. And Florence is the cutest little thing at only 7 months old. And of course Yvonne is my favourite cousin, once removed. Quite the accolade as I have dozens. Oh, but there is Julie in York too.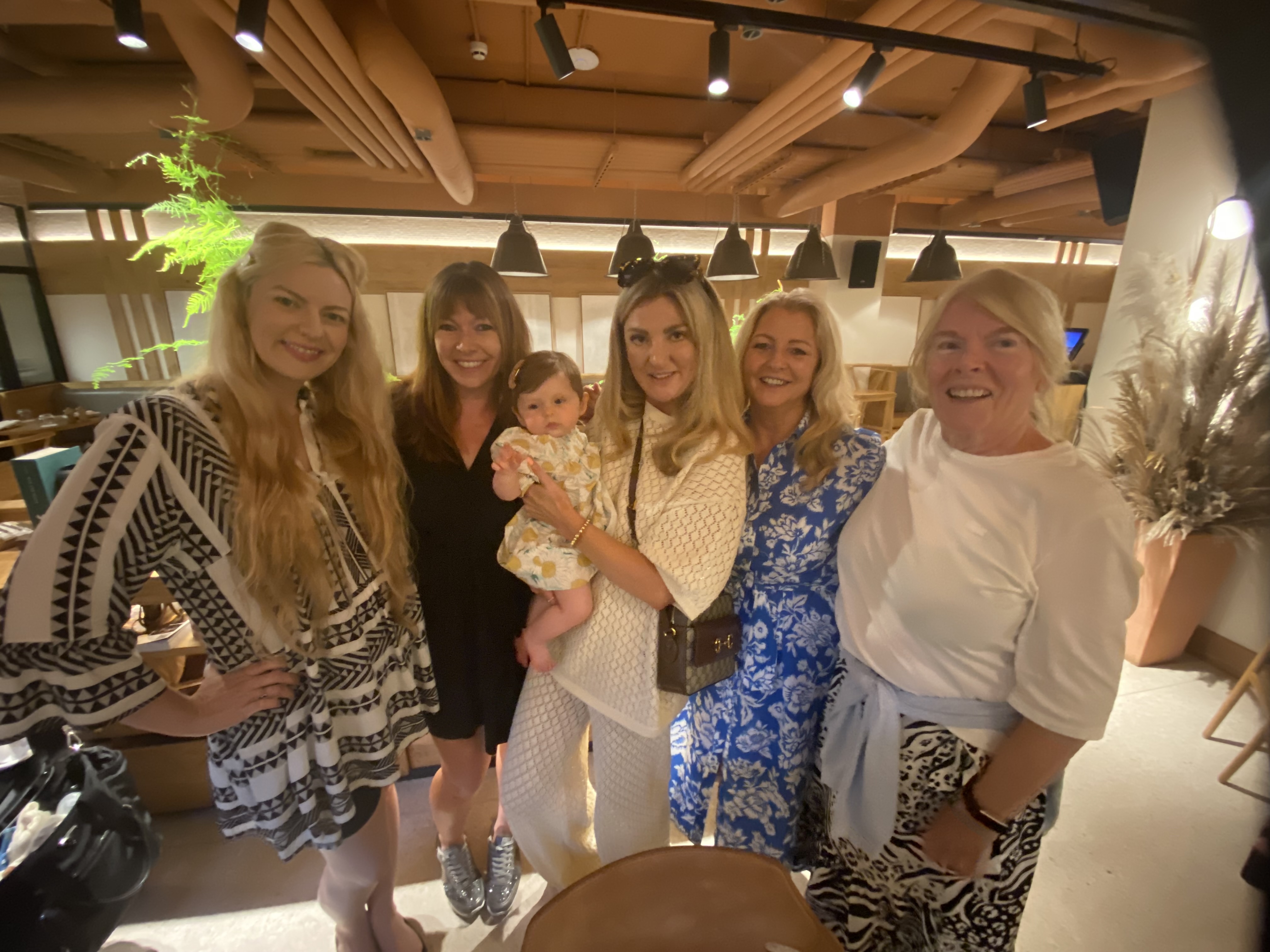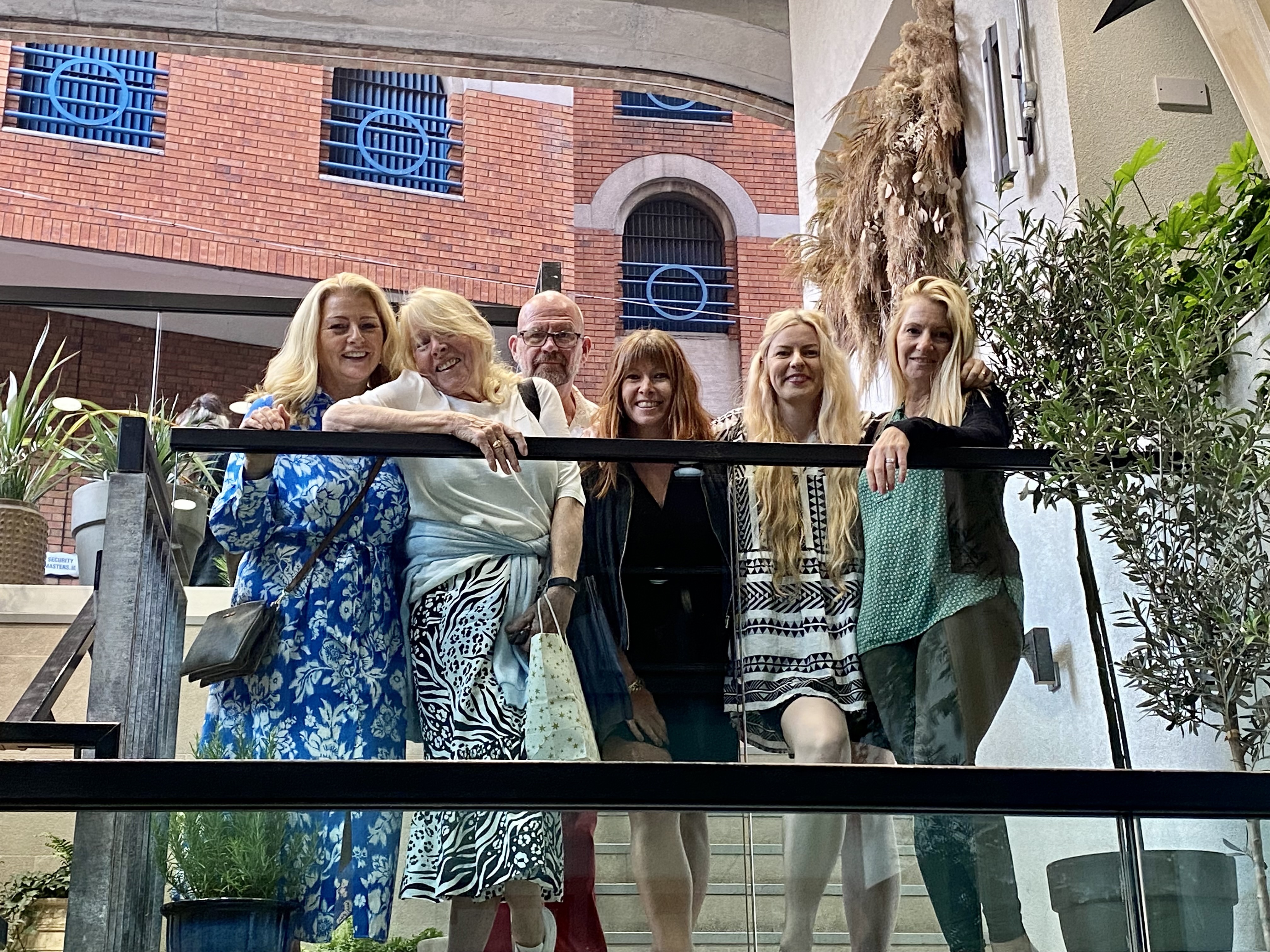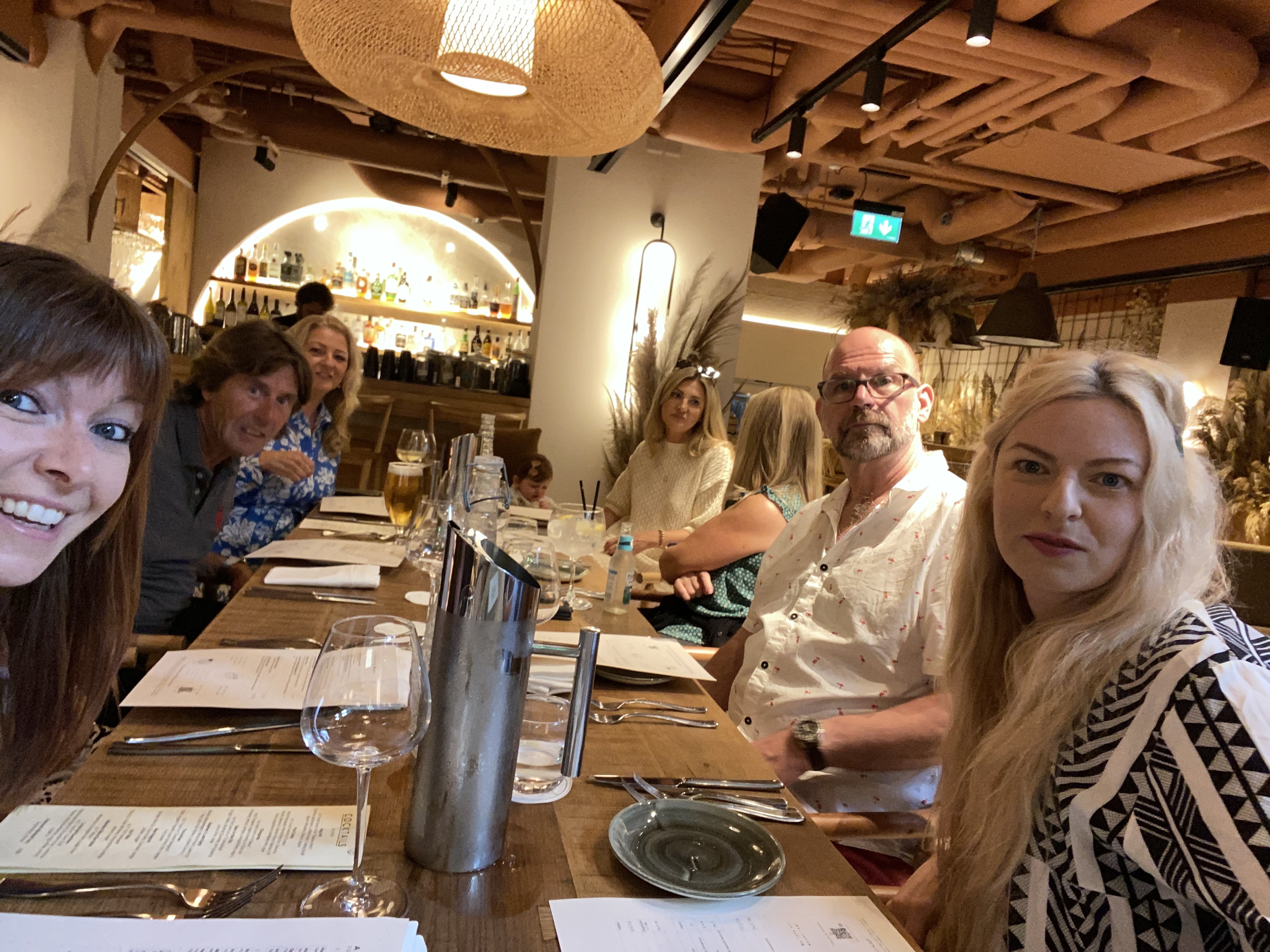 During dinner, I became fatigued and whilst the others went off to a bar, I headed back to the hotel for rest. I was asleep by 9.
On Sunday morning I took a small stroll around the centre of Dublin and I can't exactly tell you what I saw, other than the River Liffey. It was the aftermath from a lively Saturday night and the riff-raff had deserted the streets. The weather was pleasant (for Ireland). After breakfast, I left the others at the hotel and took the car back. Hand luggage only is certainly the way to go, with no check-in queues to contend with. Note to self. Security was swift and I headed for wine.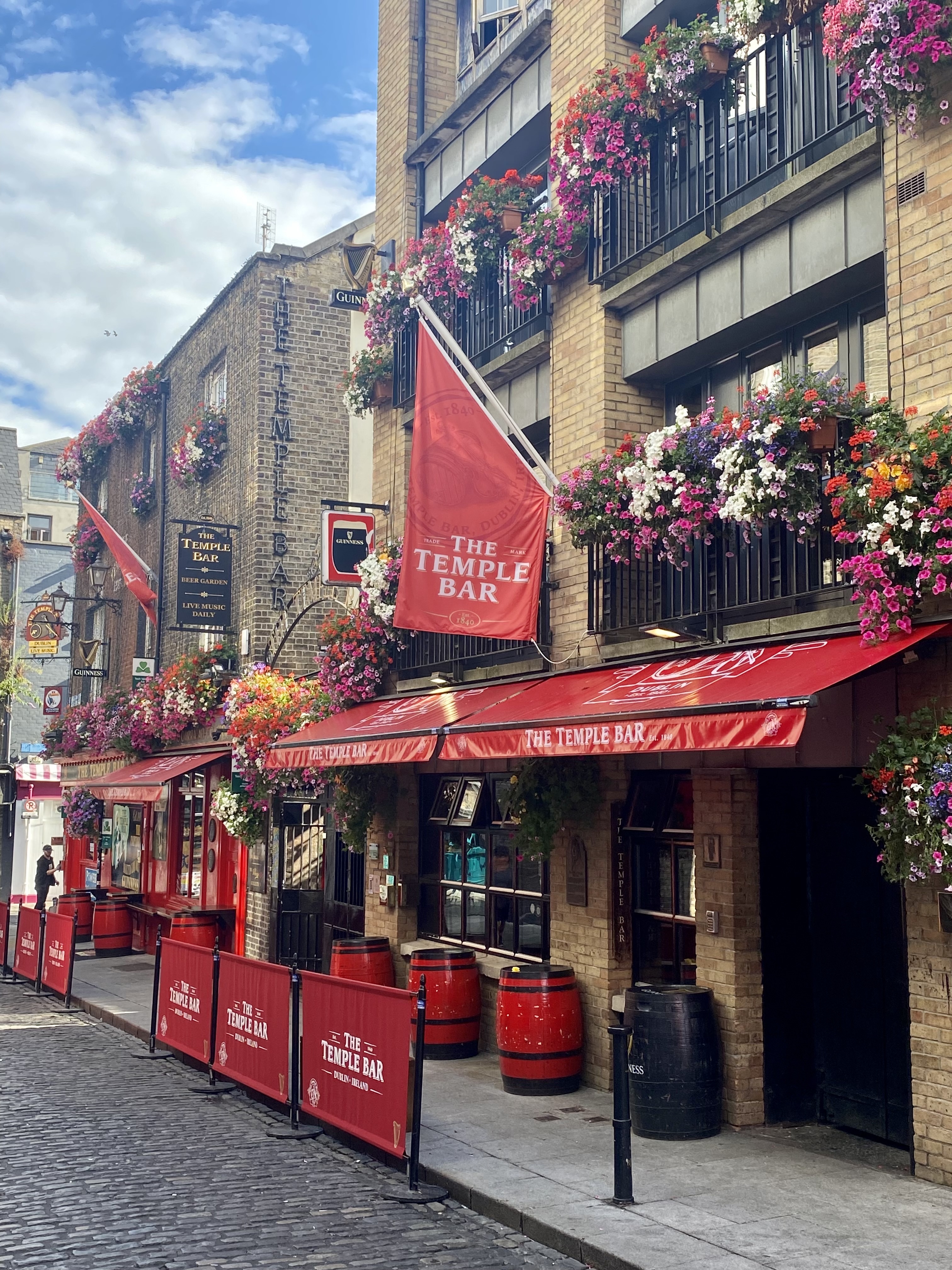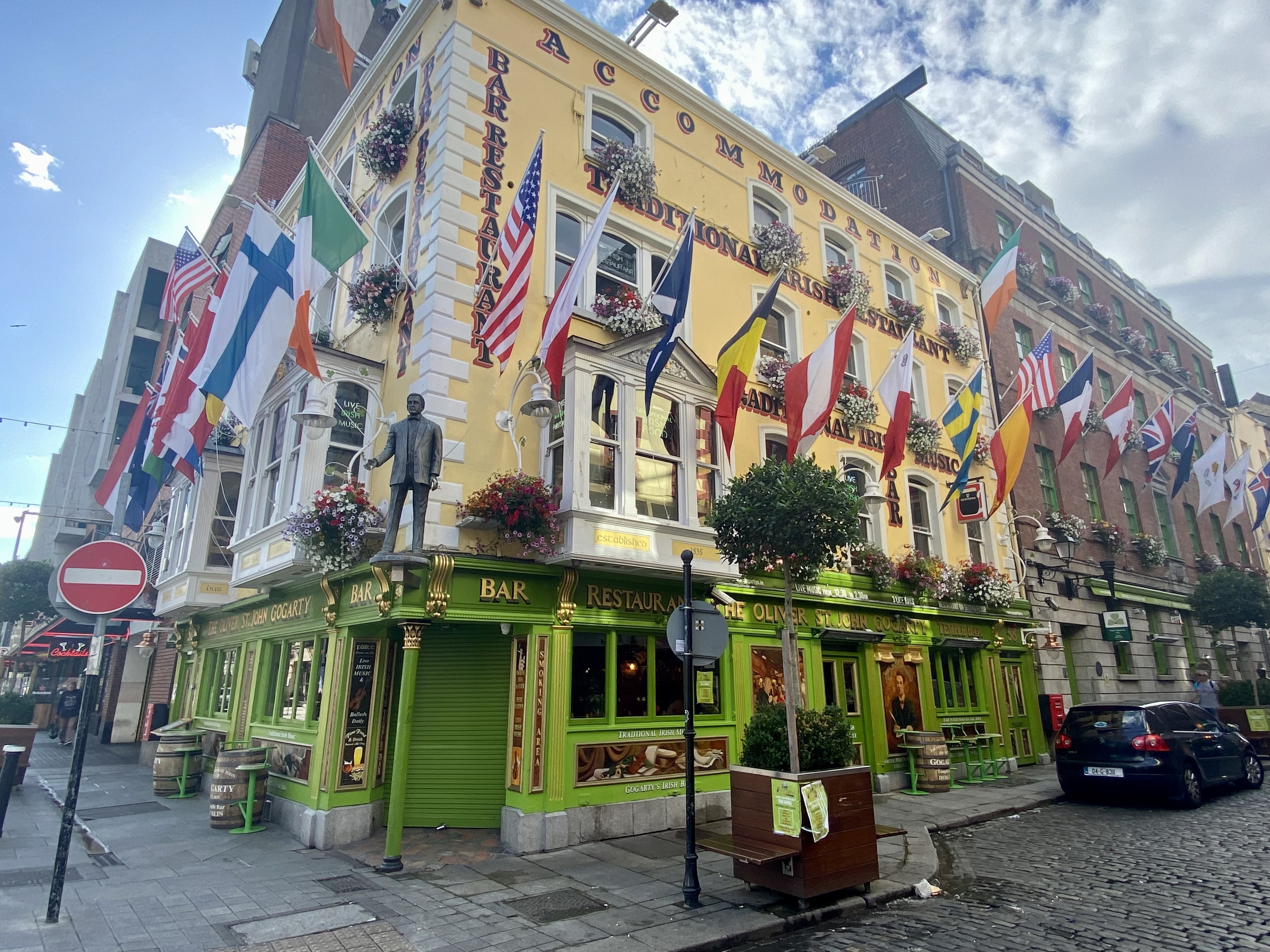 The trip was for mum and I think she had a great time with her progeny. We all enjoyed it however I don't suspect I was the best company. Not my usual chipper self.
The good news was that Matt was able to get his sausages through customs, in his hand luggage, on the way back to Finland. He took them out, and then put them back in. 24 of them in Tupperware containers.