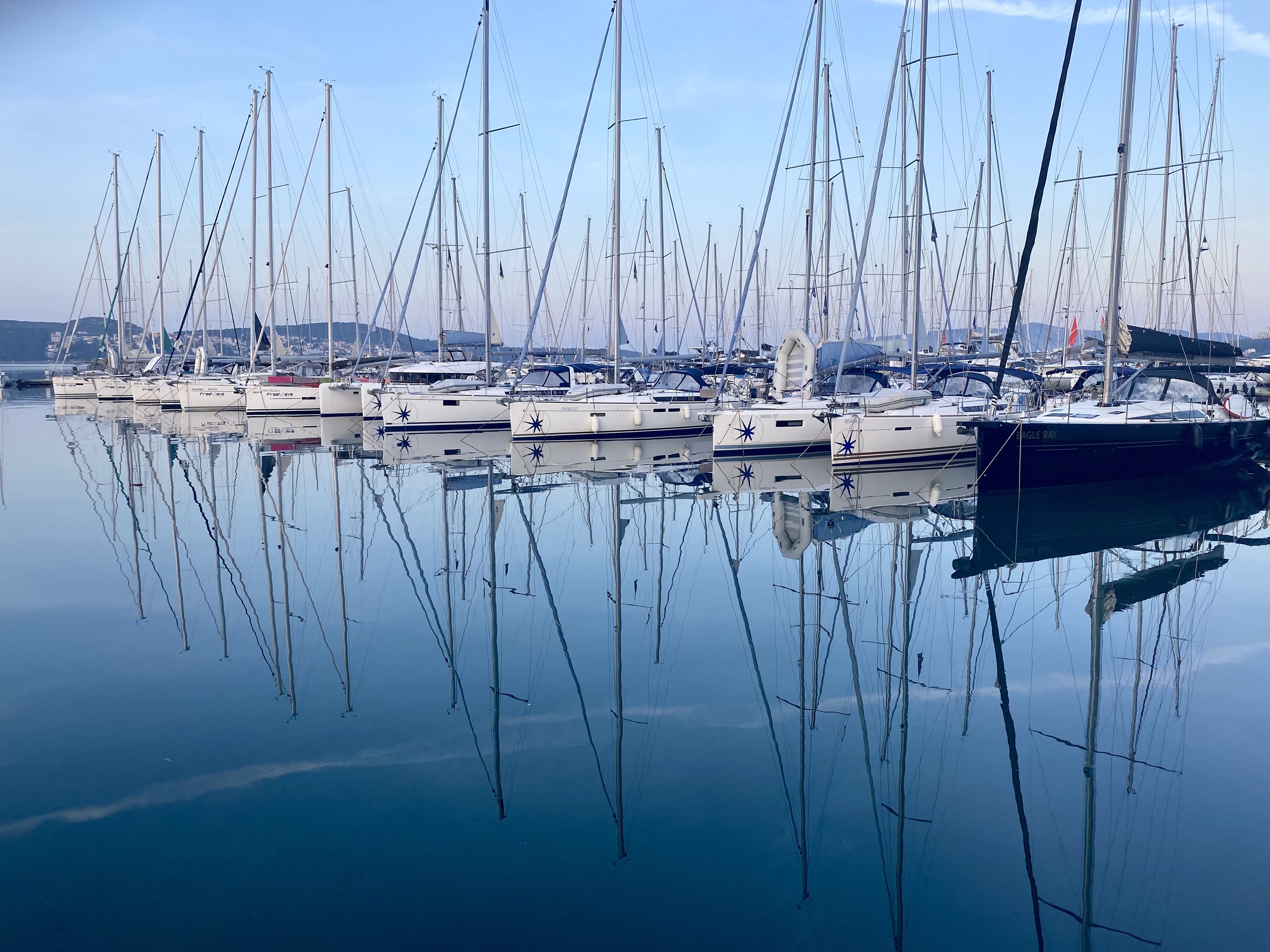 Sailing in Split, Croatia
We'd lost Bully to Covid, so the three of us headed to Split on easyJet. We were met at the airport in Split by Antonio who had the personality of a small grey rock. Jim tipped him which was more than he deserved. Having said that, the transfer was free. We checked in at the Baotic Marina – more chaotic than Baotic with people everywhere.
Once on the boat, our lead crew came to find us. Two twenty-something girls from the UK named Beth and Becky, and they told us we were doing the northern route. We'd signed up for the southern route and I lodged a complaint. We had done the northern route a few years ago which is why we chose this one. Anyway, they spoke to the higher powers and checked with the other boat, and all was fine. We were now doing the southern route.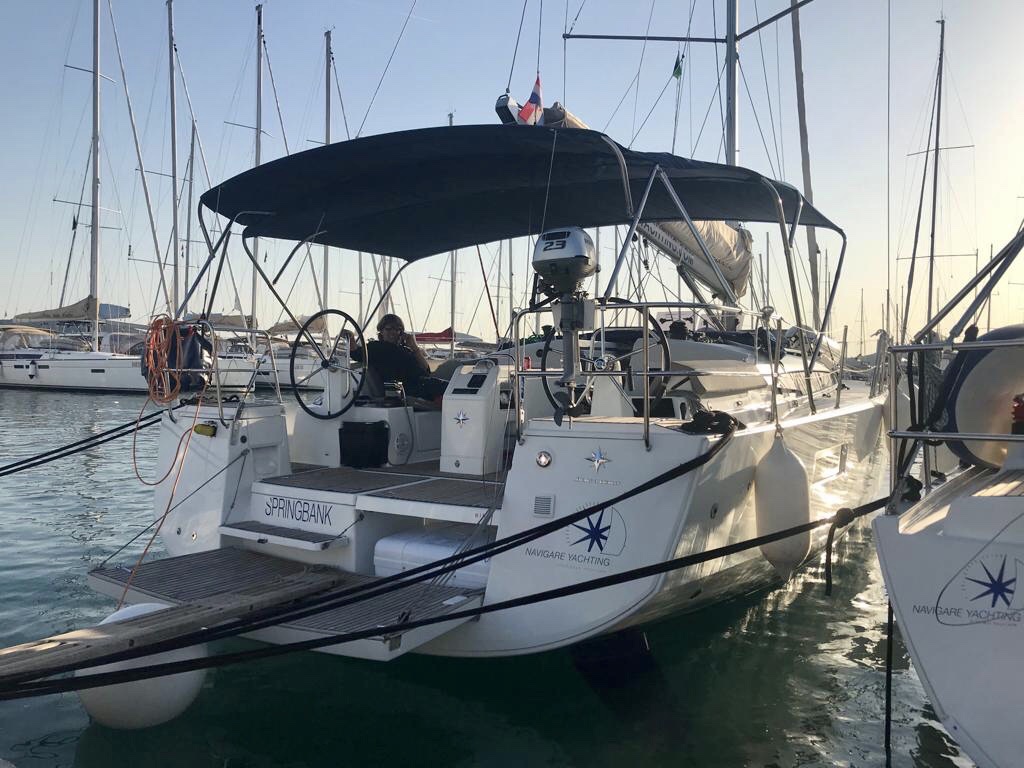 In the evening we took a 10 minute stroll down to the town of Trogir which was absolutely beautiful (highly recommended), and had a pizza.
Day 1 – Split – Sesula, Solta
Our first day of sailing was a relatively short 9 nautical miles to the island of Solta. After the morning briefing, where we met the rest of the flotilla – one other boat, we hung around for another hour or so before casting off.
To say I made a pigs ear of the departure would be an understatement, but we didn't hit anything and that's the main thing. I've no doubt our lead crew were watching thinking, "we've got a right bunch here". Especially as I was asking questions about insurance at the briefing.
Just when we thought we'd rescued the situation and gained control of the boat, Jim, in an effort to acquaint himself with the instruments on deck, inadvertently hit the autopilot button meaning I could no longer steer. We hadn't even left the marina. Autopilot keeps the same course and it's not something you really want to engage within the confines of the marina.
Eventually we found the "off" button and we had control back. Off we headed for the open Adriatic. As we neared the island of Solta, we got caught in a catamaran race. We'd been told that Croatia has about 77% of the yacht charter business and by the look it it, they were all heading straight for us. We were under motor and they were under sail which gave them priority. About two dozen of them were bearing down on us. Anyway, the sea is a big place so we found a way through without incident.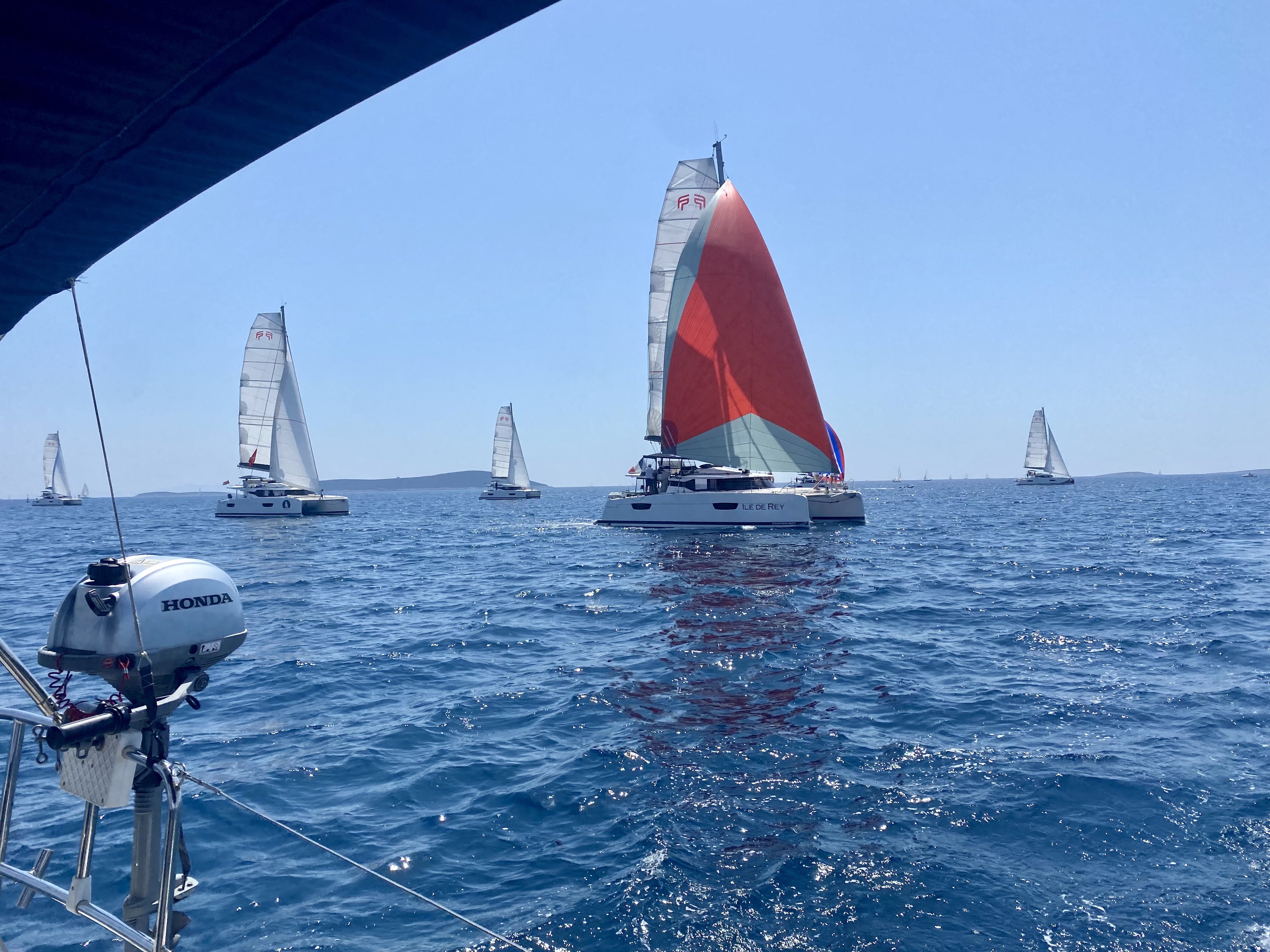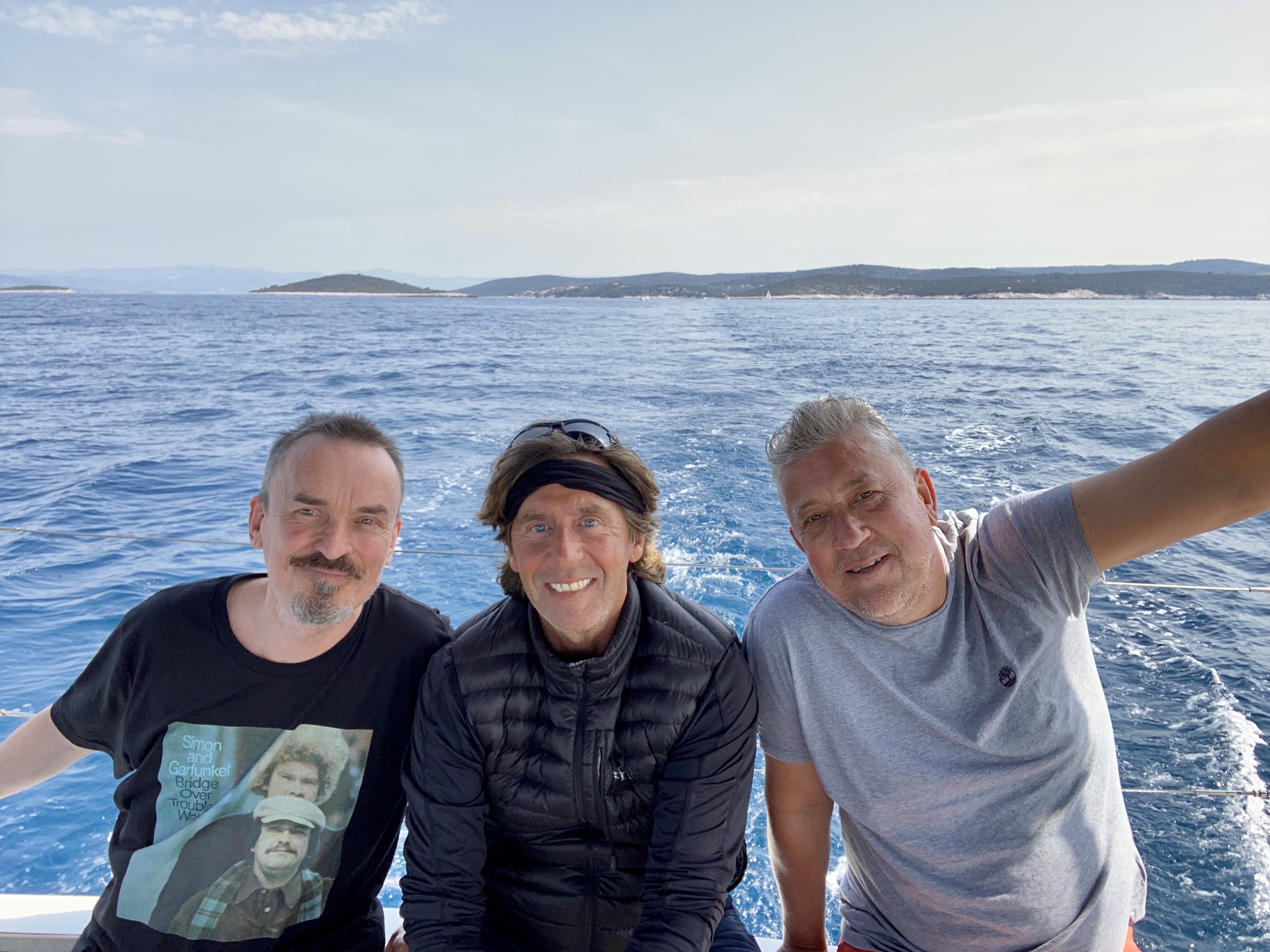 It was a fine day and we arrived about three hours later and "rafted" – tethered to our lead boat, one side each. I manage to park fairly well with the help of Christopher in his small fishing boat, who was an extraordinarily nice chap. He called himself Mr. Easy.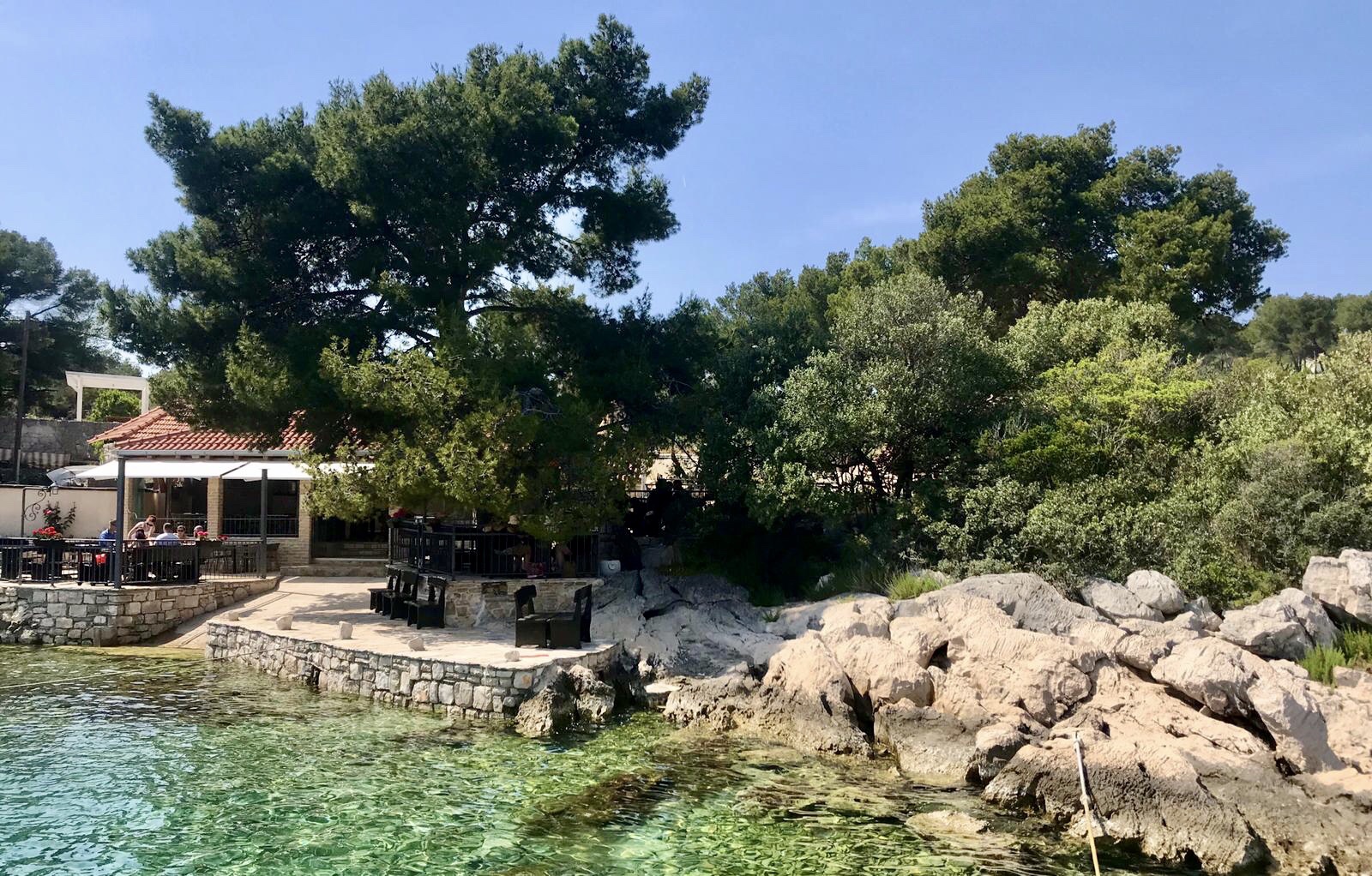 Alison was parking the other boat and as it came along side the lead boat, we heard an almighty crash which sounded worse than it actually was. The damage to the lead boat was minor. This certainly took the pressure off of me parking for the rest of the week. Mark and Alison had 40 years of experience and she didn't forgive herself for the blunder all week.
Simon and I had a swim off the back. It wasn't too cold and Jim provided us with an aquarium experience by throwing bread in the water in the spot where we were snorkelling. Luckily, the fish Jim attracted (fish like Jim), were more interested in the bread than in nibbling us.
We dined as a group of nine and I had the traditional Croatian dish of Peka. Our waiter, Boris, had a wonderful sense of humour. On the other boat, the two guys had long careers in the army and both achieved the rank of lieutenant colonel. One of the wives, Alison, had also had an army career. Helen, had not been in the military.
We scrambled across some rocks and tendered all the way back to our boat which must've been at least 25 feet away.
Day 2 – Sesula, Solta – Vis
This was going to be our longest sailing day at 25 nautical miles. I woke earlier than my ship mates and went ashore looking for felicities at the other marina over the hill. I met a chap called Ken who stepped off one of the catamarans that we had to dodge the day before. He was playing with his drone. We chatted and it turned out he was from Yorktown, Virginia and knew people in Ford's Colony. We had a lovely chat about his sailing adventures. He'd done the ARC and was now spending 6 months in Croatia. He had started a charity called Bridges to Prosperity which had built over 600 pedestrian suspension bridges in third world countries. After leaving Ken I returned to the boat with bread.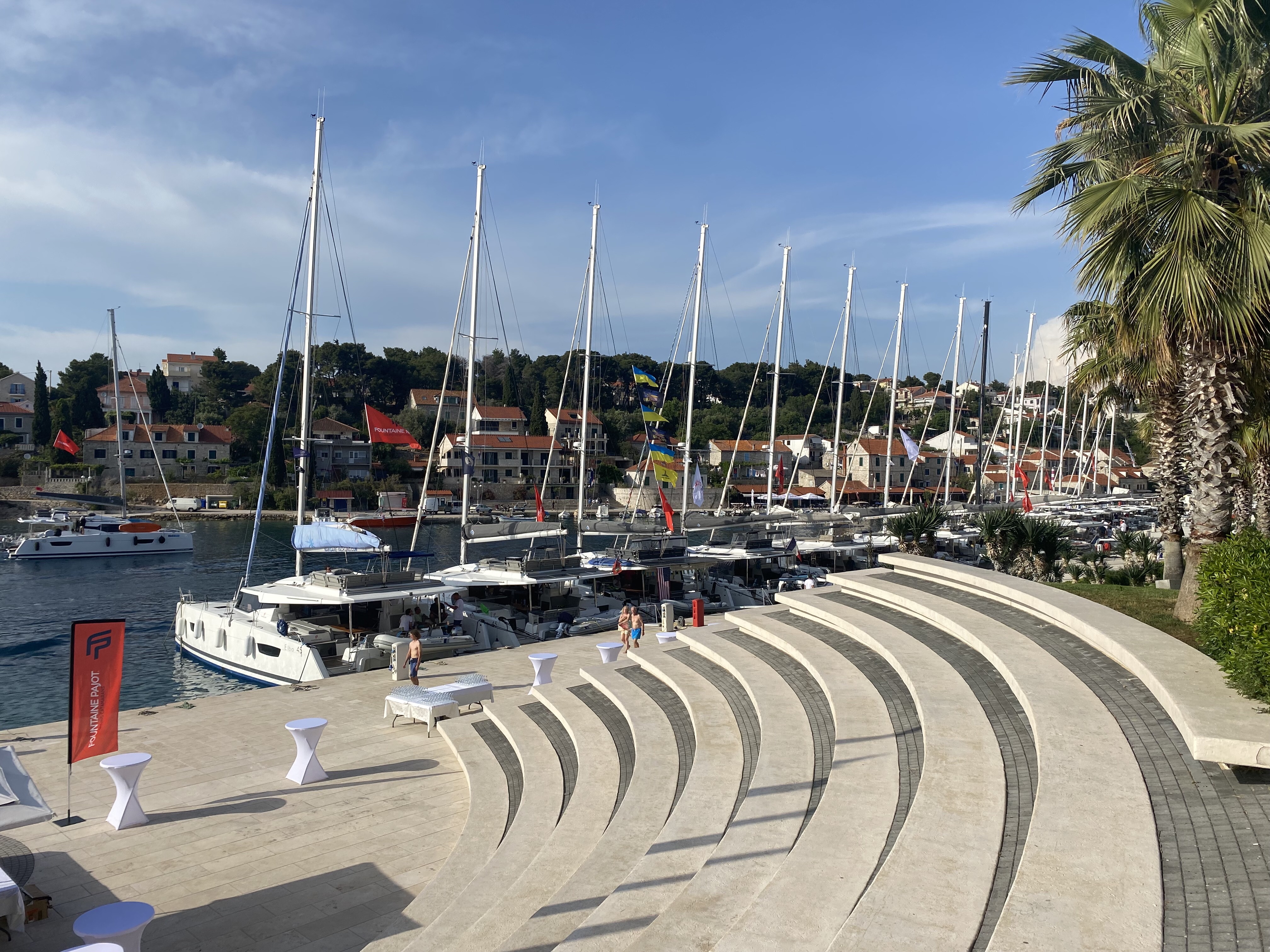 We left before the other boat and motored all the way to Vis. At about the halfway point, the lead boat texted us with instructions to change course and head for a more protected marina on the island. We were expecting wind of 25 knots in the next day or so. This was disappointing because the original destination was where scenes from Mama Mia 2 were filmed, and for me, the main reason for wanting to do the southern route.
We arrived first and my parking skills were put to the test again. I'm feeling far more confident with parking and I did well. The can of beer certainly took the edge off. Mum has driving wine. I have boat parking beer.
The Kut marina had a lot more going on and was a pretty place. We decided not to dine with the others and had a pizza in a local restaurant. Highly pleasant. Cards and bed.
Day 3 – Going Nowhere
Another beautiful sunny day with clear blue skies. I was up at the crack, and as always, tried to be quiet for the benefit of my ship mates. It was no use. Boats creak like crazy.
The lead crew decided we were going to stay put for the day due to high winds. After breakfast the three of us took a stroll round the bay to another marina called Luka, or Vis Town as it's known. The wind was much stronger on this side of the bay and we were glad not to be out in it. At one point we saw a couple of green lilos flying across the bay. Simon and I stopped and bought a couple of hats. I now have a rather striking orange captains hat.
After playing on some park exercise equipment, we found a small church which could have done with a lick of paint, and next to it, a wonderful cemetery overlooking the sea. From what I've seen, Croatia does cemeteries very well and most, if not all, are family plots.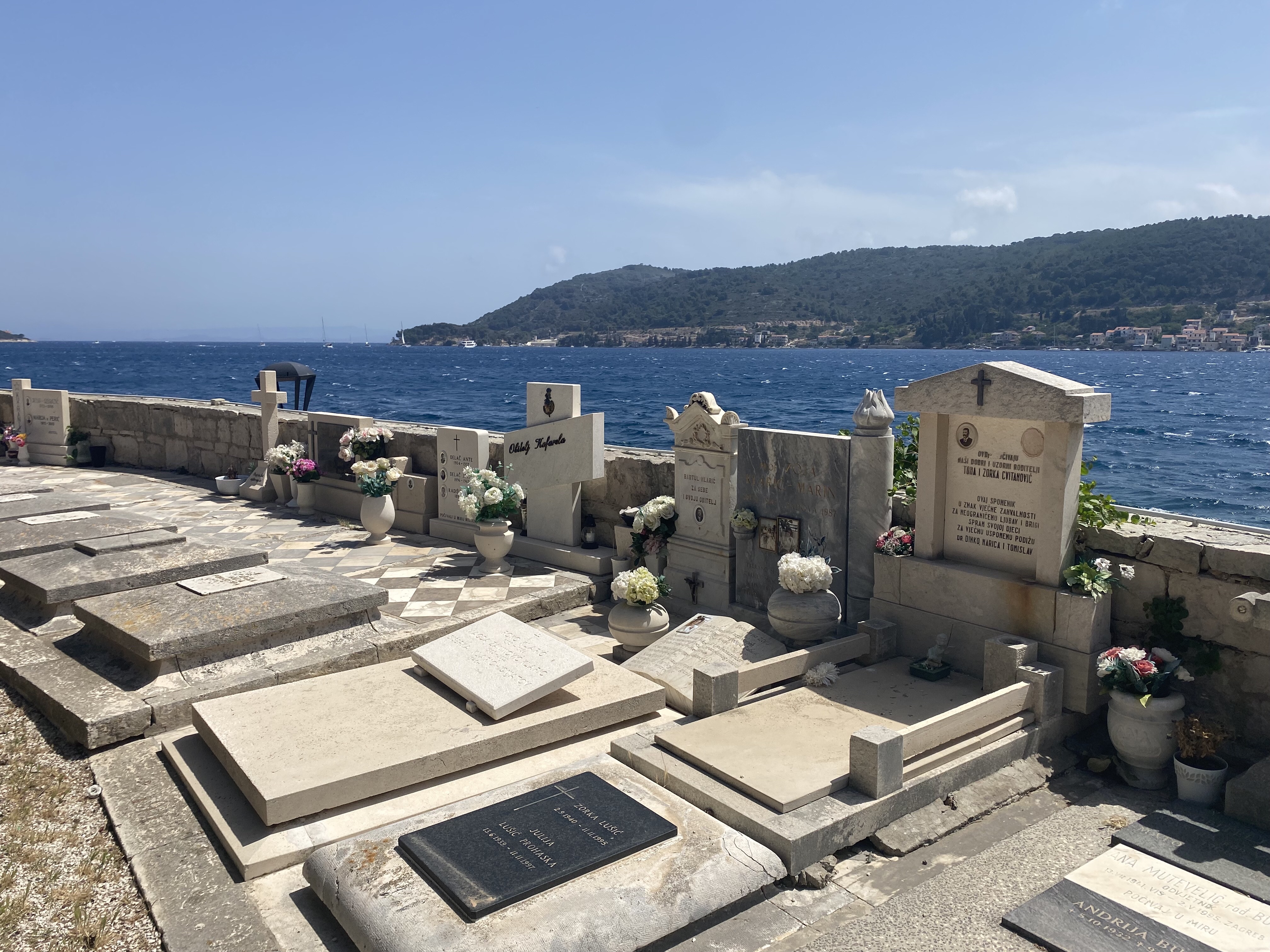 Further along our route we found a children's playground and the see-saw was a must. Simon sent me up in the air, I sent Jim up in the air and then Simon nearly "launched" Jim.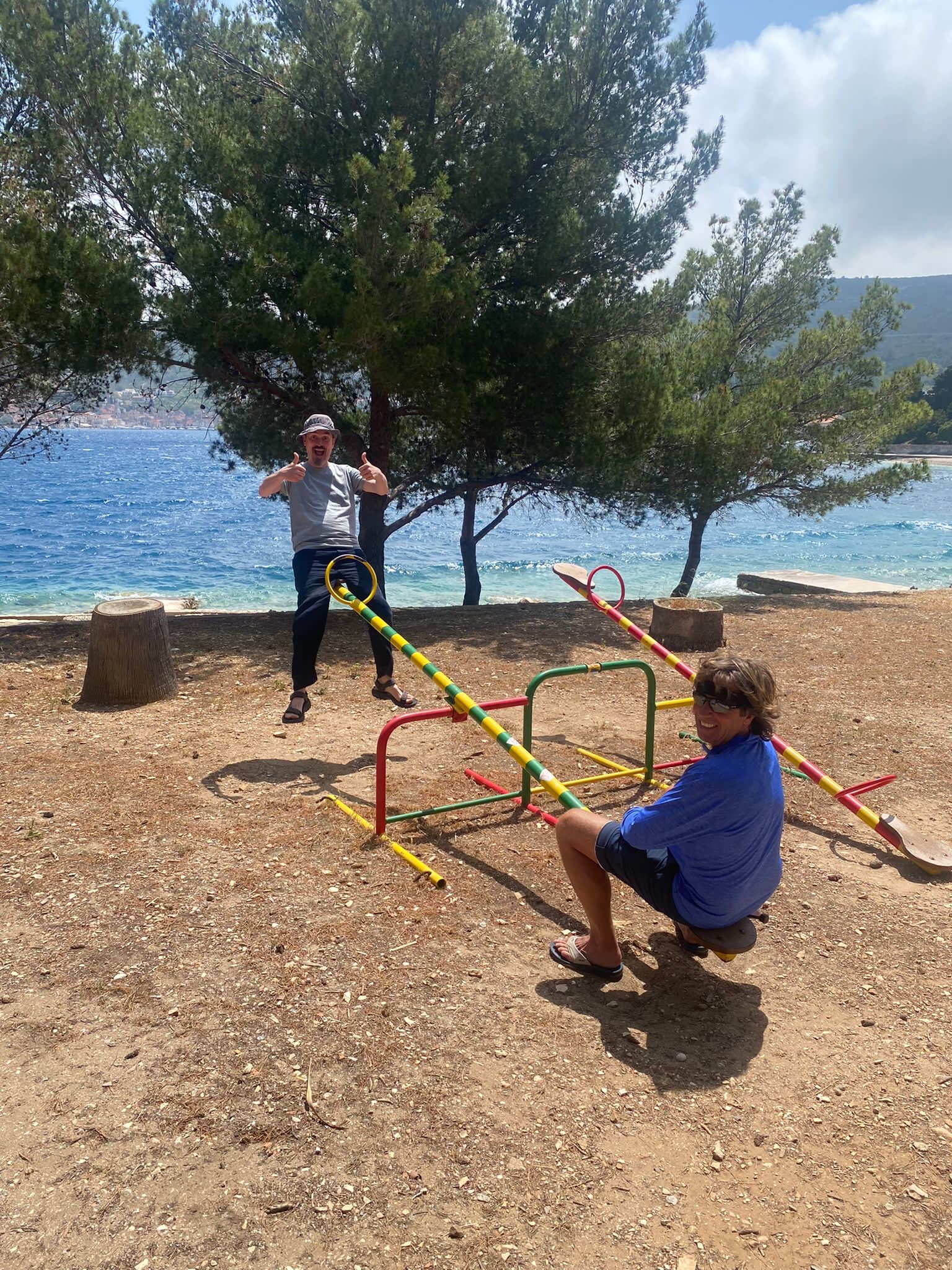 Our final stop on our stroll (which was becoming a trek), was Fort George which looked old and dilapidated on the outside, but on the inside had been turned into a bar, nightclub, wedding venue place, done very tastefully. The terrace area had some fabulous views of the surrounding coastline including an old submarine parking area. Vis apparently has quite a few of them.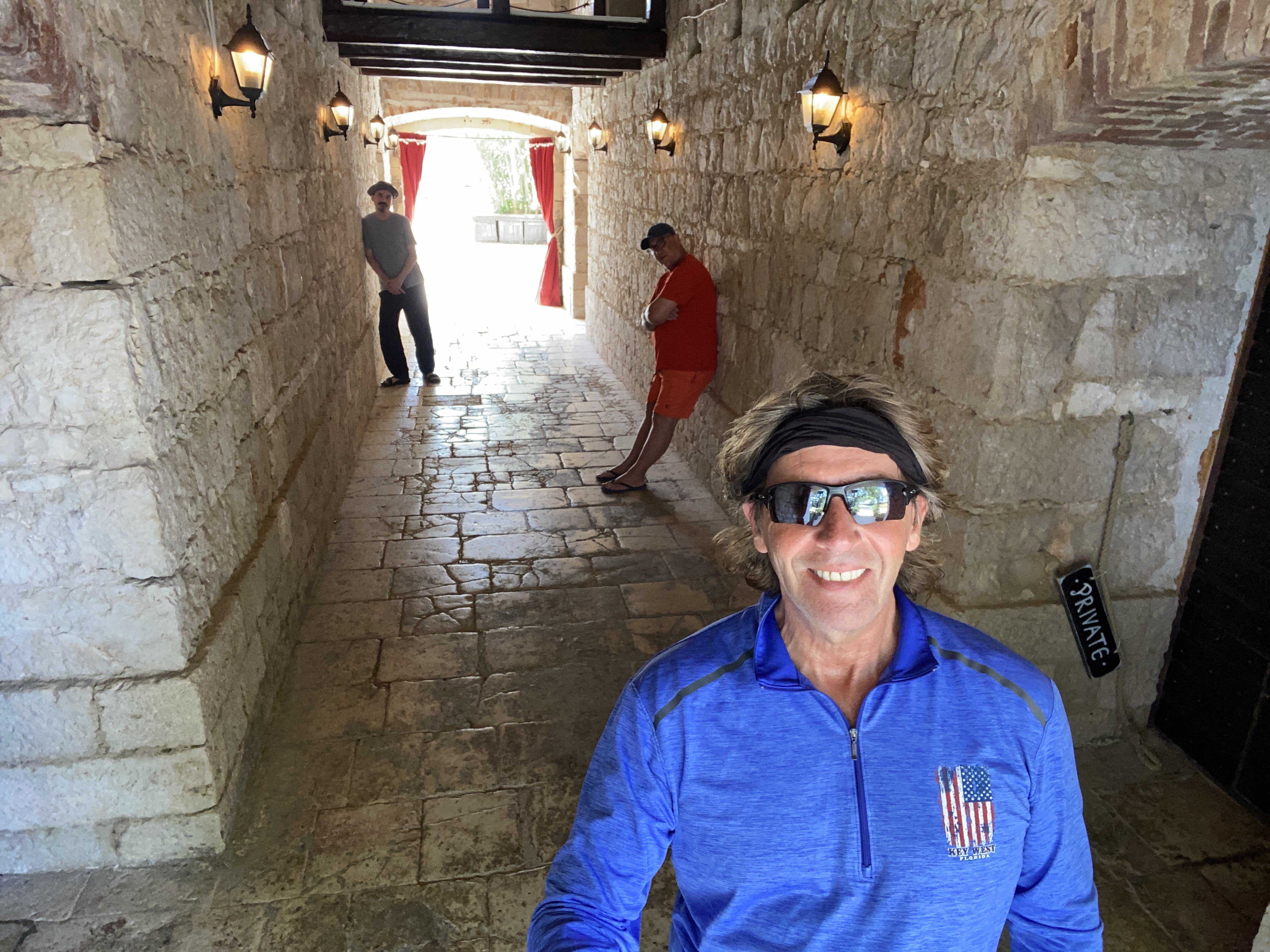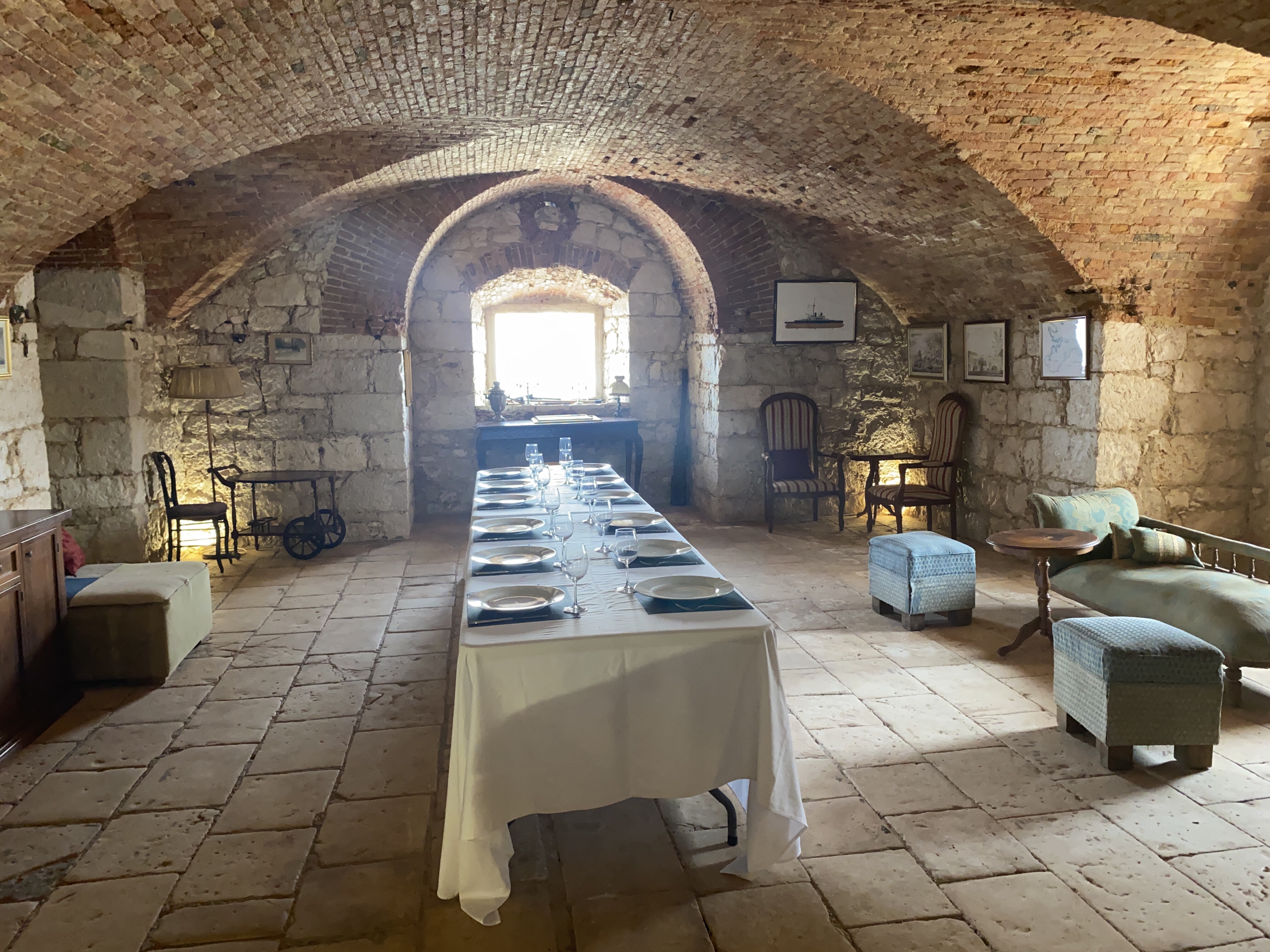 After a breezy lunch, we headed back to our boat having walked 14,000 steps. Simon and I napped in the sunshine while Jim played around with the six photographs he'd taken.
Then cards, then dinner (50 ft away) – Simon had Octopus, then cards then bed.
Day 4 – Vis to Vela Garska, Hvar
After the 9am briefing we waited a few hours before heading off into the wind for a 13 nm passage to the island of Hvar. We were told about a good place to stop and "pick up a buoy for lunch". Simon made the joke of the week (under his breath), "sounds like Jimmy Saville", and we chortled like schoolboys. As Becky repeated the line a few times, the other boat crew cottoned on as to why we were giggling, although I'm not sure Becky did.
Of course it wouldn't make sense in the US where "buoy" is pronounced differently.
Our boat was a 44 ft Sun Odyssey called Springbank and we liked it despite a couple of design flaws. We left at 10:30 for the windy passage north to Hvar and as soon as we were out of the marina and into the open sea, we were all contemplating why on earth we go sailing. The sea was rough with some large swells (we normally like large swells), and the wind was gusting about 25 knots. The crossing to safer waters was about 10nm followed by 3 final miles is calmer seas.
Jimbo and I shared helming as we both preferred standing at the back and watching the horizon. Going below deck was like getting inside a tumble dryer, but we retrieved a few items that might have been useful. Life vests and grab bags (important stuff like passports), just in case. The usual banter and humour disappeared for those two hours while we dreamt of rail holidays.
Jimbo seemed the least perturbed by the experience, then me, but poor Simon just wanted to die. When we got to the other side, Simon asked if we'd go back through it for five grand. Jim and I said yes. Simon said no.
We found the lunch spot and as Simon was trying to hook the buoy, the end fell off his hook. It didn't float. So the "hookless three" decided we needed to do it manually and we did. A bit Keystone Cops but we managed it.
We had to stay put for awhile because it was too breezy to get into the marina for the overnight stop. When we did eventually get going, we sailed right past it. It's fair to say that I was lost. At the briefing, Becky had kept saying "Vela Garska", but in truth, I had no idea what she was saying. I didn't know if it was one word or two or even if she'd eaten something that didn't agree with her. I couldn't see it on the map. The good news was that we ending up seeing more of the coastline than we'd bargained for.
We rafted with the other boat and the whole group had dinner at the only restaurant in this small bay. After beer wine and whiskey, I was still able to row the three of us back to the boat. A fun evening.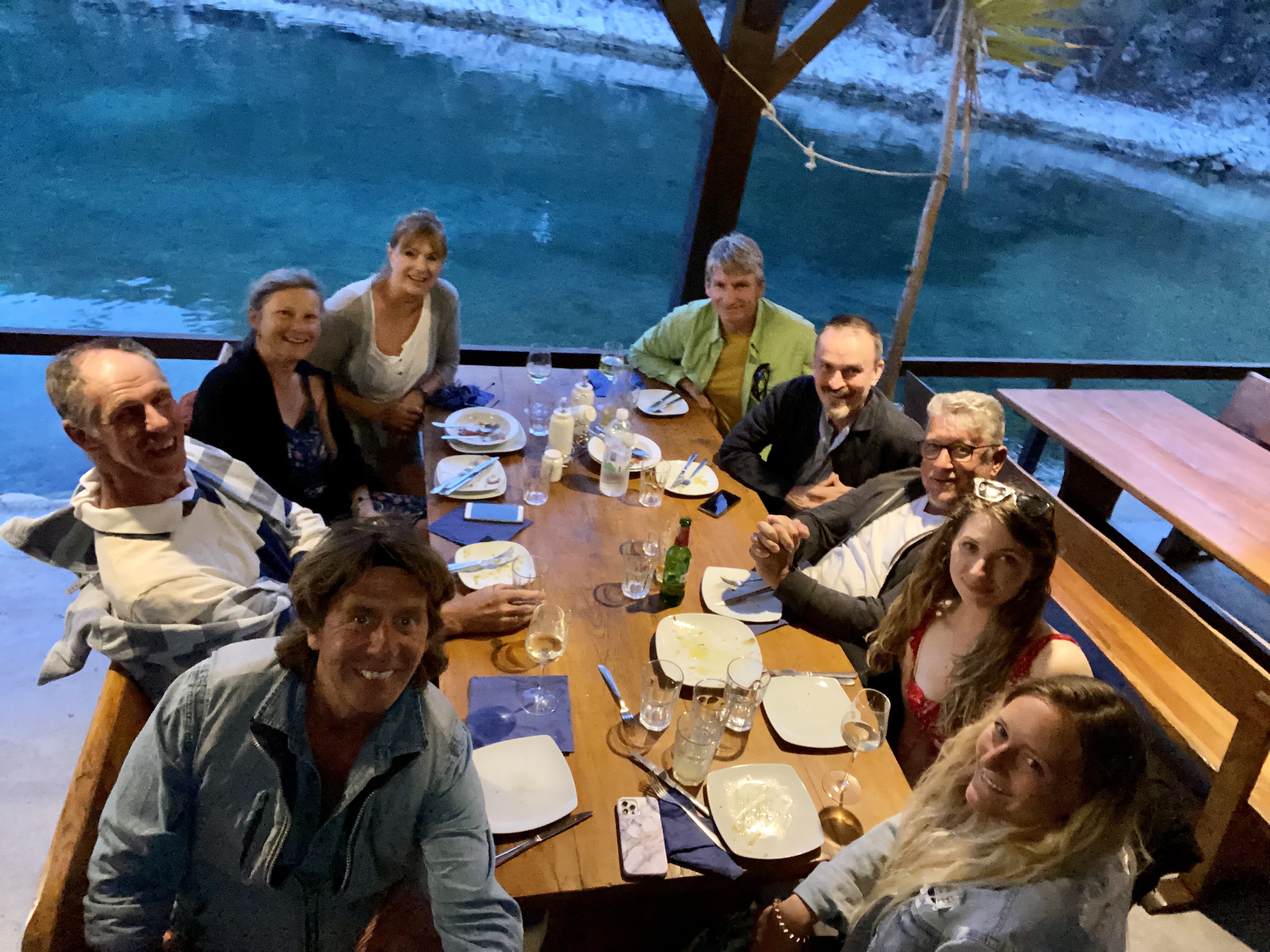 Day 5 – Vela Garska, Hvar – Stari Grad, Hvar
I was up at the crack, creaking about, and it looked like another magnificent sunny day. Bully would have hated the two hours of rough seas the day before. He'd recovered from Covid and had contemplated joining us on Vis, but decided not to from the security line at Gatwick.
We left the sprawling metropolis of Vela Garska at 10 and headed west. Our journey would be to the western end of Hvar and then part way up the northern side to Stari Grad, which is one of the oldest towns in Europe.
We arrived first and once again I managed to park without looking like a hapless imbecile.
We strolled, we lunched, we bought provisions and we napped. A couple of things I've noticed about Croatia. Firstly, there are more ATMs than I've ever seen anywhere else. On the island of Vis I counted 12 and it was a small town. Another observation is that finding somewhere that serves breakfast proved rather vexing. Lots of places serve coffee but with no food option.
Parking at the town quays in Croatia has also proved to be expensive. They average around 50 quid per night. They were much cheaper in Greece.
Day 6 – Stari Grad – Split
It won't surprise anyone that I rose early and walked around the town to see what all the fuss was about. This was a world heritage site after all. Again, it was a beautiful sunny morning with no wind and the water was like glass in the marina.
After the morning briefing, we headed 24 nautical miles back to base in Split, which was going to take between four and five hours. The water was like glass for the first few hours and our only problem was a large motorboat which went past us twice creating quite the wake. If it had done it a third time we would have been very cross.
There was a procession of boats going in to the harbour and I had to park twice. Once at the fuel stop and then at base camp. The fuel depot was able to take 20 boats stern to and my parking was once again more than adequate. On the dock side was a girl selling ice creams which I found a bit peculiar, but not peculiar enough to refuse her strawberry Cornetto. Fully fuelled we rebounded the corner and I parked the boat at base camp (on my second attempt) with millimetres to spare between us and another boat. I'd like to say it was deliberate.
We had some farewell drinks with the other boat and crew. My Pina Colada didn't agree with me to much. We left the others to do our own thing for dinner and caught the water taxi to beautiful Trogir town for about 5 quid return. We walked the adorable cobbled streets and came across Miki's in a back street square which was a lovely setting.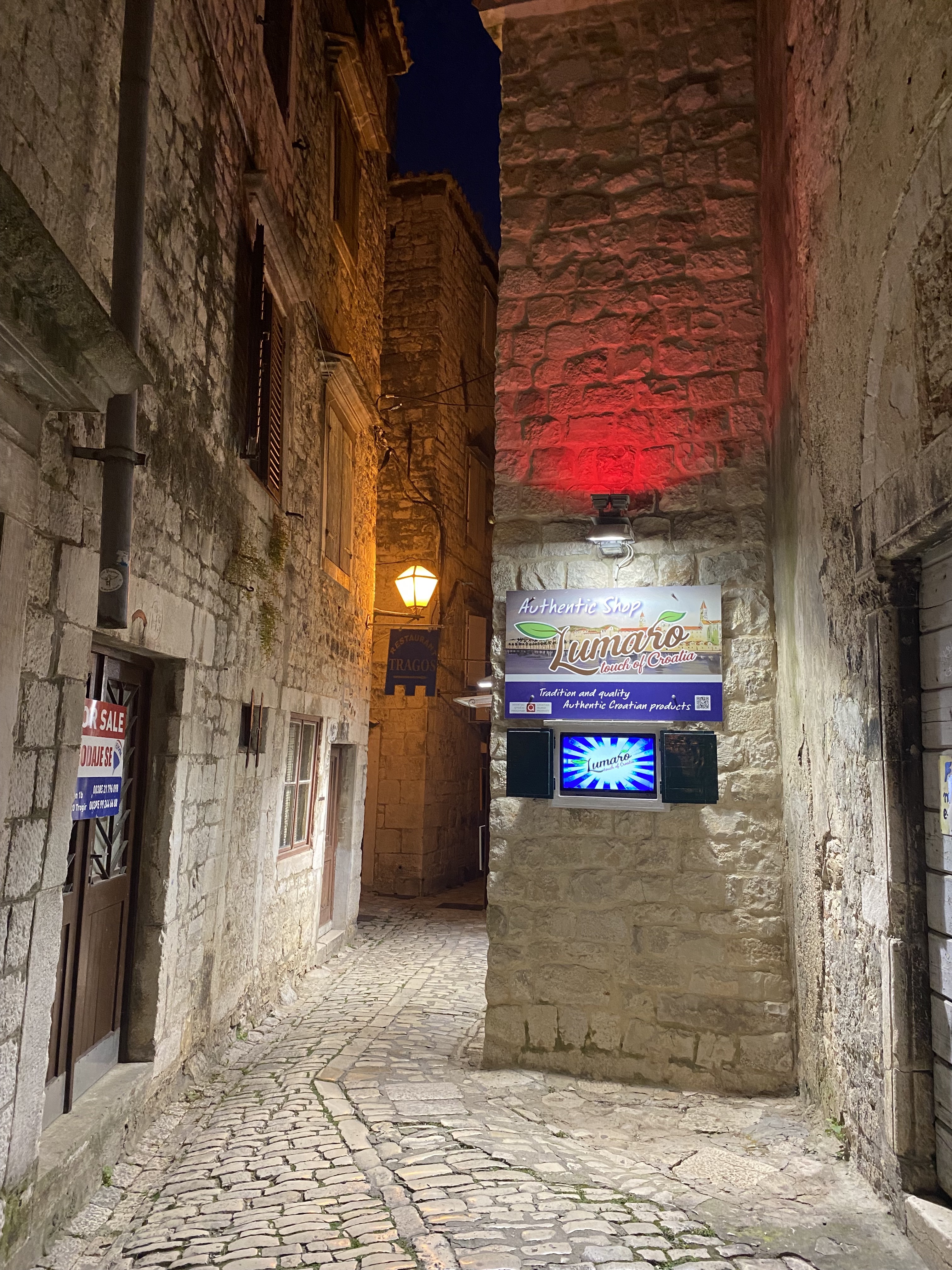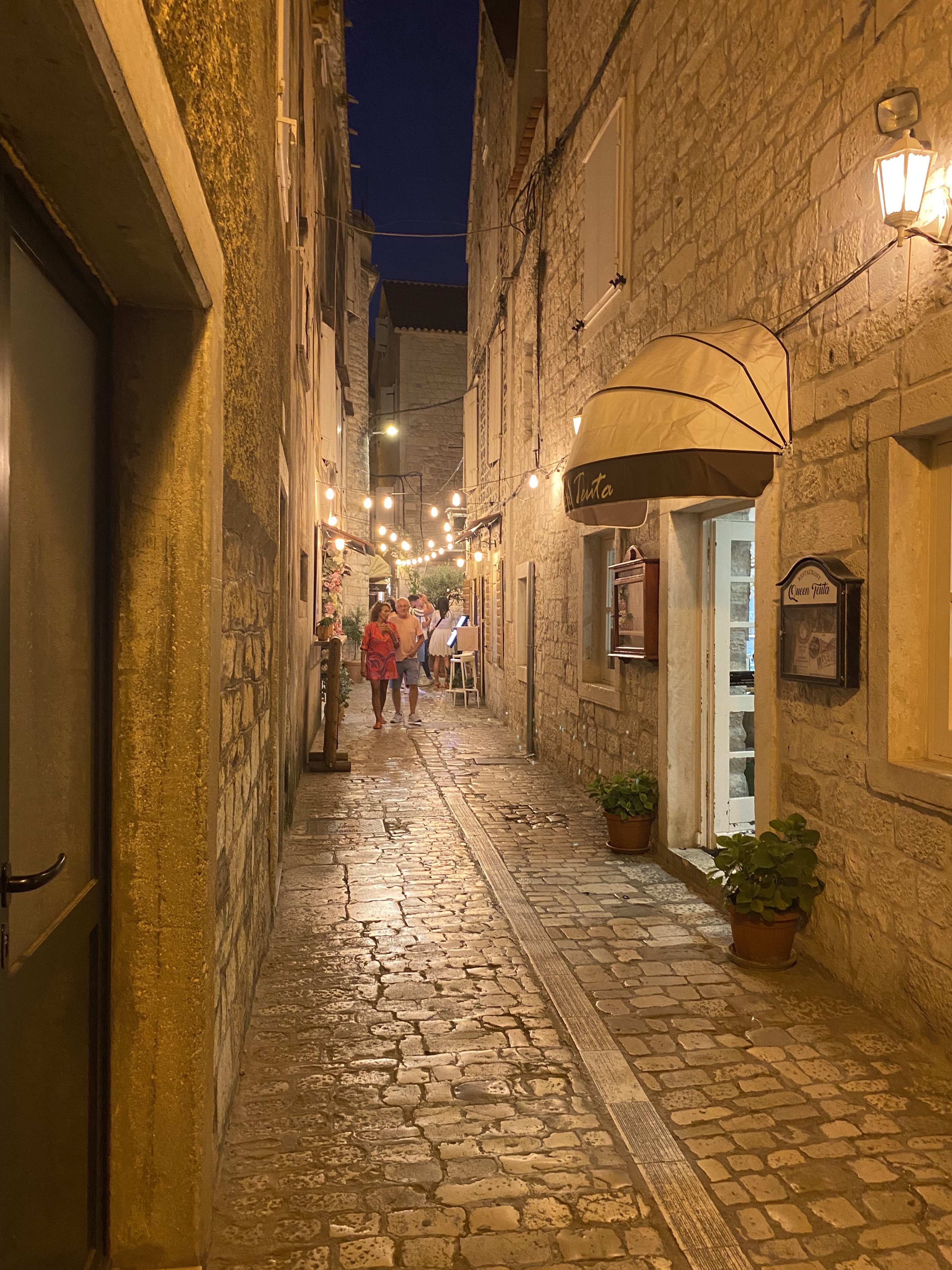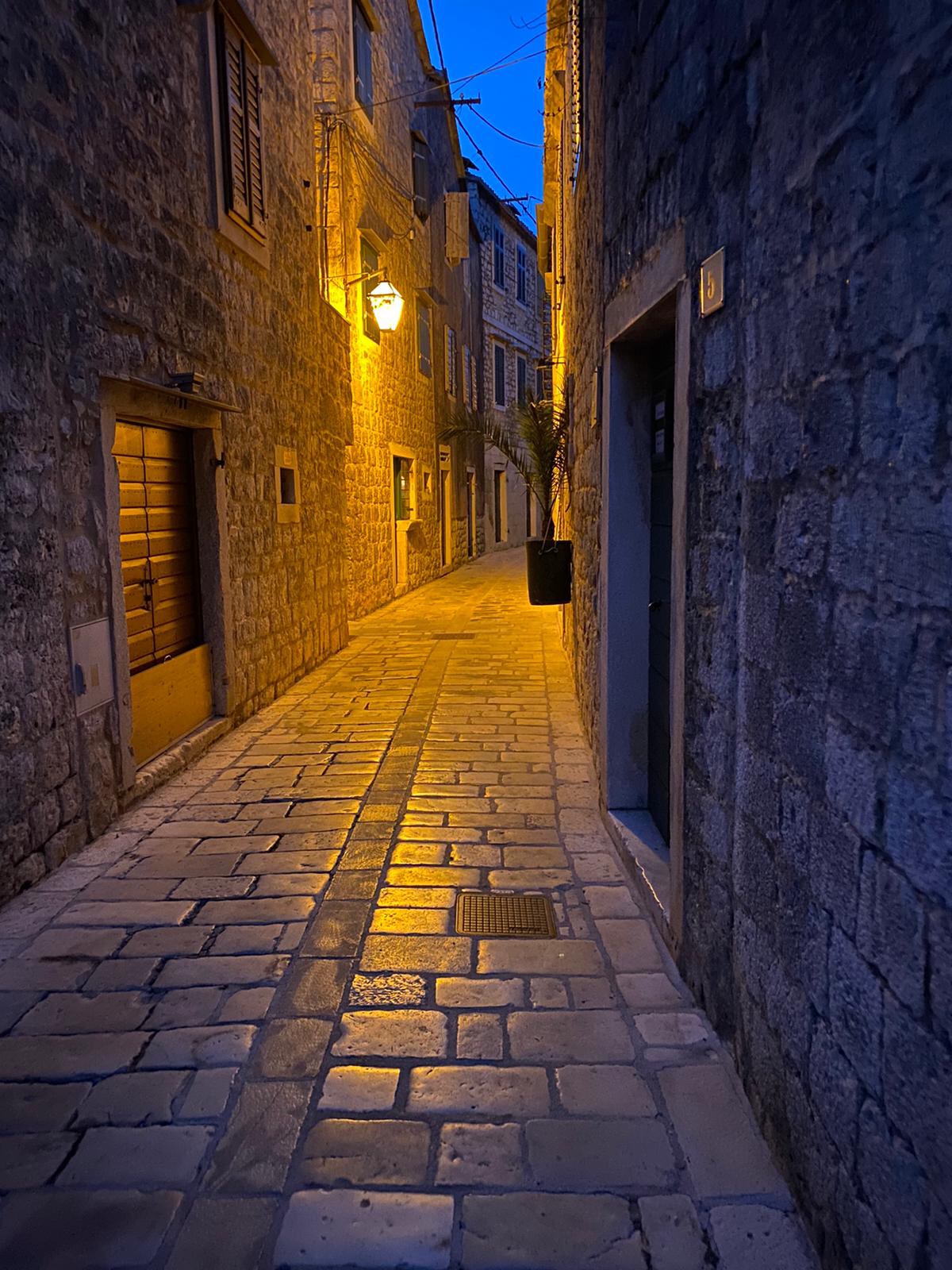 Split airport had kiosks instead of bars and restaurants with a lot of people queueing for "flying wine". There was a bar just before passport control and in future I may stock up there first.
A great week with two of my bestest buddies. Full of laughs and banter and I was also the overall winner at cards. Without Bully our skills improved dramatically. It made us realise how much we had relied on him as he was such an active participant. And of course, we missed him.