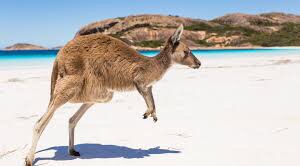 Perhaps I exaggerated the effectiveness of German nursing as the MF took a turn for the worse. I decided that a day on the ship would be best although watching Tess of the D'urbervilles may not have been the wisest choice. I would rank it near the top of a viewing list for anyone who wanted to top themselves but just needed a little extra encouragement.
After the heat of Adelaide, the weather at Kangaroo Island was cool and overcast with the threat of rain. We anchored about a mile offshore and from that distance it looked as bleak as Scotland which was quite upsetting.
Reports from the island were mixed. Astrid lasted five minutes, Richard's verdict on his tour was highly influenced by a visit to the local pub but Gwen had a good time. Ben didn't make it either but neither of us felt deprived.
Kangaroo island was first discovered by Englishman Captain Matthew Flinders and he named it after the feast he and his hungry men had just had. Chicken.
Well we left overcast Kangaroo Island with a sea day before arriving in a Melbourne and the weather was far from clement. I only managed to sleep for three hours which on top of the MF and the rocking and rolling meant that Thursday 16th November 2017 will not live on as a super day. It was Barry White with nurse Astrid the only glimmer of hope. Astrid's cabin is in a much calmer place on the ship in rough weather (that old chestnut) so I tried to recuperate as best I could with the attentive nurse bringing me sporadic fruit offerings.
I'd contemplated jumping ship in Melbourne and missing out on Tasmania altogether such was my malaise. We hit force 11 on the Beaufort scale today (in only goes to 12. After that the Weather Channel turn up wearing cagoules). The captain has however promised us a slightly smoother sea surface from now on. The Bass Strait is notoriously choppy and as Capt. Bas van Dreumel mentioned last night as we left, there have been 50 shipwrecks in the area. His bedside manner is I'd great comfort.
Next stop Melbourne.
P.S. The photo isn't mine.