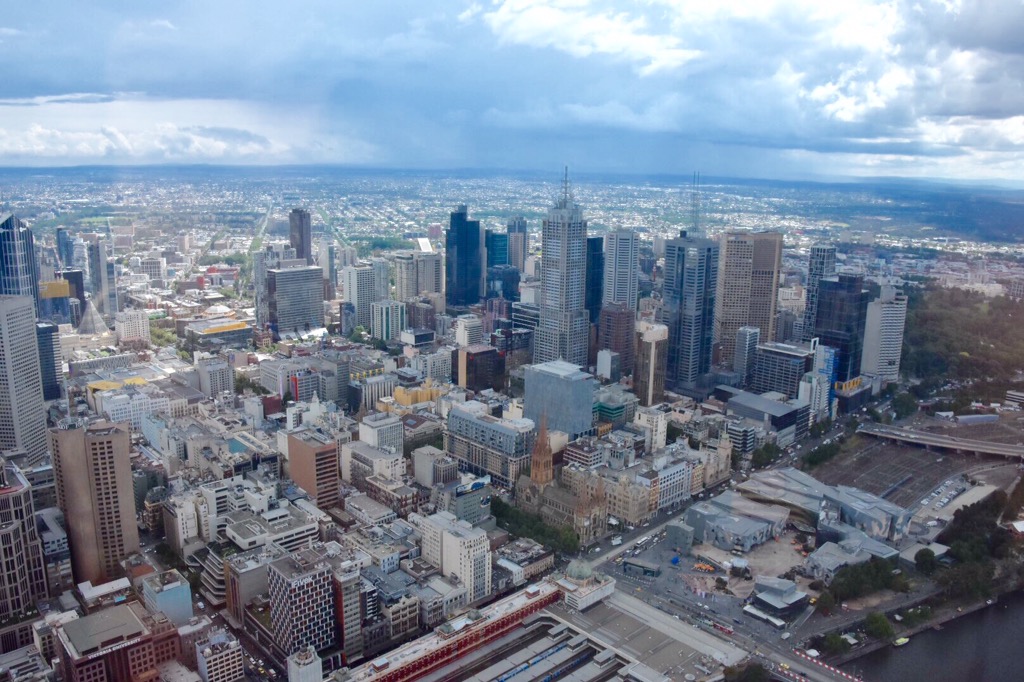 Melbourne has become one of my favourites cities and I was determined to be well enough for a mooch round. Astrid had gone on a tour and Ben had left early to go to the casino. Regrettably Ben asked me to come and join him and even more regrettably I accepted the invitation. Anyway, suffice to say that the winners of the day were the Crown Casino, which is the largest casino in the Southern Hemisphere.
I left Ben for a brief time to visit the Eureka Skydeck which is Melbourne's tallest building with an observation deck on the 88th floor. I'm a sucker for an observation deck and I was fortunate enough to be visiting at the same time as a group of Japanese schoolboys. After taking a photo from all four sides (because that's what you do from an observational tower) I bade sayonara to my new friends. It wasn't long before I was back with Ben making a contribution to the Australian economy. The minimum bet on blackjack tables was 25AUD which is about £15. It was a Friday and I was surprised just how many people were in there but not surprised at how many were Chinese. In my travels I've mentioned the Chinese influence and march towards world domination many times but if there is one thing that will stop this almost inexorable progress it's that they give it all back at the gambling tables the world over. I watched one guy at the hundred dollar blackjack table betting hundreds per hand and having a miserable time. I almost felt sorry for him.
Ben went back to the ship and I went to the city to meet Astrid which turned out to be a little farcical and by the time she got there, we had to head straight back (on the fun bus) for the 5pm sail away. For two years running the stop in Melbourne hasn't been long enough. It's a strong candidate for an overnight stay. At least I managed to do a few things I hadn't done before namely the tower and the casino.
Next stop Tasmania.