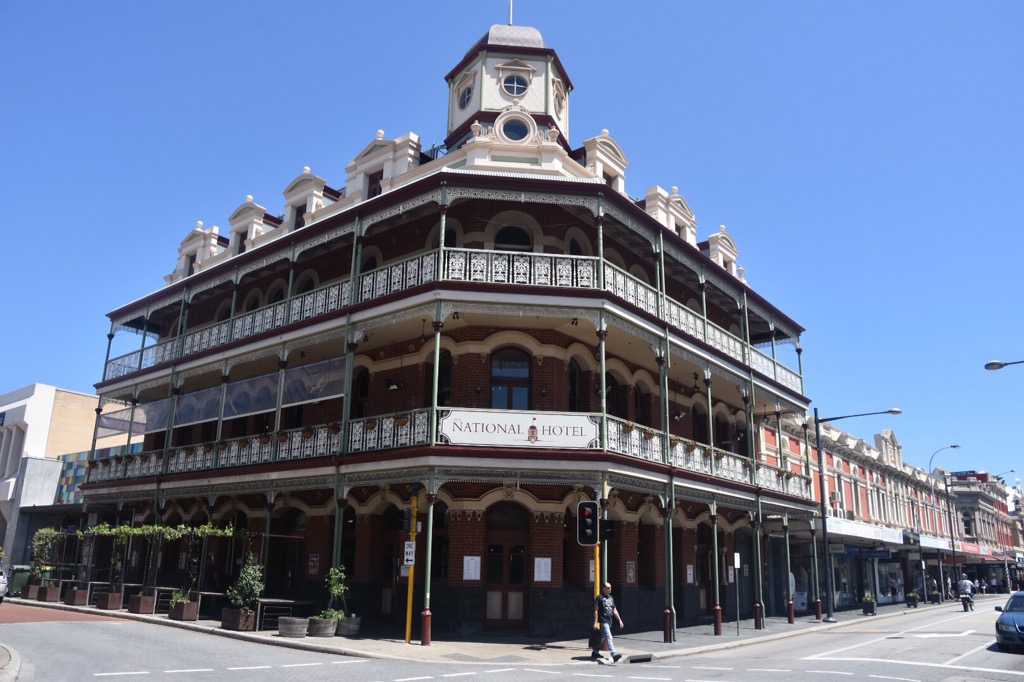 The ship docked at Fremantle which is an urban area within greater Perth. Well what a lovely surprise Fremantle was. Even the container port could be described as 'rather fetching". We stopped here for an overnighter and thought we'd do Perth first and Fremantle the following morning. Perth is the capital of Western Australia with a population of 2 million making it Australia's fourth largest. It was named after Perth in Scotland. Perth is also Australia's sunniest city.
We took the train north about fifteen miles through leafy low rise suburbs to Perth. The attractiveness continued for the whole journey and indeed the CBD of Perth was also up there in terms of modern, clean, good-looking Australian cities. The three of us had no real plan but I'd read that the bell tower known as the Swan Bells at Elizabeth Quay might offer some touristic pleasure so we headed there. Well what an education. Sylvia knew more about bells than anyone I'd ever met (or care to meet again). The 18 bells are the second biggest "ring" in the world. The bell tower is a modern gleaming tower built specifically to house these 18 bells which all came from England, the majority from St Martin's in the Field, and as I'm sure you all know, one cannot buy English church bells but a modest rental programme exists. And then our moment came. We had a go. For a brief point in my life I was a campanologist although I've a feeling I won't be pursuing this as a hobby. It's harder than it looks (a bit like slalom skiing) and it plays havoc with your forearms.
We lunched in the Lucky Shag Bar & Restaurant overlooking the Swan River before continuing our meanderings through Perth. Ben wanted to find the Video Game Museum and neither Astrid or I could mount a good enough protest. Within minutes we were in a less salubrious part of Perth so I bagged my camera and electronic gizmos and did my best Kevin. Kevin is a guy on the ship with a delightful wife called Denise (a feast of splendourment) but Kevin looks like he kills small animals for fun. Anyway we couldn't find the museum (which restored my faith in Jesus) so we headed back to the ship/home.
A goodly day despite a fly following me around all day – well he looked like the same fly and I also had a head cold. I'd dodged any form of illness for forty days which isn't easy on a cruise ship but it's finally got me. Ben is a chemist so he helped me stock up on what I needed. The same stuff on the ship from the doctor would cost three times as much. The minimum price for seeing the doctor onboard is $95 and some people have had enormous bills however as a Carnival stockholder it's good to know that they're not missing an opportunity to increase revenue.
Fremantle known by locals as Freo is Western Australia's main port and lies at the mouth of the Swan River. We were docked right in the middle of town so Astrid and I stepped out for an explore. My fly friend picked up where he'd left off the day before so it wasn't long before I was making a series of spasmodic Kung fu moves. Despite Perth being one of the top ten most liveable cities in the world, the fly situation would drive me mad.
As well as a number of attractive colonial buildings, an abundance of bars, restaurants and coffee shops set the tone for what is a cute town with a more relaxed feel than Perth. After mooching for a few hours we were back on board by 12 for an early sail away. On the way out to sea we saw some humpback whale activity but not close enough to get photographically excited.
Ship Life
I've not mentioned it thus far but I have been playing beginners bridge with Ben, Deborah and Joe and I'm starting to pick it up. Our teachers are a duo called Dianne and Dennis with Dianne taking the lead. Dennis interjects every now and again. He sounds like a character out of a western – the John Wayne of bridge. He talks about his mother teaching him when he was a child and the violence meted out on him should he make a mistake.
Other daily activities on offer include Book Club Meet, various cooking classes (Asian dumplings today), a Texas hold'em tournament, a variety of drinking events and a plethora of things on offer from the beauty and fitness team – secrets of a flatter stomach, detox boot camp and indoor cycling. They tried outdoor cycling but lost too many over the side.
79 degrees today. Tomorrow it gets cooler as we reach Albany.