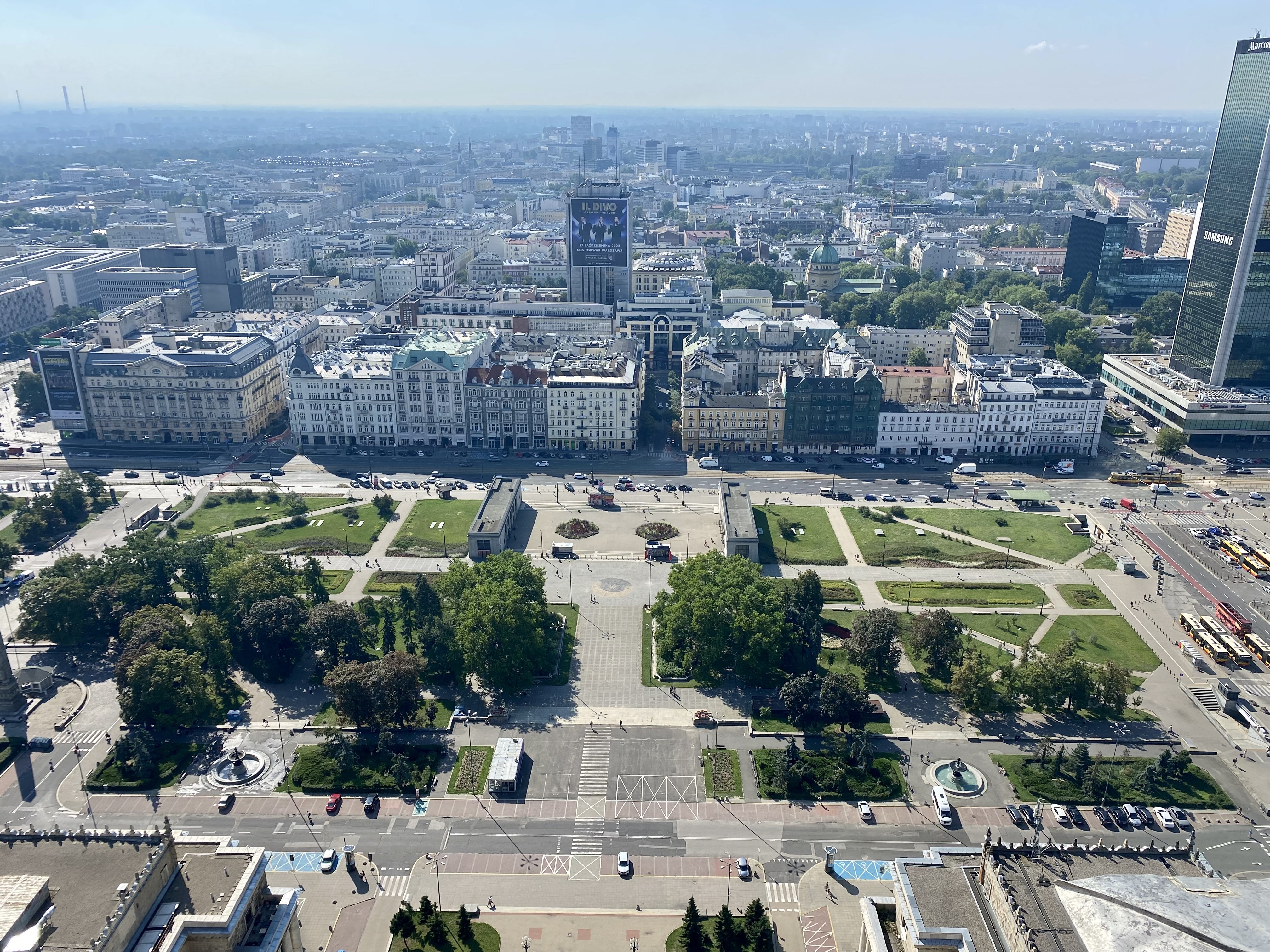 Poland Road Trip – Part 1
I flew club class from Heathrow to Warsaw and was pleased to avoid the summer airport chaos, otherwise known as queueing. A little over two hours later the plane landed in Poland's capital and I went in search of my hire car- a Nissan Qashqai. Sadly, it was a manual, which I wasn't expecting.
The airport was only a few kilometres from the Marriott, so I was there as quick as you can say Lech Walesa. I got talking to Grzegorz, the valet chap. They didn't actually have valet parking so I don't know what his actual job title was. He told me my parking option, but then offered me a better deal if I gave him the key and he parked it in front of the hotel. The agreement was between Mr. G and me and cash was exchanged. Welcome to Poland. We were both happy – win/win.
I dined around the corner at the Radio Cafe which had tables on the street, and I watched Polish life go by. The most disturbing passerby was a young girl who must have been in her early twenties, dressed like a hooker, with a pushchair/ stroller. I also saw her the following night dressed in different, but equally attention grabbing attire.
Wednesday
I had a full day to mooch around Warsaw so I left mid-morning to see what I could find. I headed for the old town which was 40 minutes away on foot. It was very pretty and lay adjacent to the Vistula river.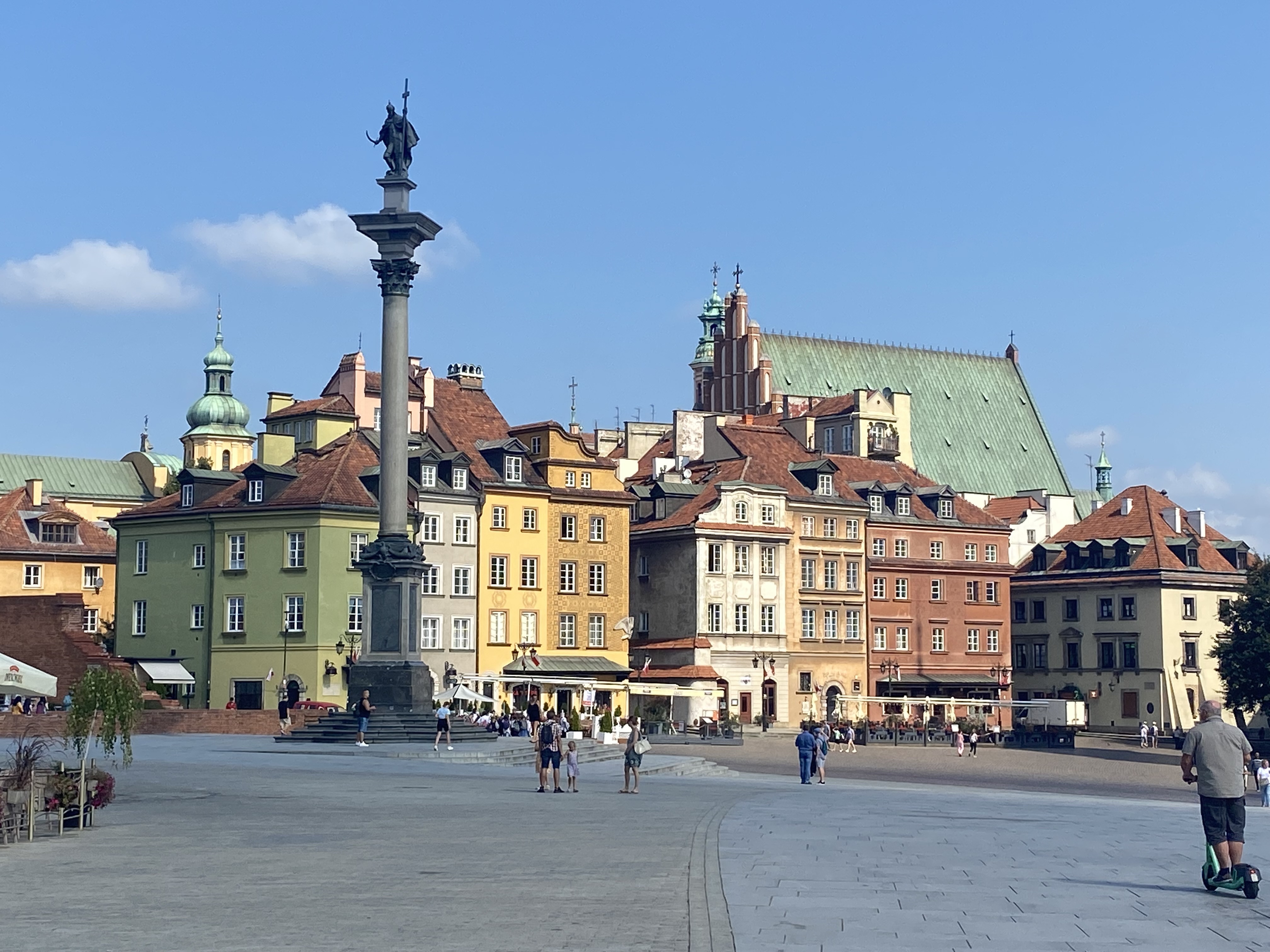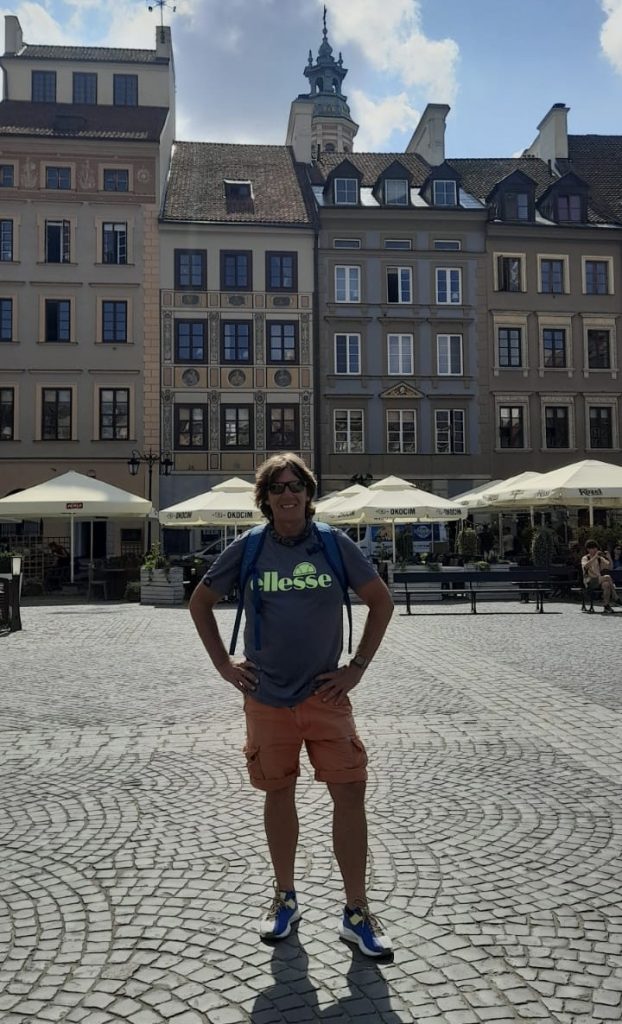 I walked the castle gardens which were floral and symmetrical, and then followed the river path for a mile or so. I've observed that the Poles on foot are very obedient when it comes to traffic signals. They won't cross the road even when there's nothing coming for several miles, in each direction. Another interesting little snippet of cultural peculiarity, is that Laurel & Hardy are known as Flip & Flap in Poland.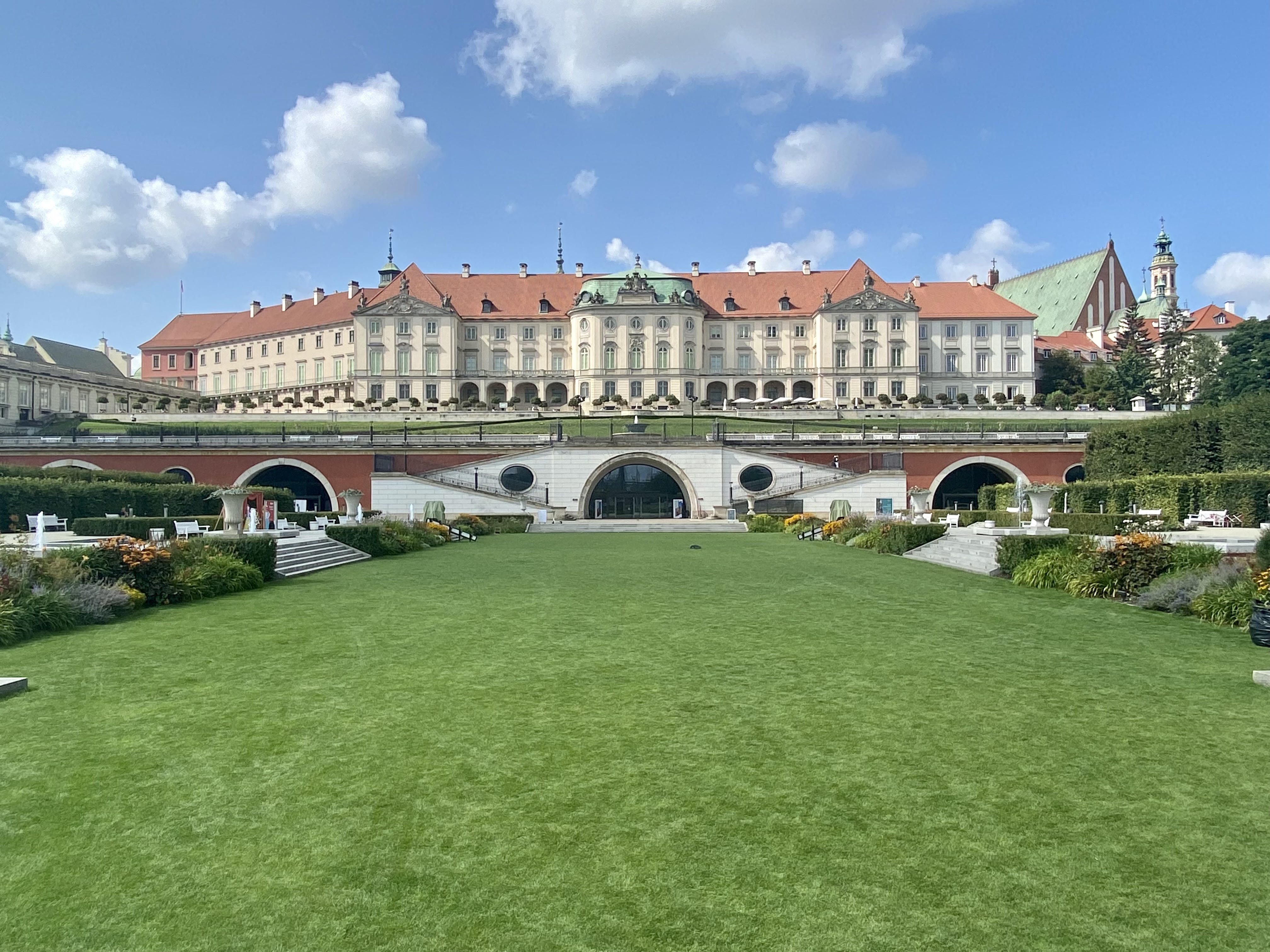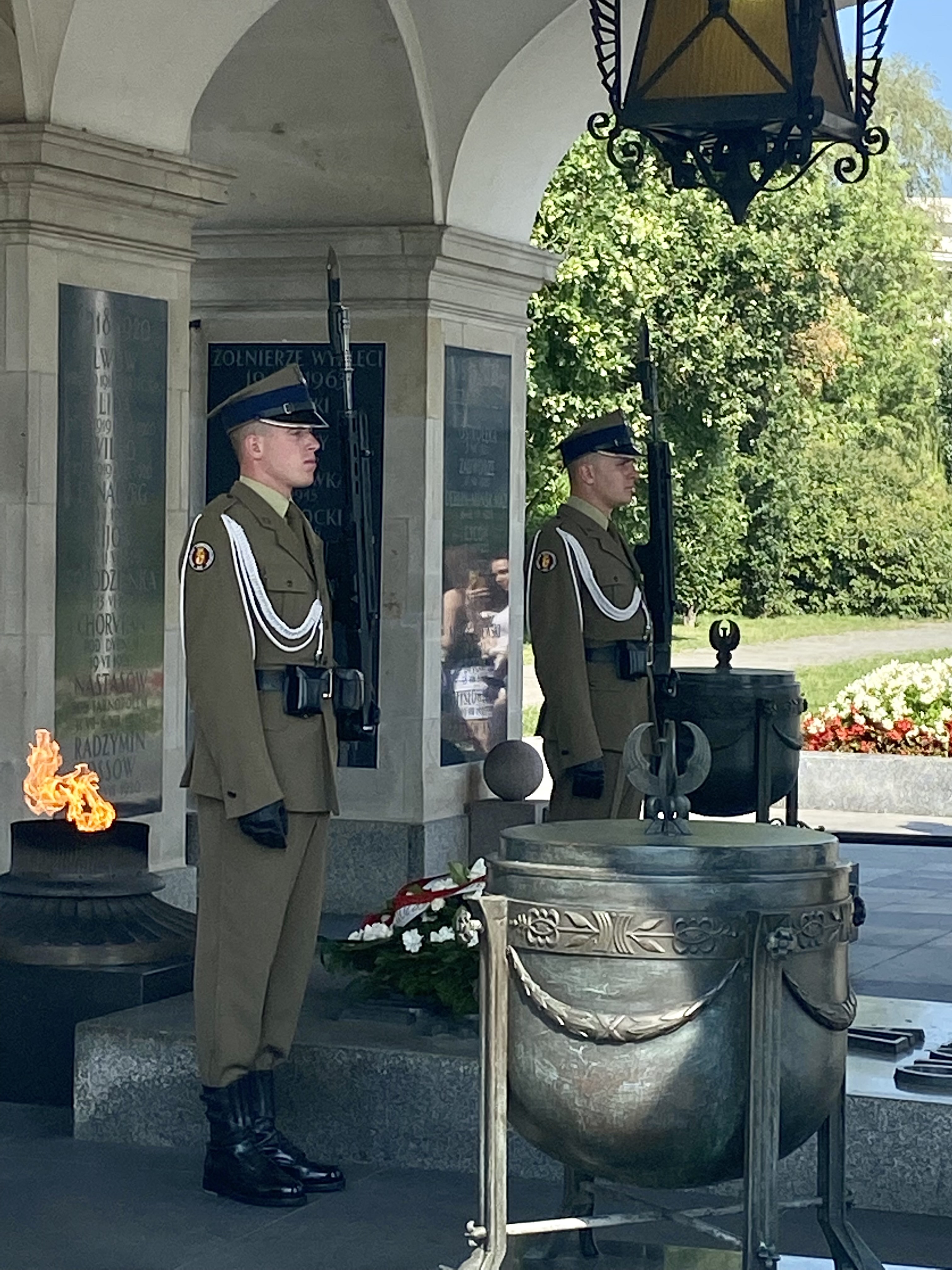 Famous Polish people include Nicolaus Copernicus, mathematician and astronomer, who first suggested that the Earth orbits the Sun, rather than the other way round, piano virtuoso Frederic Chopin, who died young, at 39, and of course, England's nemesis, Jan Tomaszewski who was the Polish goalkeeper on the 17th of October 1973 at Wembley. England needed to win to qualify for the 1974 World Cup. It ended in a 1-1 draw despite being an incredibly one-sided game. Enough about that. There's a good YouTube video on the game if you're interested.
For the second night running I dined at the Radio Cafe with Dominik as my waiter. I had pierogi which is a Polish speciality. As Dominik delivered it, he said "it tastes better than it looks". Also on this day, I went to the gym twice and the sauna. Later in the evening I visited the 40th floor which was an incredibly sexy lounge indeed. It was dimly lit and everyone looked good.
Thursday
I went for an aimless walk around the streets of Warsaw. The sun came up at 5:30 which was excellent. Across the road there were lots of homeless people. It was near the main train station so I guess this was a prime spot for them to hang out.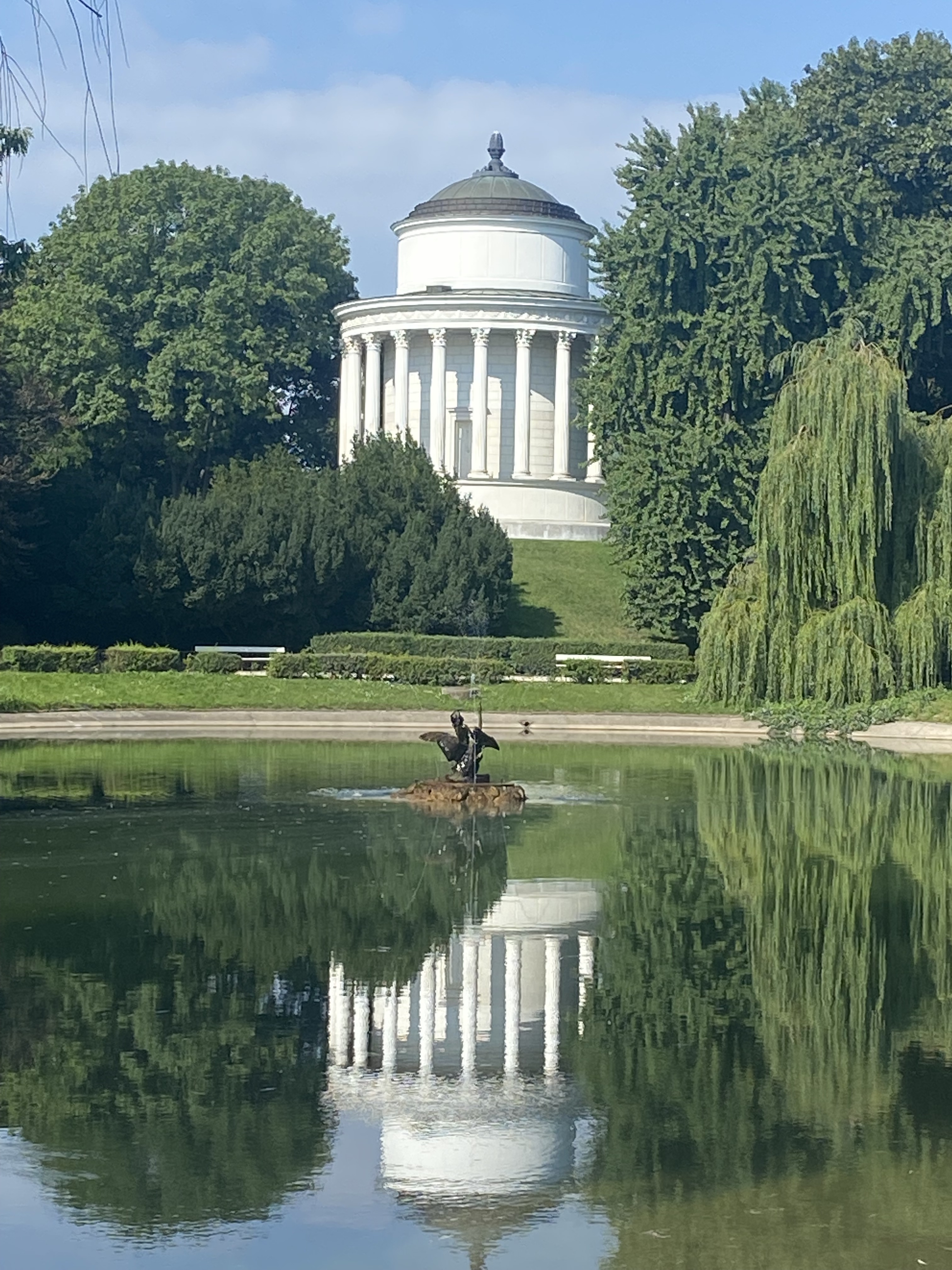 My ambulatory activity took me past a church that was actually holding a service at 6:30 in the morning. There were about a dozen people in the congregation and I thought this was pretty amazing.
Before leaving Warsaw I went up the Palace of Culture & Science which is the second tallest building in Poland. There was a viewing platform on the 30th floor with some fabulous views over Warsaw. Originally it was known as Joseph Stalin's Palace of Culture and Science, however, they've since removed any reference to Stalin.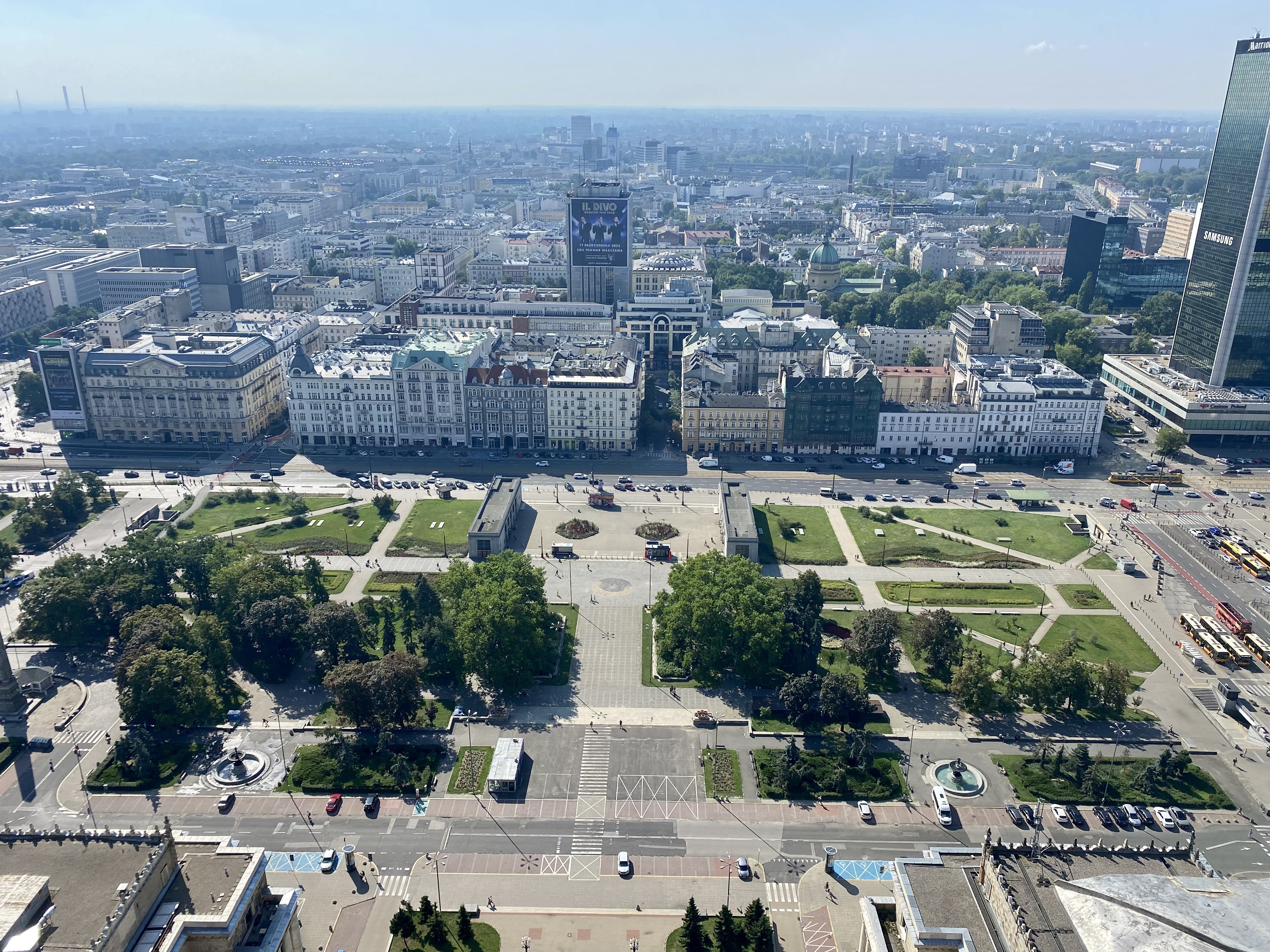 I left Warsaw and drove a few miles to the King's Palace and Gardens at Lazienki Park. Tootling round the grounds and various buildings was a great way to spend and hour or two, or perhaps even longer. I probably could've spent a day there and done 20,000 steps. Of course, I would've needed a packed lunch and various other comestibles.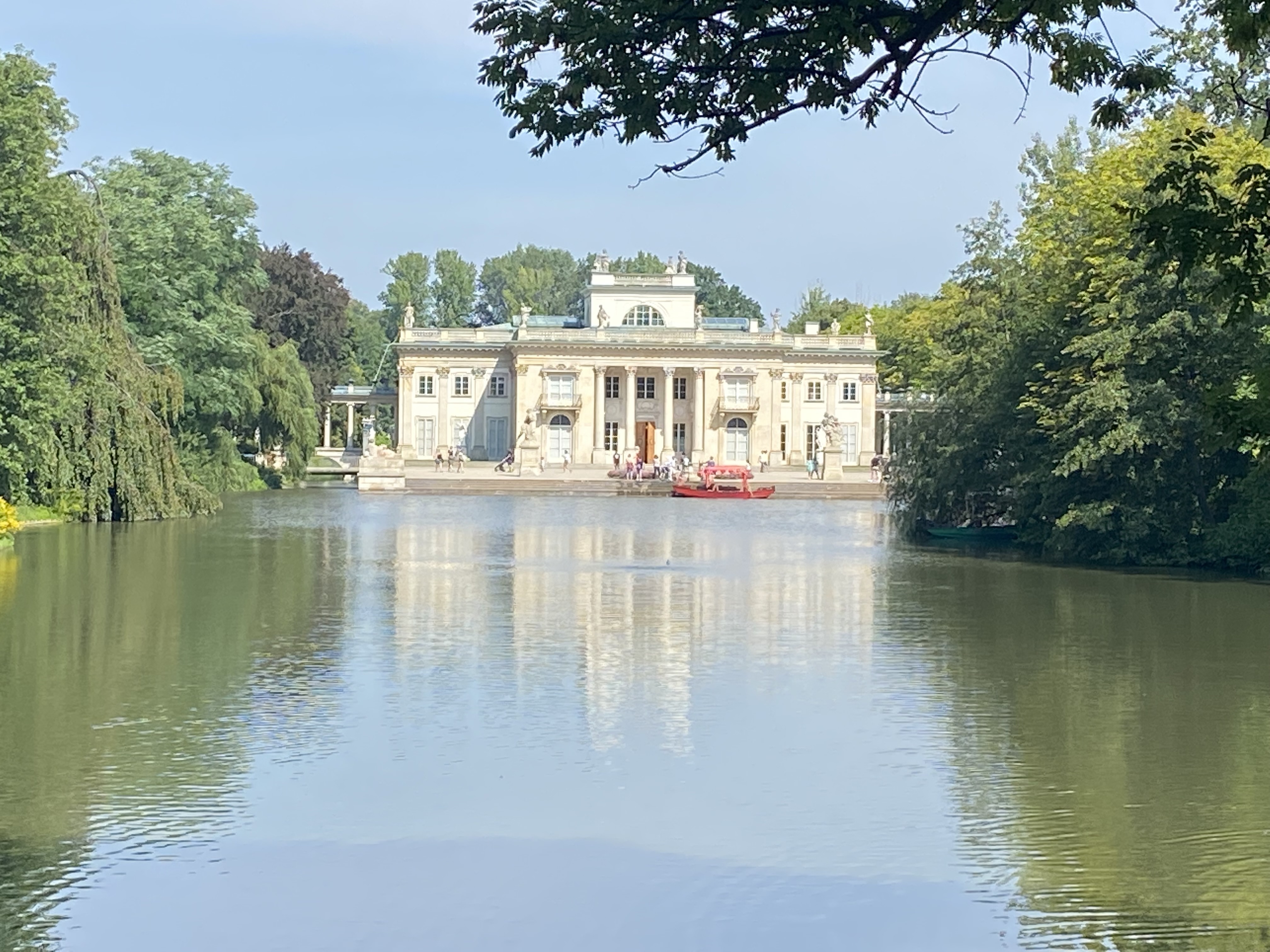 Poland used to be a monarchy, back in the day, and the first monarch was Boleslaw the Brave who ruled for 992 to 1025. The last monarch was Stanislaw II August who ruled from 1764 to 1795. History reveals that this chap was intimately involved with Catherine the Great. Polish monarchs have had some interesting titles. We have Sigismund I the Old, Boleslaw IV the Curly, and Boleslaw V the Chaste. My favourite is Ladislaus the Short.
It was a 3 1/2 hour drive from Warsaw to Kraków and the roads were well maintained and looked fairly new. I was staying at the Sheraton Grand in Kraków which is a rather unattractive modern hotel, but it did have a rooftop terrace overlooking the river.
In the evening I strolled to the old town to see what that was all about. There were plenty of outdoor restaurants to choose from but in the end I plumped for the McDonald's and had a quarter pounder with cheese. I spent a few hours mooching around before heading back to the hotel rooftop bar for a nightcap.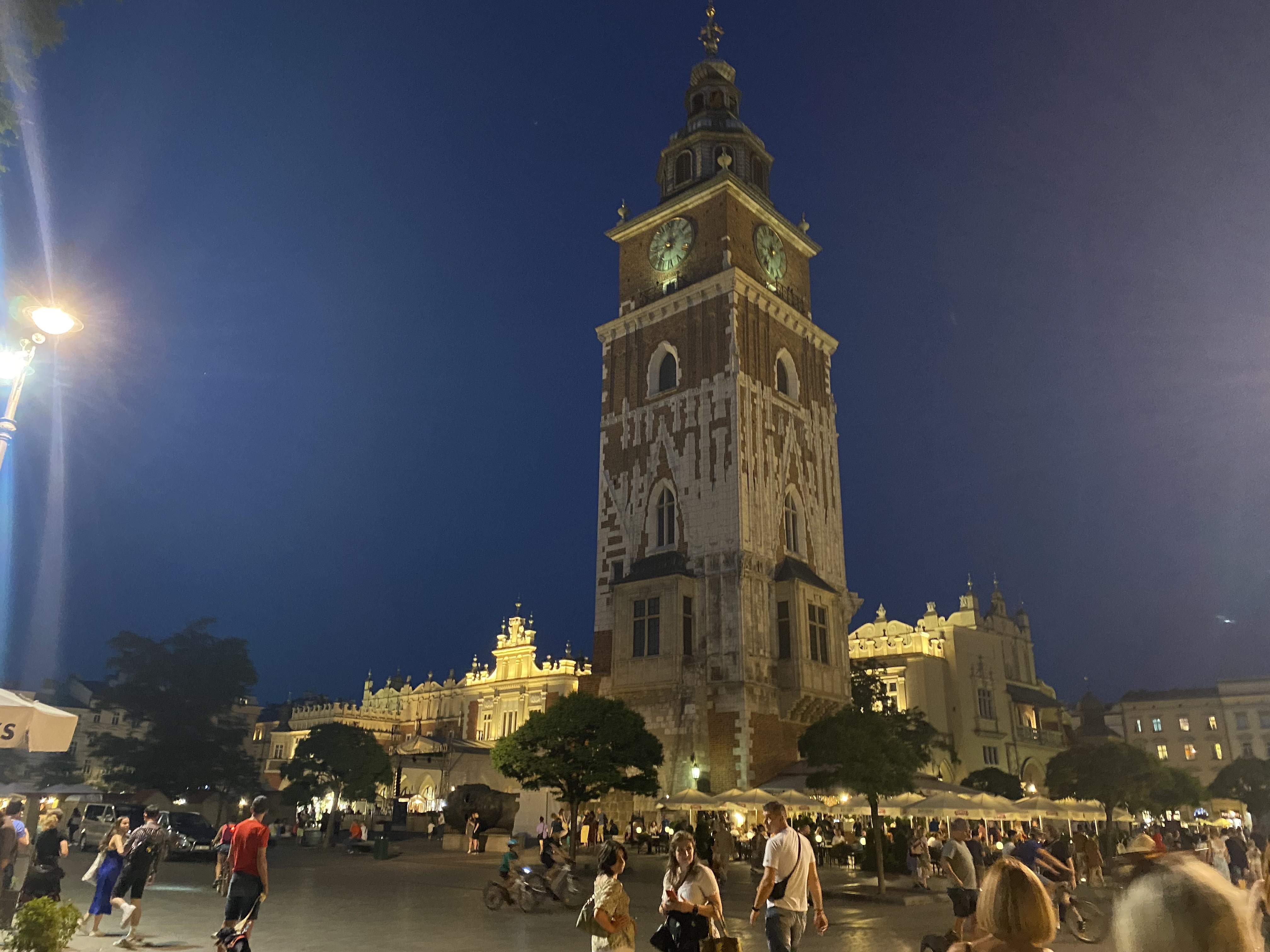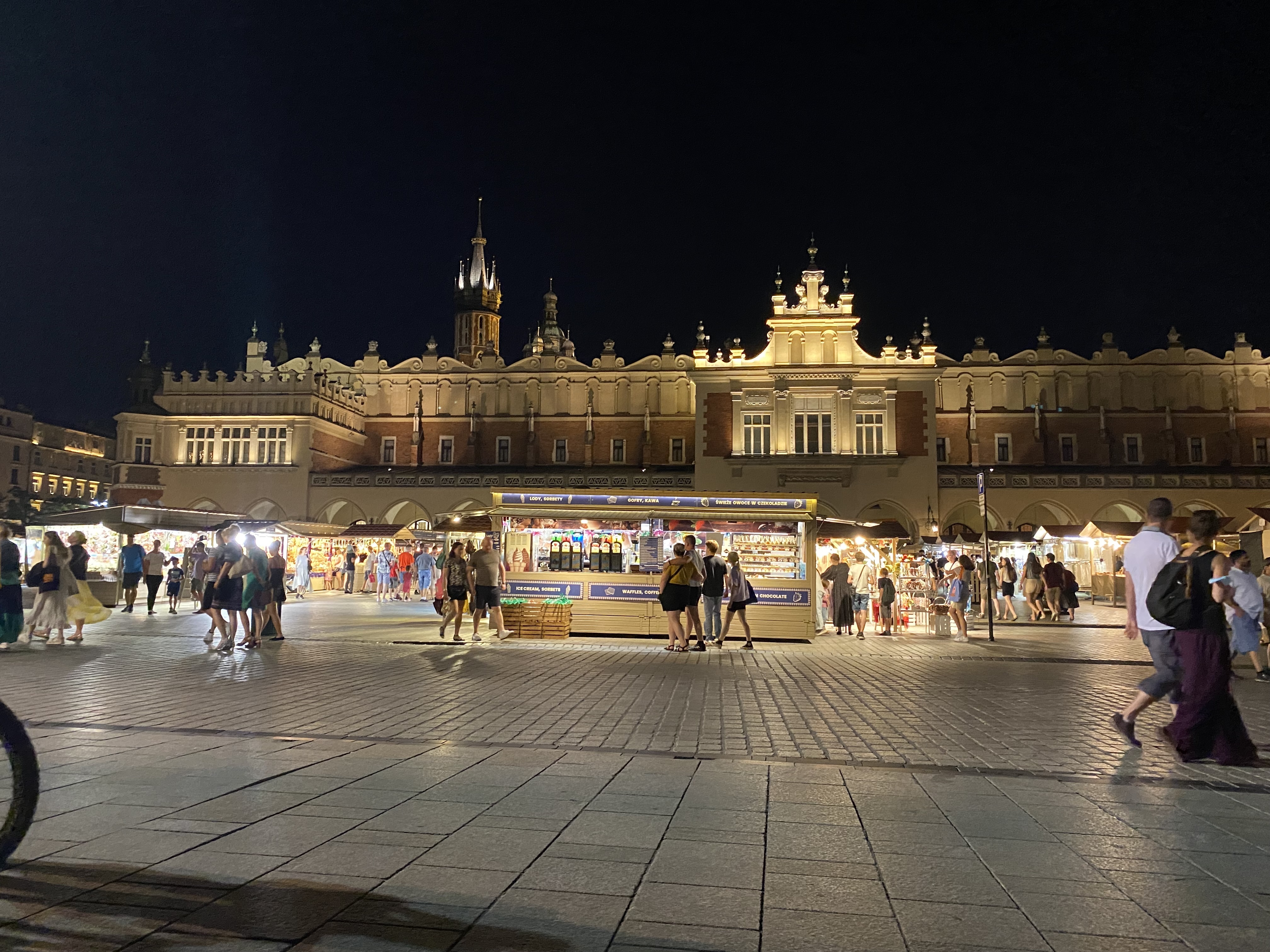 Friday
With a full day in Krakow I was off to a flyer, walking round town early and circumnavigating the castle. I headed back to the old town to see it in the daytime. Even more impressive and luckily, fewer people.
I found a souvenir shop and amongst other things, they sold Rubik's cubes. With my newfound skill I thought I'd try to solve one. And then some spotty teenage nerd came up beside me and started solving all of them. I left! It's always good to walk away when you've been defeated by a spotty teenage nerd.
My only other visit to Poland was a few years ago when Dianna and I were on a cruise. We stopped in Gdynia and had a nice time walking around. This time I'm seeing far more of real Poland.
After the old town I ambled over to the Jewish quarter and found a nice young chap called Lucas, with a golf buggy. Lucas made me an offer I couldn't refuse and took me on a tour of various Jewish areas.
Our first stop was the Jewish Ghetto, established by the Nazis in September 1939 in the district of Podgorze. This was one of the first areas to be occupied following the invasion. Prior to the war there were 68,000 Jews living in Kraków. By the end there were only 3000 remaining. Most were expelled from the Krakow, however, around 15,000 were taken to the ghetto across the river where they were either shot by firing squad or sent to death camps. The Germans built a wall to prevent escape, and there were four gates.
One of the children in the ghetto was a six year old called Roman Polanski. Although he was born in Paris in 1933, four years later his parents moved to Krakow, and two years later the Nazi invasion began. Talk about a bad decision to leave Paris. His parents were captured and separated. His mother was sent to Auschwitz and killed shortly after arriving. At the age of 10, young Polanski managed to escape (with some help). After the war, he was reunited with his father in Krakow.
There are 150 churches in Krakow. Most of them are catholic with a few Russian orthodox, a sprinkling of Muslim and 6 Jewish synagogues, although only one is still active. Interestingly, the only one that charged me entry was one of the Jewish churches. Just saying.
The next stop was the factory where Oscar Schindler managed to assist 1,200 Jews escape death. He was a German businessman and the factory made parts of the German war effort. The only original part of the factory still remaining are the gates where workers passed through every day. The outside walls had photographs of many of those who escaped.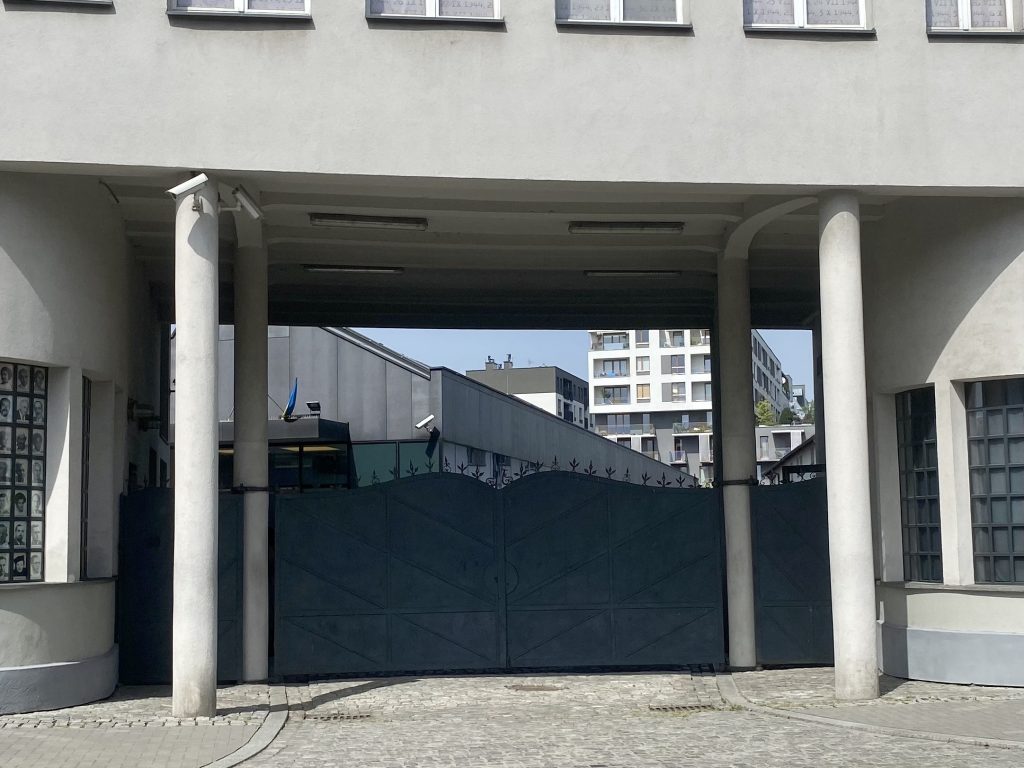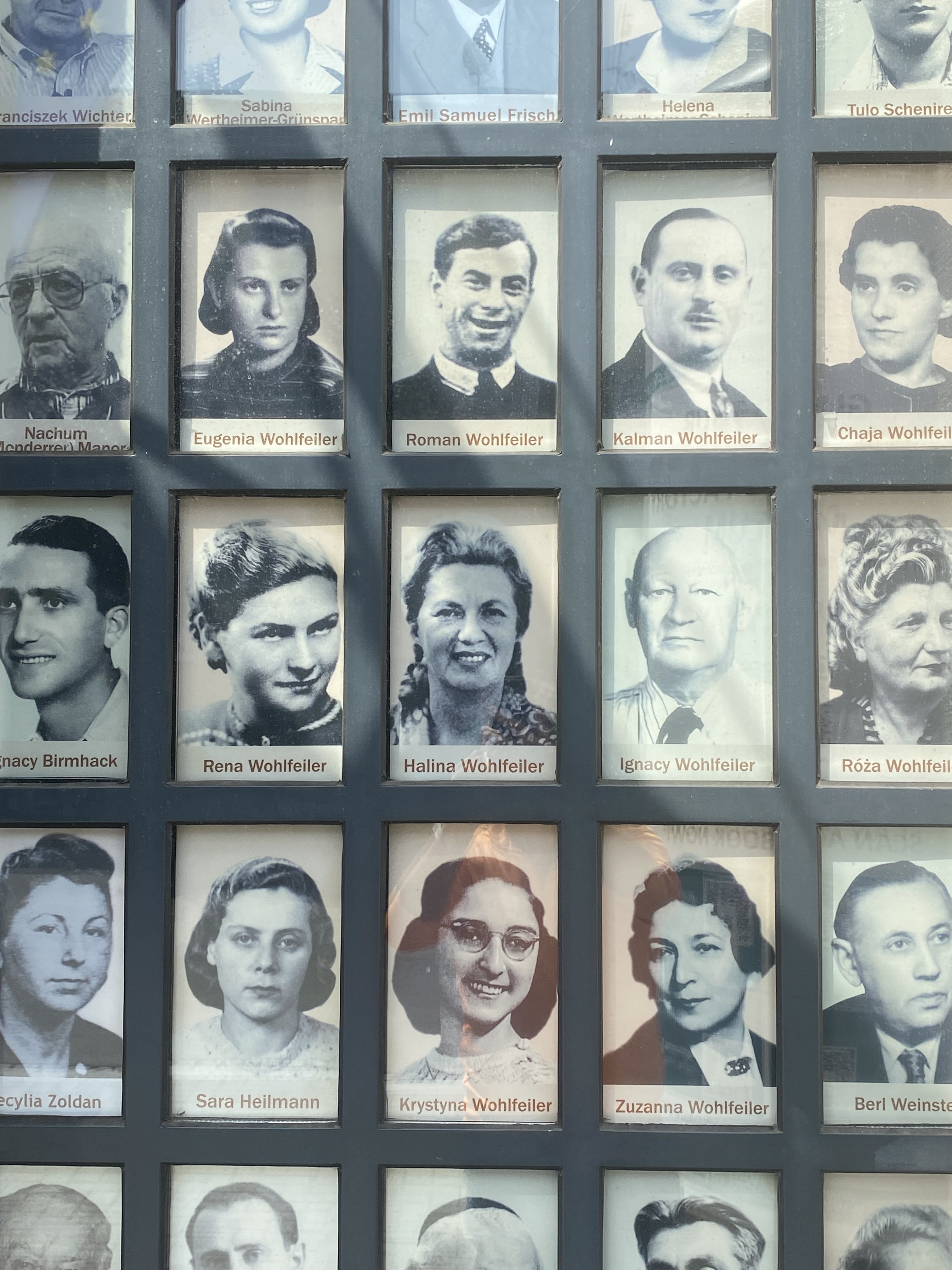 Whilst the number of Jews in Kraków declined during World War II, the number of Ukrainians has increased dramatically in recent months. Prior to the war in Ukraine there were 60,000 Ukrainians living in Kraków. Now that number is around 300,000. Kraków is the nearest Polish large city to the Ukrainian border.
As we neared the end of the tour in Kazimierz, Lucas showed me the house where Helena Rubenstein was born on Christmas Day 1870. An interesting woman, Helena Rubinstein. I'll give you some snippets for your delight.
She lived to the ripe old age of 94 and died in New York City on the 1st of April 1965. The same day that my longest friend, Jon Parker, was born.
She was the eldest of eight daughters and after refusing an arranged marriage, she moved to Australia in 1896 with no money and little English. She must've really disliked the chap!
She established her first cosmetics business in Australia before moving to London in 1908. She got married and in 1912 she moved to Paris with her husband. Her husband was a journalist and set up a small publishing house. It was his publishing house which first published Lady Chatterley's Lover. At the outbreak of the First World War they moved to New York City. It was in New York City where her fierce rivalry with Elizabeth Arden emerged. The two were to die within 18 months of one another.
In 1928 she sold her business to Lehman Brothers for $7.3 million. After the great depression she bought it back for less than $1 million, eventually increasing its value to $100 million.
I returned to the hotel somewhat enlightened and dined in the rooftop bar. An enjoyable couple of days in Warsaw and Kraków.