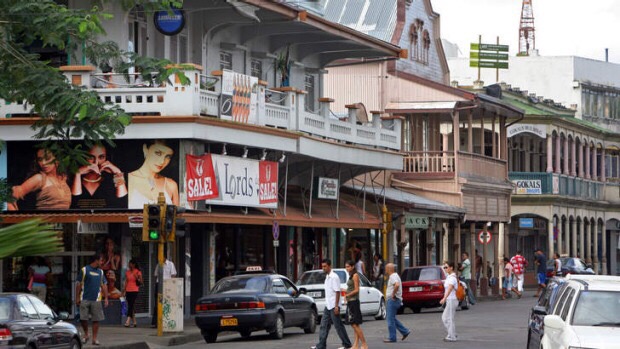 Our first Fijian stop was the capital, Suva, which was reminiscent of the Caribbean capitals – Castries, St Johns and Bridgetown. Lots of hustle and bustle, masses of people selling curiously shaped vegetables and a general scruffiness.
Suva us the largest city in the South Pacific with around 300,000 people. Fiji is made up of about 300 islands which could sustain life but only about 100 are inhabited. Viti Levu is the largest island and Suva is in the southeast corner. I was in the town of Nadi a few years ago which is northwest and more picturesque although I think downtown Kabul might be more picturesque than Suva.
The population is mostly Fijian but with a large immigrant population from India (37%) which gives in a unique feel (without improving its attractiveness).
Five of us ventured out and decided to first do a hike. After interviewing a number of hopeful drivers of whom one wanted to squeeze us all into his saloon, we settled on a fourth generation Indian chap named Mohammed. Mohammed's speciality was the "upsell" so after agreeing twenty bucks each we ended up paying forty.
The hike was in a national forest (additional charge) and was terrific through a jungle landscape and cascading waterfalls. Then he took us on a country tour which was average at best but we did stop at a village (additional charge) which was putting on a show all day for ship passengers. On cruise ship day, out come the grass skirts, conch horns and fire sticks and we are treated to traditional Fijian culture. I volunteered to taste the curiously produced Kava drink in a small ceremony. It didn't really taste of much but I can't really see it catching on back home. It's made from some type of root plant which in my experience don't produce the most exciting beverages. After the cultural show it was back to Suva for a whirlwind city tour (additional charge).
In the afternoon Linda and I went shopping and I bought a mask and snorkel from an Indian chap. One of the more interesting differences in day to day Fijian consumerism is that you can barter with the Indians but not the Fijians. We were dismayed by the dearth of bars and restaurants but eventually we found a first floor balcony club/ bar and went in for a libation. The only white folk in there – exhibit A and exhibit B until they lost interest. Beach stop tomorrow!