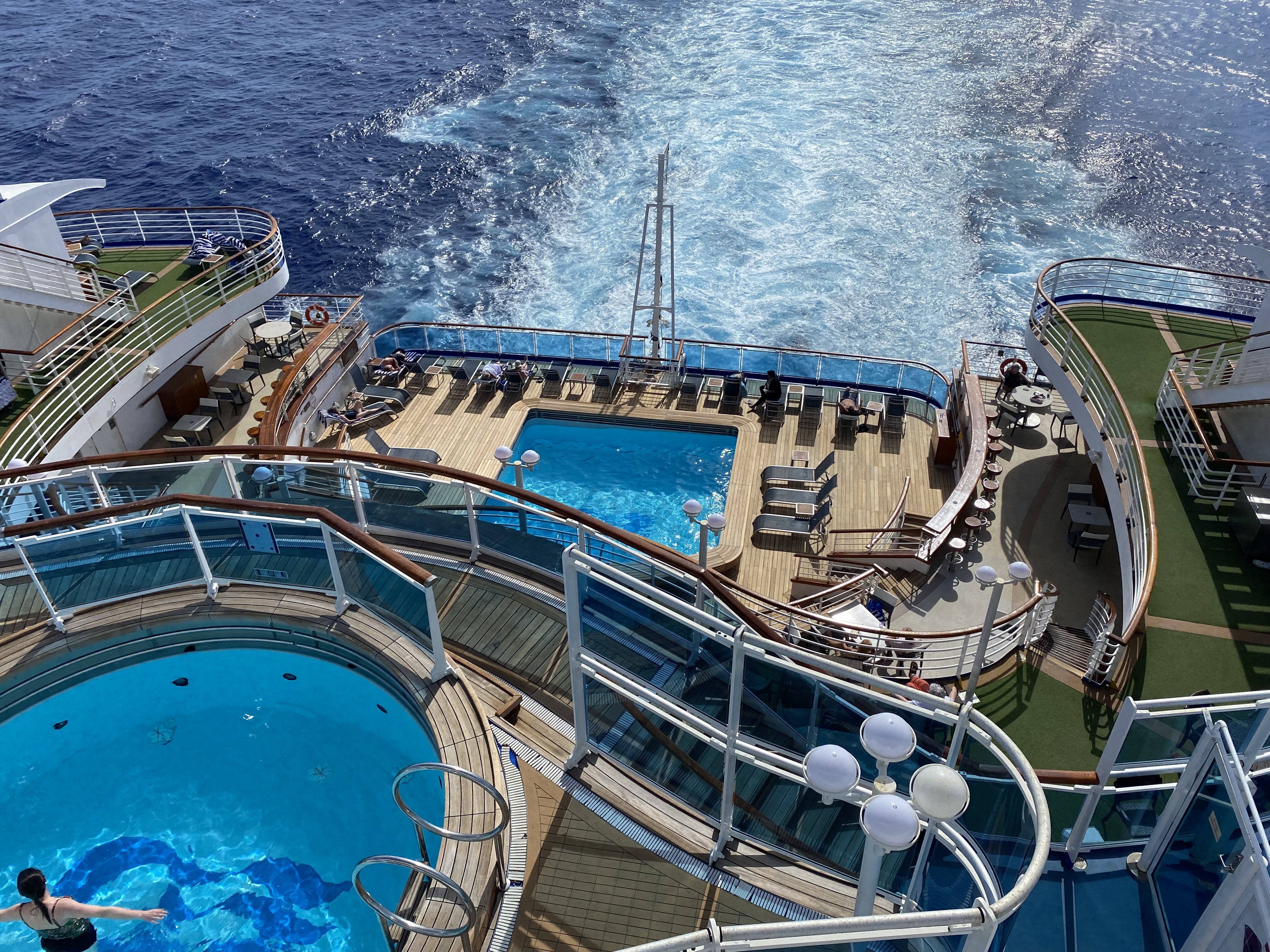 Transatlantic Cruise – Part One
I was one of the last to board and one of the few who hadn't had a COVID test prior to arrival so I was tested by a nice Canadian chap who had the most delicate swab technique. I was grateful.
The ship was the Emerald Princess, built in 2007 with a maximum passenger capacity of around 3,000. We were a little below that at 2,300.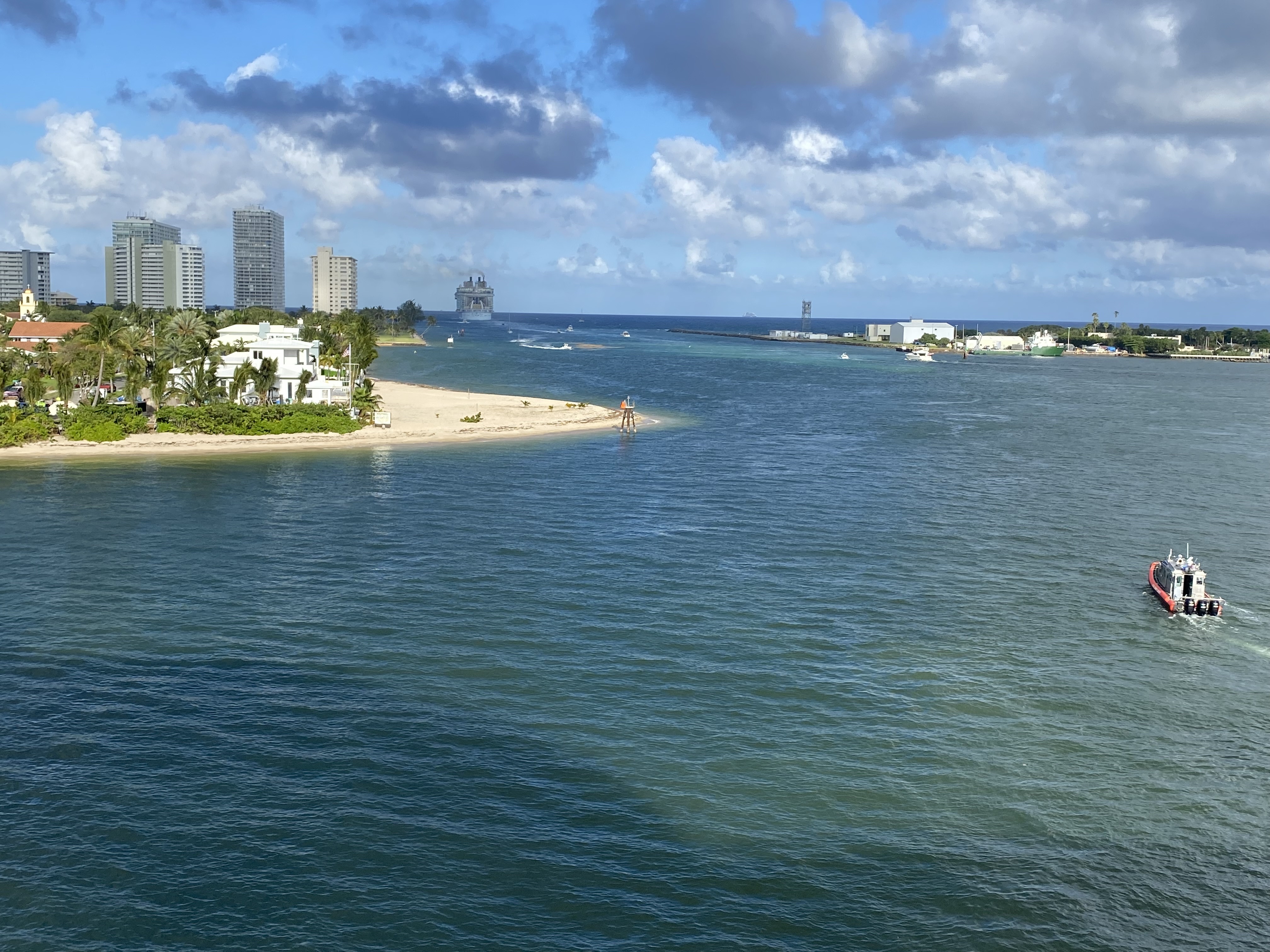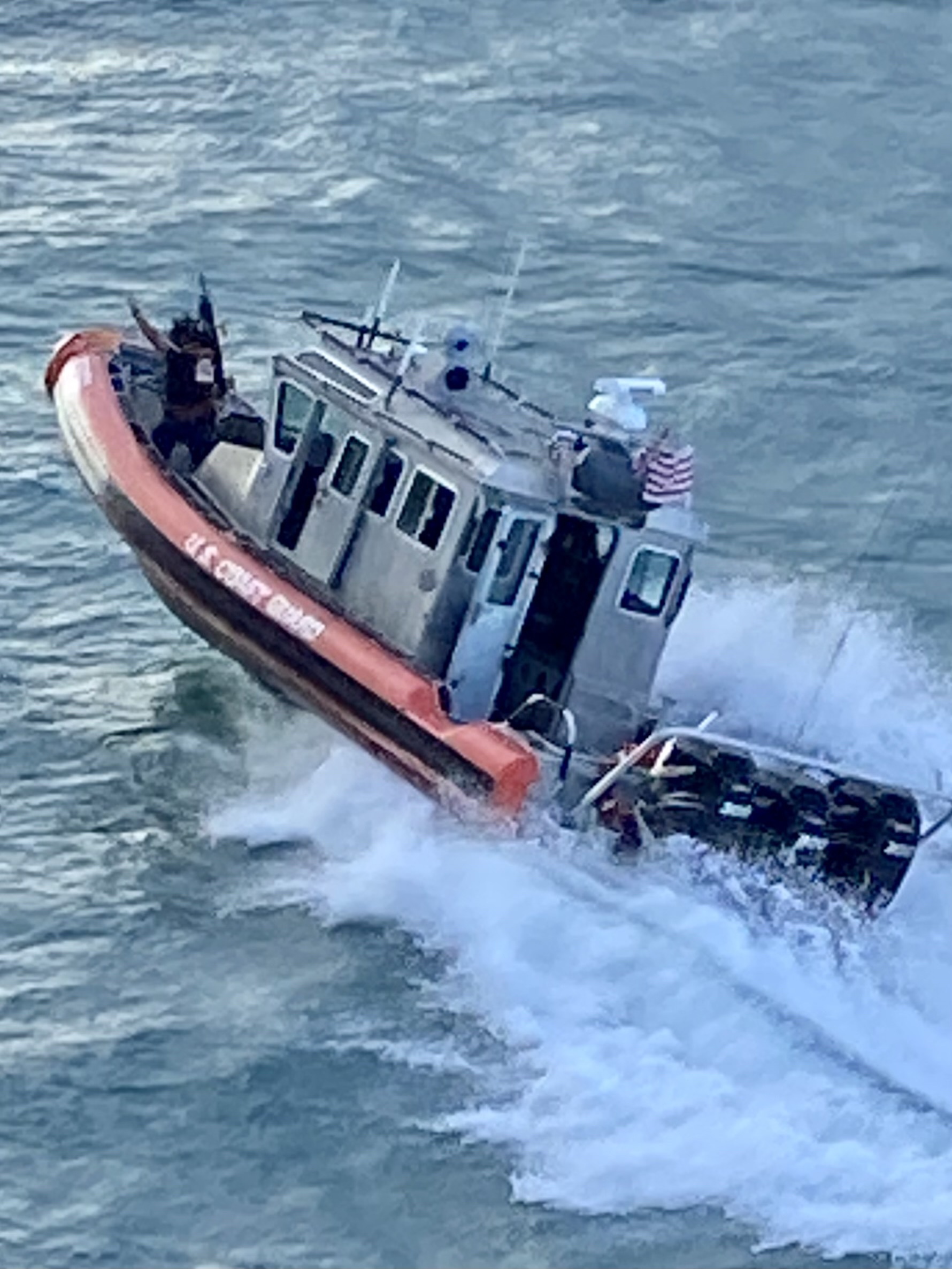 I came second in the music trivia but the winner didn't drink champagne so I became the temporary custodian of a bottle of Chateau Duc Valmer. I was quizzing alone but there was an older couple next to me and the woman was rather excitable and I detected an English accent. Cathy and Peter were originally from Blackpool but have been in Ottawa, Canada for many years. They walked the Camino in 2015 taking 60 days and were doing it again – disembarking in Bilbao. They described it as a life changing experience and encouraged me to do this 500 mile pilgrimage at some point. I might need knee surgery first.
I joined them for the general trivia later and brought along two guys I'd met, Jack and Robert from North Carolina. We didn't win but Cathy's enthusiasm was entertaining. You know the type. A question was asked and if she knew the answer, she'd be writing down the answer at speed – "Ooh, I know that one". I think she thought it was a race.
There's an interesting mix on the ship. Very few kids and I suspect most folks are retired. I met a couple from Sacramento called Deb and Barry who were celebrating their 40th anniversary. They were going to London for the first time. I was excited for them.
The following morning I came across a professional complainer. She was moaning about the type of coffee they were serving. Later that day she was in the gym complaining that I didn't have the machine she needed for her plastic hips.
Here are some more interesting people I've met so far.
I met a German chap called Horst who was on a Crystal cruise ship when they went bust a few months ago. The ship was headed for Miami but they diverted to the Bahamas instead to avoid being impounded. It didn't work and they were impounded anyway. He was on-board and they were taken off and transported back to Fort Lauderdale on a ferry.
Dave (66) from Florida is married to a Filipina who is a little older than him. He is the oldest of 9 and she is the youngest of 15. Her parents lived to be 101 and 100. He father was the chief of police in Manila and met FDR.
Randy (52) and Lori (56) are nomads. They don't own a house and everything they own is in their cabin. After some health scares 8 years ago for Randy, they decided life was too short and went on the road. After the cruise and a week in Iceland, they're off to Florida to house sit for 3 months for free. This is the type of thing they do to keep costs to a minimum. It's a different type of lifestyle but I could see the appeal but only slightly.
Lastly there was John Bressler who is one of the entertainers on board. He is 68 with shoulder length silver hair and an earring. He's performed on over 200 cruise ships and is apparently fabulous on the piano. I missed him the first time he played but will be seeing him on Saturday night. A great chap to talk to and we may become friends.
He was born and raised in Amish country in Pennsylvania and lives near Jim Thorpe in Pennsylvania. A few years ago he was involved in a head on collision in his Nissan Z300 and suffered 37 broken bones. The car looked mangled like you'd never seen. He made a full recovery and feels lucky to be alive.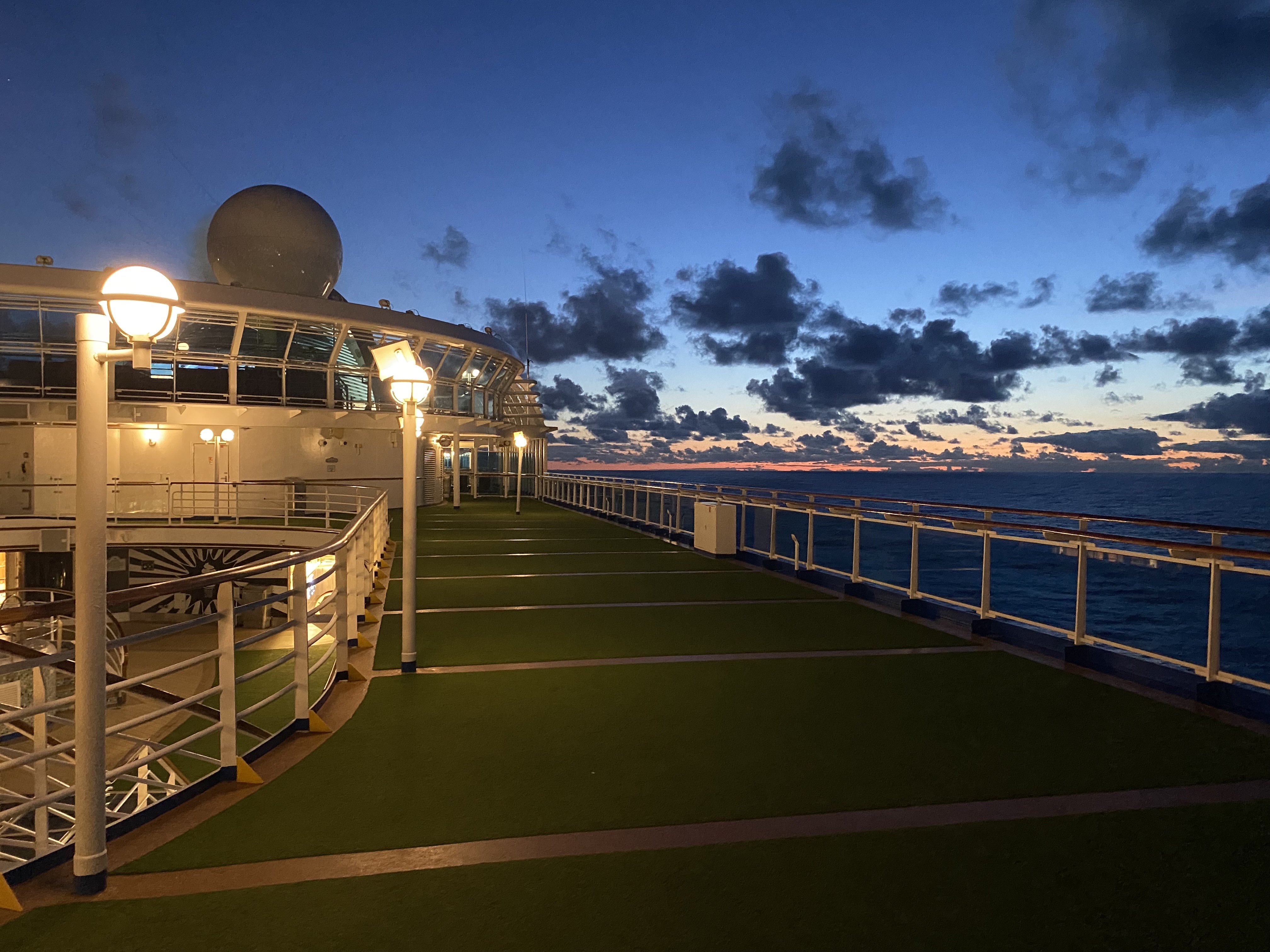 After a couple of days we were all tested for COVID. I'm glad they're doing this to keep us all safe. The 12th floor is closed off for anyone requiring quarantine.
I've been quizzing all week and Robert and I won us the music trivia. We didn't fare so well in James Bond and the Beatles. Cathy made a crib sheet for the Bond trivia and not a single thing she wrote down came up.
The only person I've taken a dislike to is an English guy who loves the sound of his own voice and has no volume control. He lives in Colorado and is married to an American. He's probably my age and I've been secretly psychoanalysing him to understand how he became such an arse.
There have been some high level events on the ship and Wednesday was no exception when the activity was making a paper plane and throwing it from a balcony through a hoop. No one achieved this task.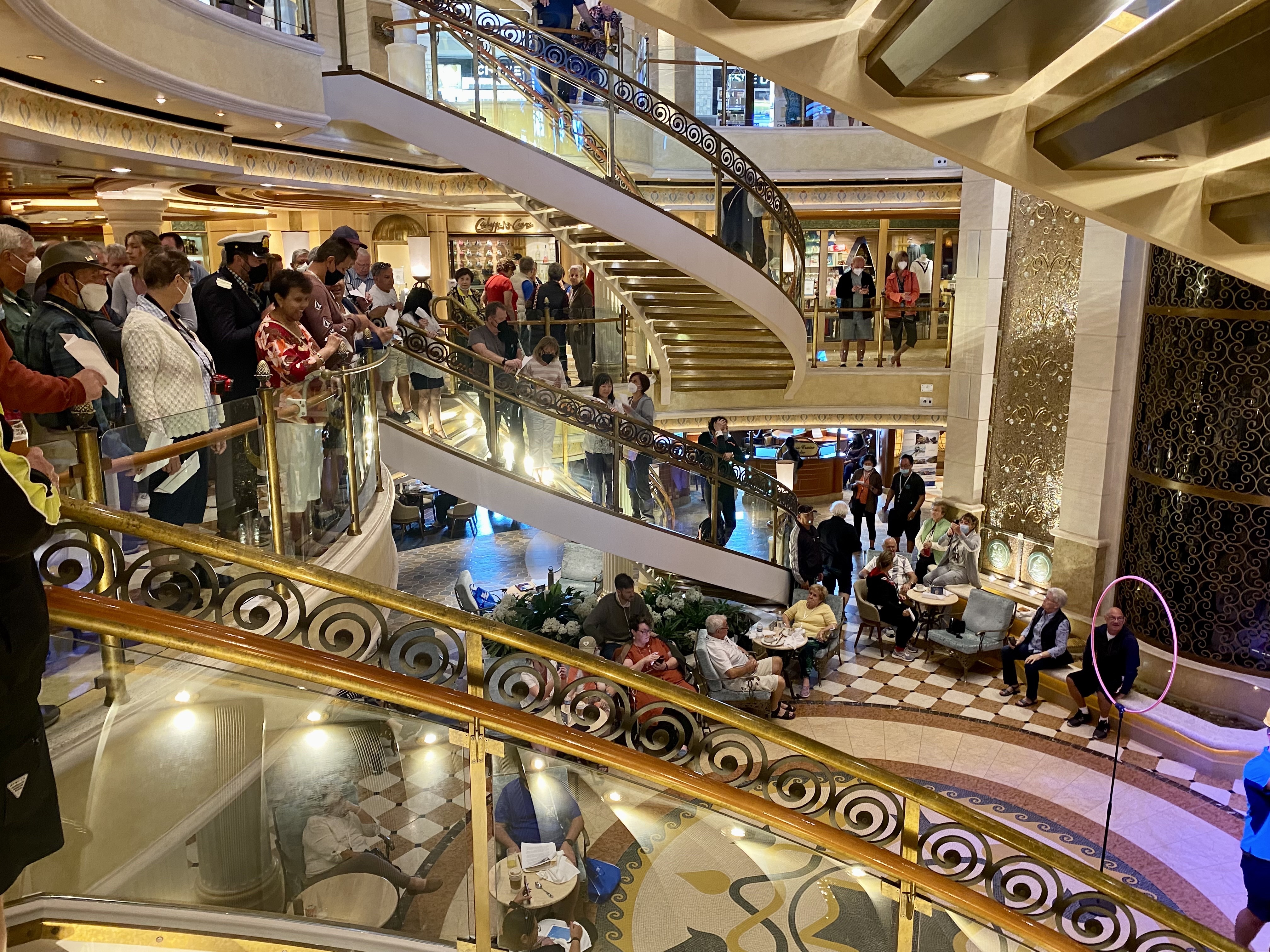 My casino play has been so extensive that I was offered dinner for two at a speciality restaurant. I wasn't interested as I'm travelling alone so I suggested a free massage instead. And they agreed.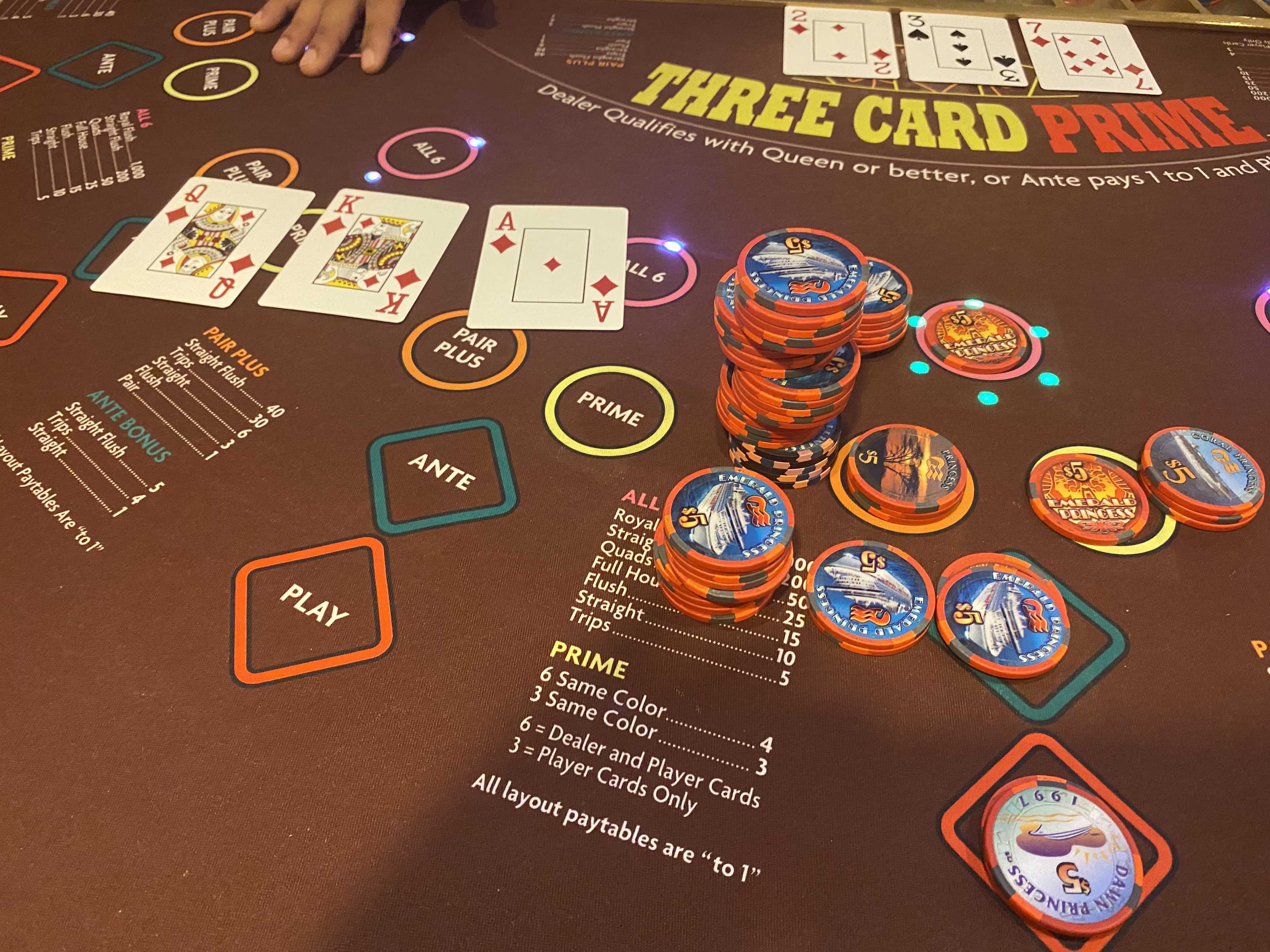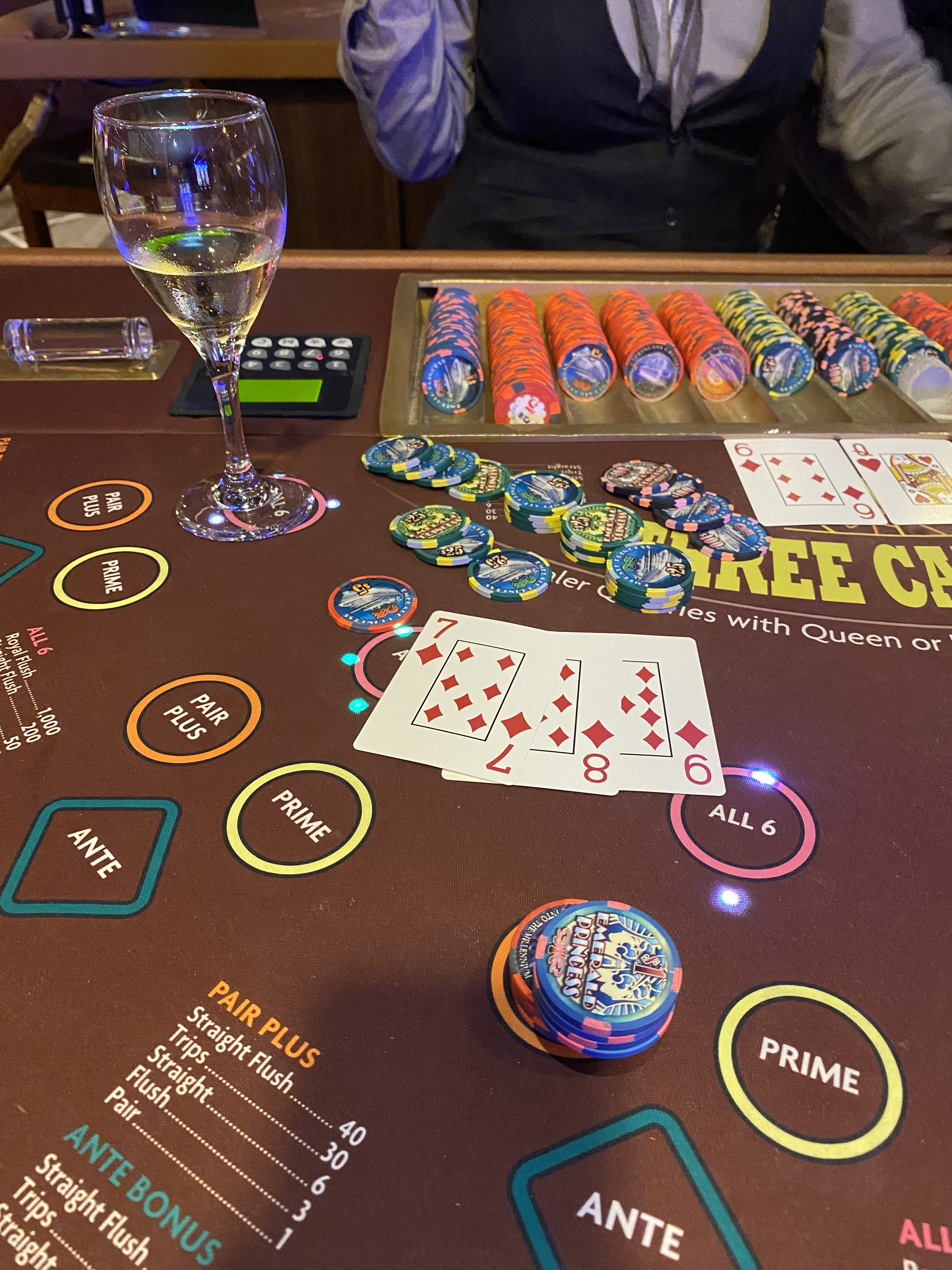 The weather has been mostly sunny in the low 70's. One day was particularly bronzing – I concluded there must have been a hole in the ozone layer in that spot.
Robert informed me that there have been two murders on this ship, at least one involving domestic violence in 2017 and the other in 2019 which is not on the web. But I found this about the first one.
During an Alaska cruise in 2017, a Utah man killed his wife in front of their three daughters after she laughed at him and asked for a divorce. They were celebrating their 18th wedding anniversary. It was during a murder-mystery event and a guest who heard the screams from cabins D726 and D728, thought it was part of the entertainment. In 2021 wife killer Ken was found dead in his Alaskan cell. I feel like knocking on their door of the current occupants and saying, "you know someone was murdered in this room 5 years ago".
I took part in the flag quiz with Cathy and Peter. They were fairly unhelpful but we managed to score 27 out of 32. Three teams got all 32 correct. I'm cruising with a bunch of nerds. Peter is a quiet chap. I'd say he normally speaks about a dozen words a day.
I heard rumours that the pop artist P!nk was on the ship. It turned out she was just a pinkalike.
We hit our first port of call tomorrow – Ponta Delgada in the Azores.