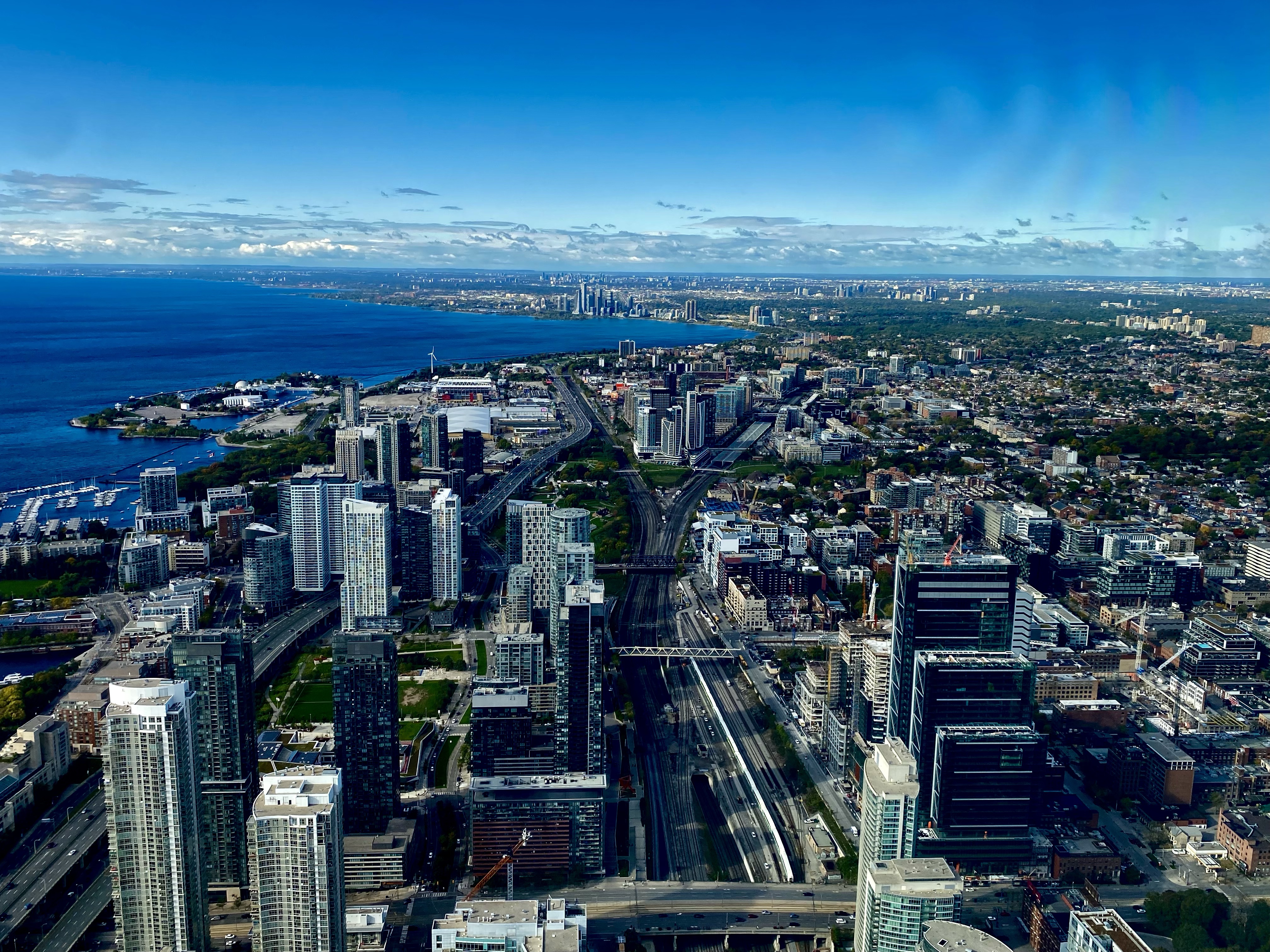 It's been a while since the last blog. I didn't want to put you through another trip to Aruba (March) and DR (June).
I left Heathrow on the 5pm direct flight to Toronto on a 787 Dreamliner. 7 hours later after a pleasant enough flight where the highlight was watching WW84 (Wonder Woman), I arrived in Canada.
I was off the plane and walking swiftly to steal a march on my fellow fliers heading for immigration. I needn't have bothered. It was mobbed and a few extra places ahead made no real difference. Possibly the most chaotic scene I've witnessed in a long while to pass through immigration. The lines went in every direction and just when I thought I was nearing a man in a uniform, the line went back the other way.
The long line moved fairly quickly though and I had a pleasant Canadian woman behind me who'd been to England to see her daughter and we chatted which passed the time nicely. Four pieces of information later – double vaccination, recent Covid test, ArriveCan authorisation and an ETA, plus of course my passport and I was able to go in search of my bags.
I hopped in a taxi and headed for the Westin Harbour Castle hotel on the shore of Lake Ontario. Two more nights in a Marriott property leading me towards Gold by the end of the year. Once again I had to prove my vaccination status before being allowed to have my room key.
I woke at an ungodly hour and watched Netflix as I waited patiently for the sun to come up. Then it was off for an adventure. The forecast had been for rain however it wasn't long before blue skies emerged and I headed for the CN Tower which had been on my bucket list for as long as my bucket list has existed.
I was one of the early patrons and upon entry, we all had to go through airport style security. A Chinese girl held things up for a while because she appeared to have all her luggage with her. Once though I was on the 10:30 elevator which took 58 seconds to get to the viewing platform. There were glass windows all the way up which can be quite disconcerting for those with a fear of heights and of course those with a fear of glass windows.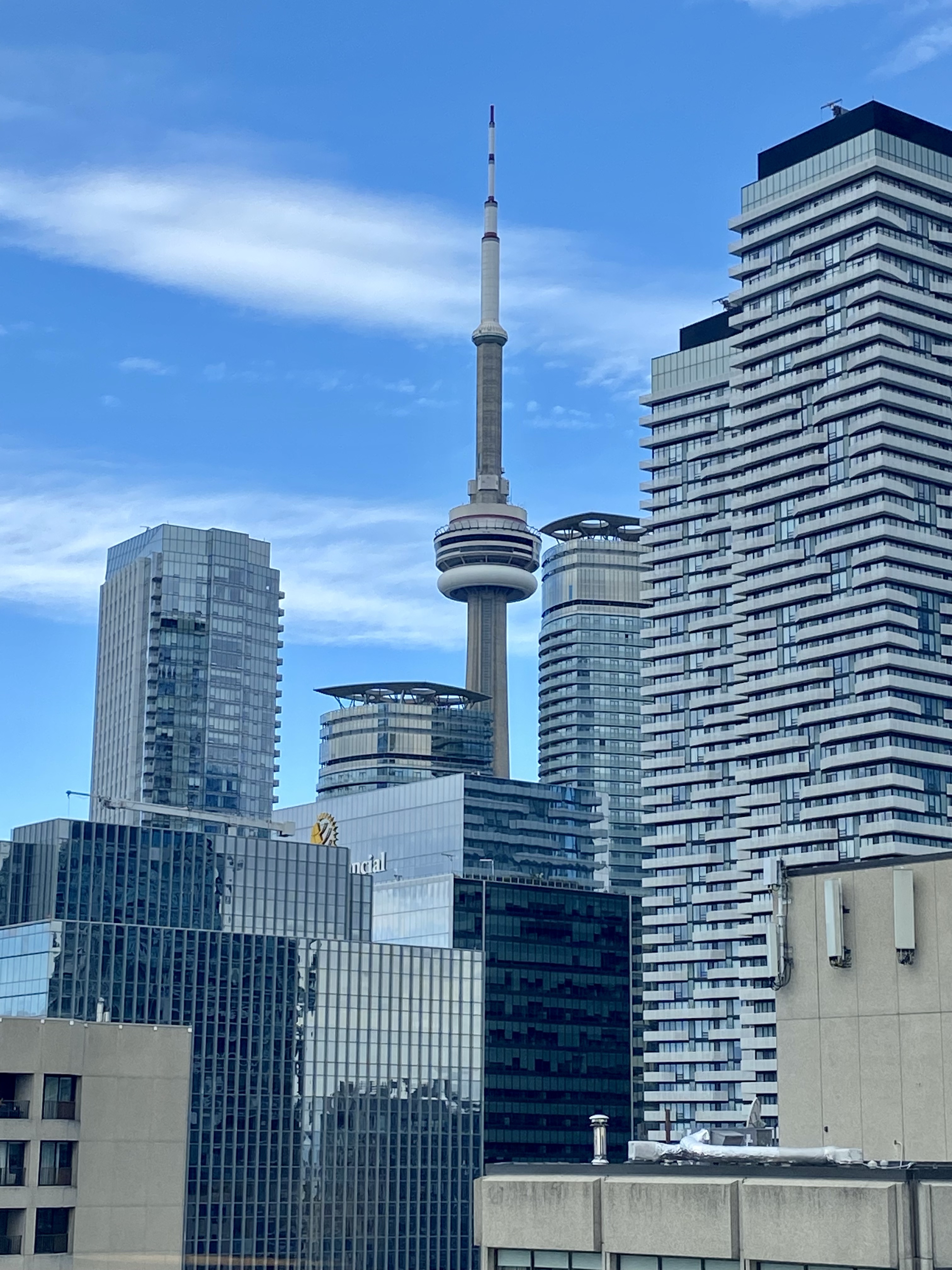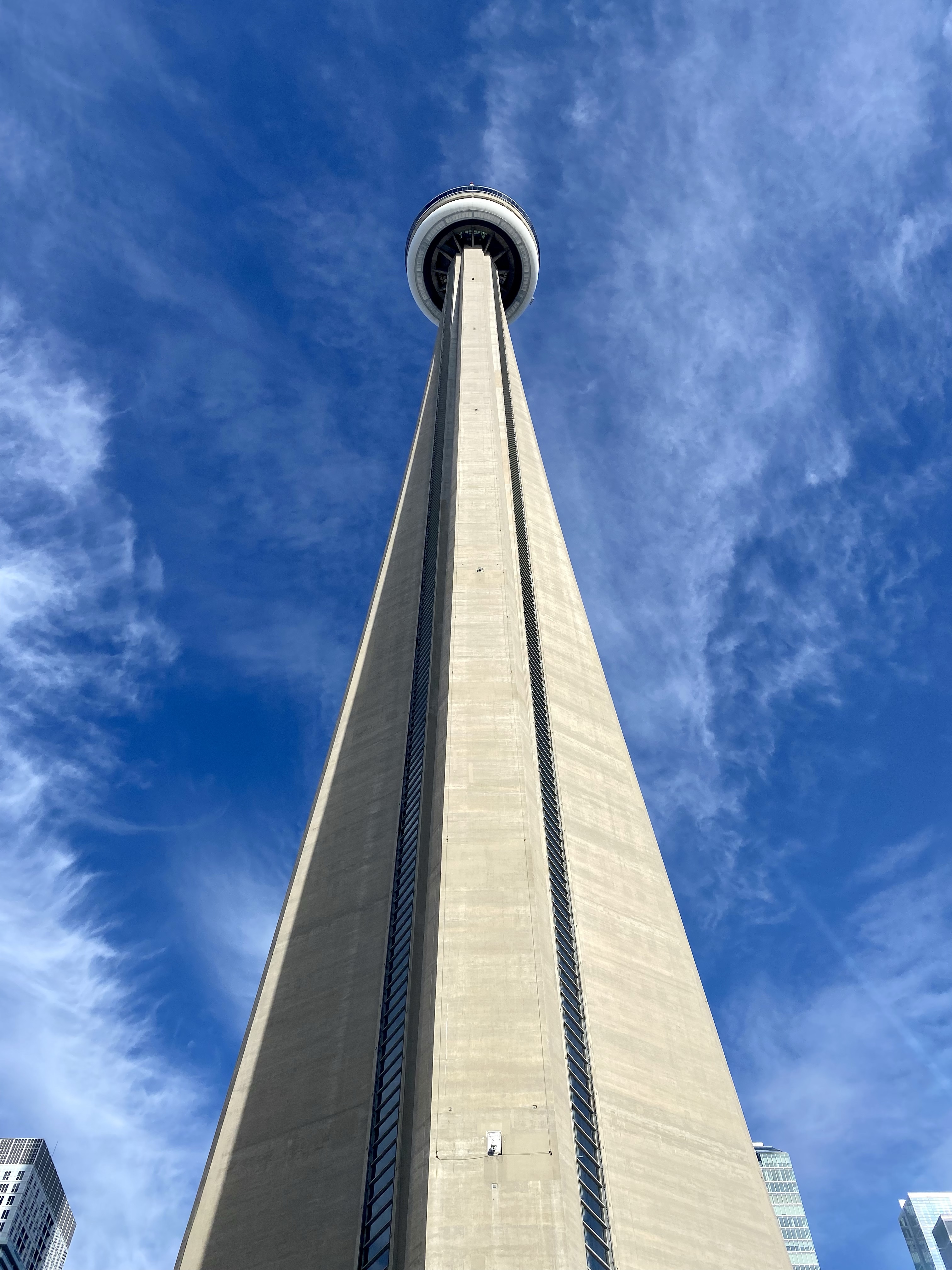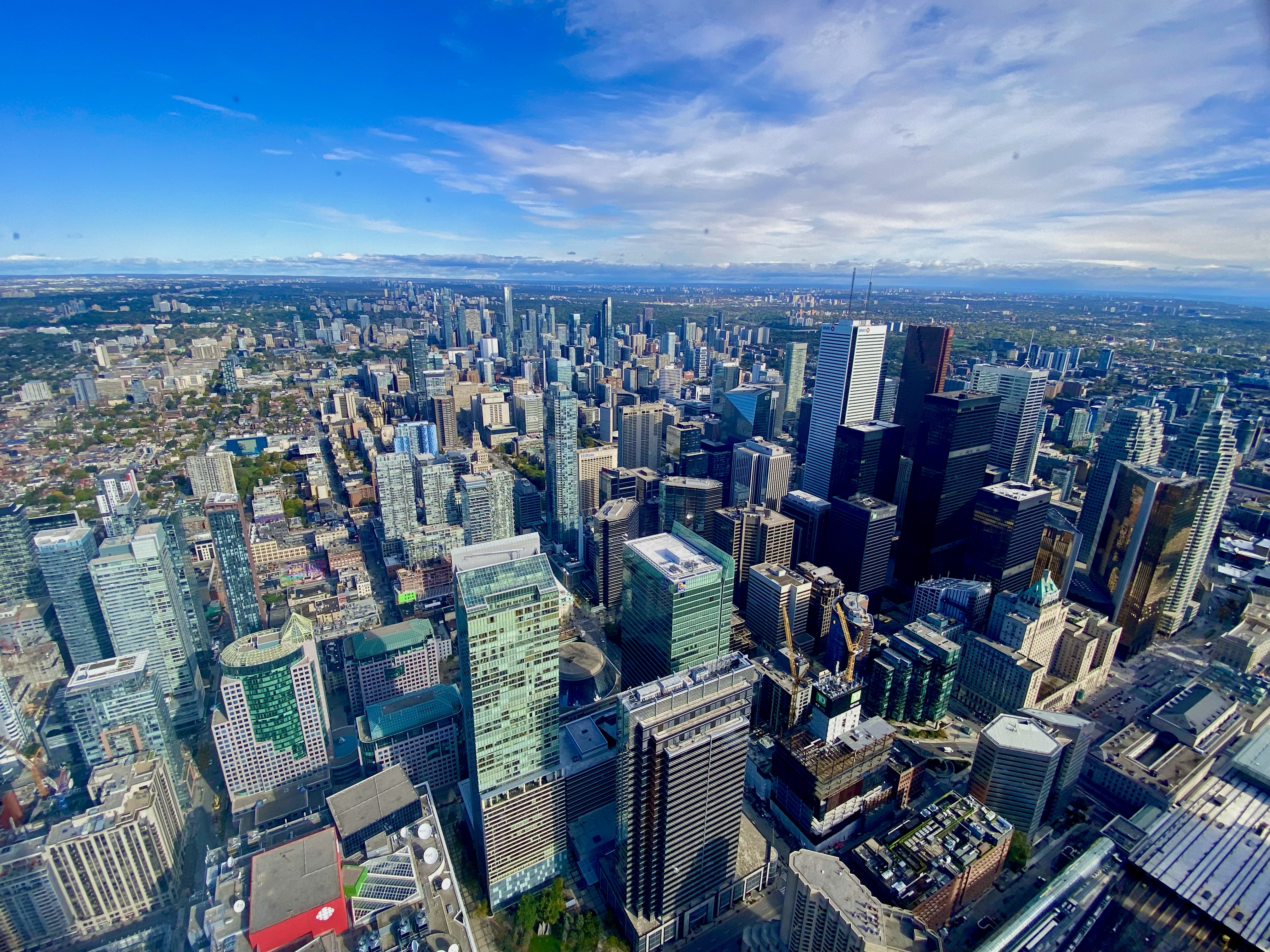 The view from the top was spectacular made even more so by the sunshine and I sauntered around the platform taking numerous pictures of the marginally different views. It wasn't overly crowded which suited me. One floor below was a glass walkway which was a must, however having just finished Squid Game on Netflix I was aware of the toughened glass vs. normal glass conundrum, but seeing no dead bodies below I felt safe doing the walk. The CN Tower held the record for the world's tallest freestanding structure for 30 years – 553m or for imperialists, 1815 feet. CN stands for Canadian National which was the name of the railway company that built the tower in 1976. For those with a morbid fascination, there was only one fatality during construction, a consultant for the concrete inspection company named Jack Ashton who was hit on the head by a falling piece of plywood.
My next stop was supposed to be the aquarium next door but the crowds put me off so I headed for the Eaton Centre which I first became aware of watching Entertainment USA with Jonathan King back in the 1980's. It's changed over the years and is not a huge indoor mall with 300 shops. The ubiquitous nature of modern day malls meant that there were very few unique stores, or even unique to Canada stores. Branded shops are now worldwide. Having said that, the mall was architecturally very nice.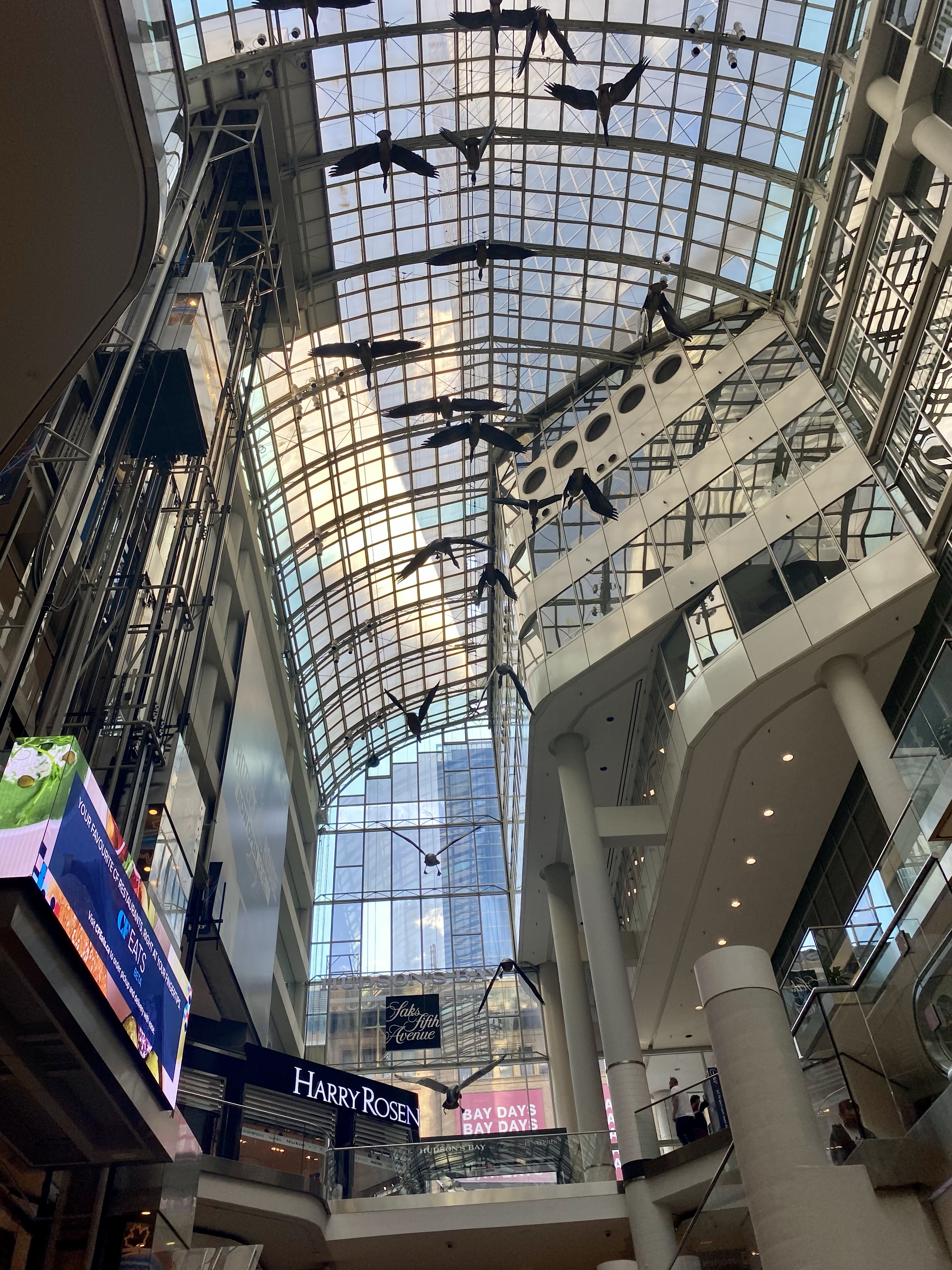 After my fruitless retailing experience, I strolled around the streets looking for interesting buildings. I moseyed up Yonge street which looked like the main shopping street and I was amazed just how many homeless people with severe mental problems I encountered. And something peculiar that I'd not come across before. Normally the homeless hang around green spaces or tucked away in shop/ office doorways. I saw a number just lying on the sidewalk. One guy was close to the kerb and pedestrians almost had to step over him to cross the road.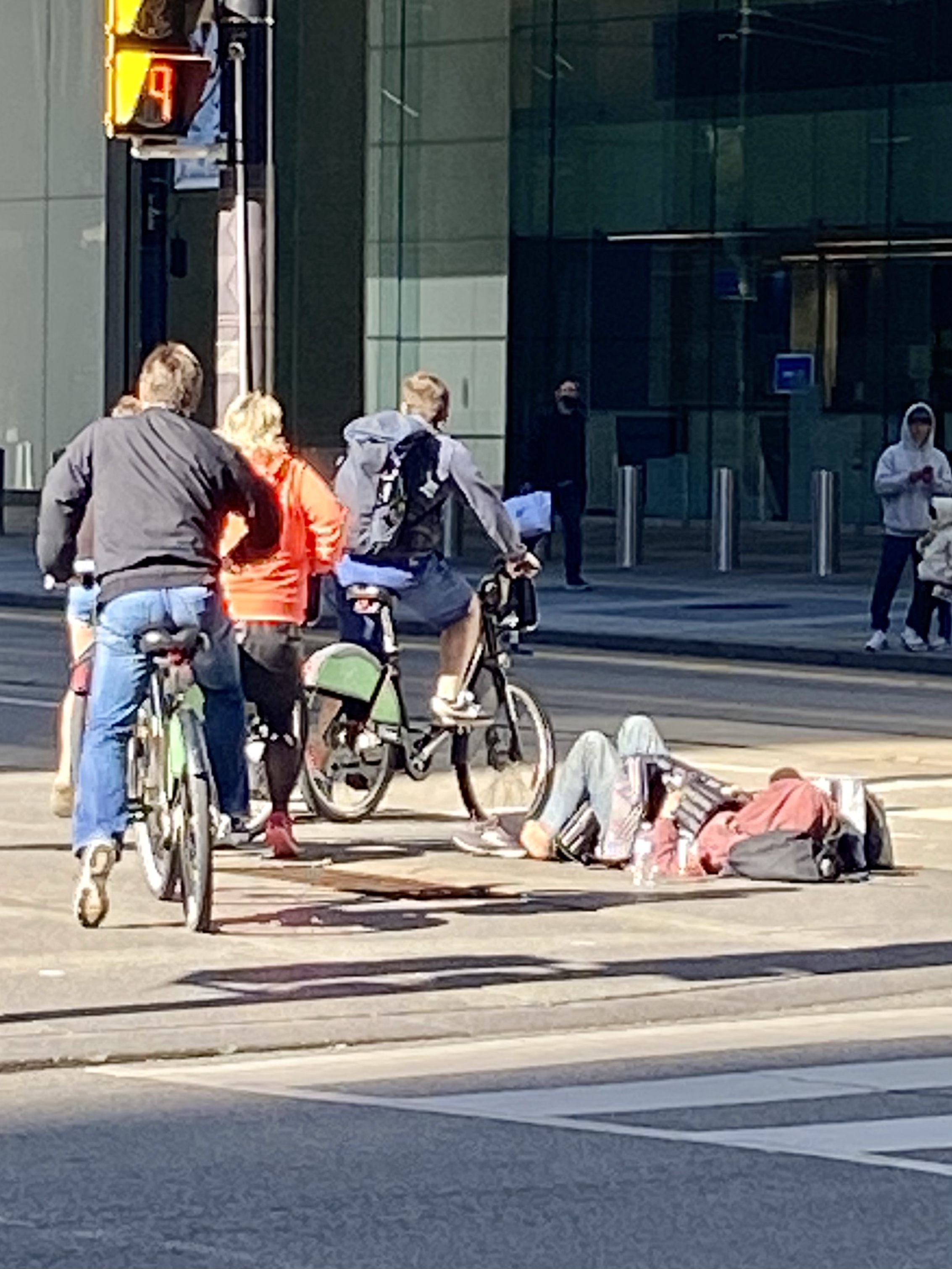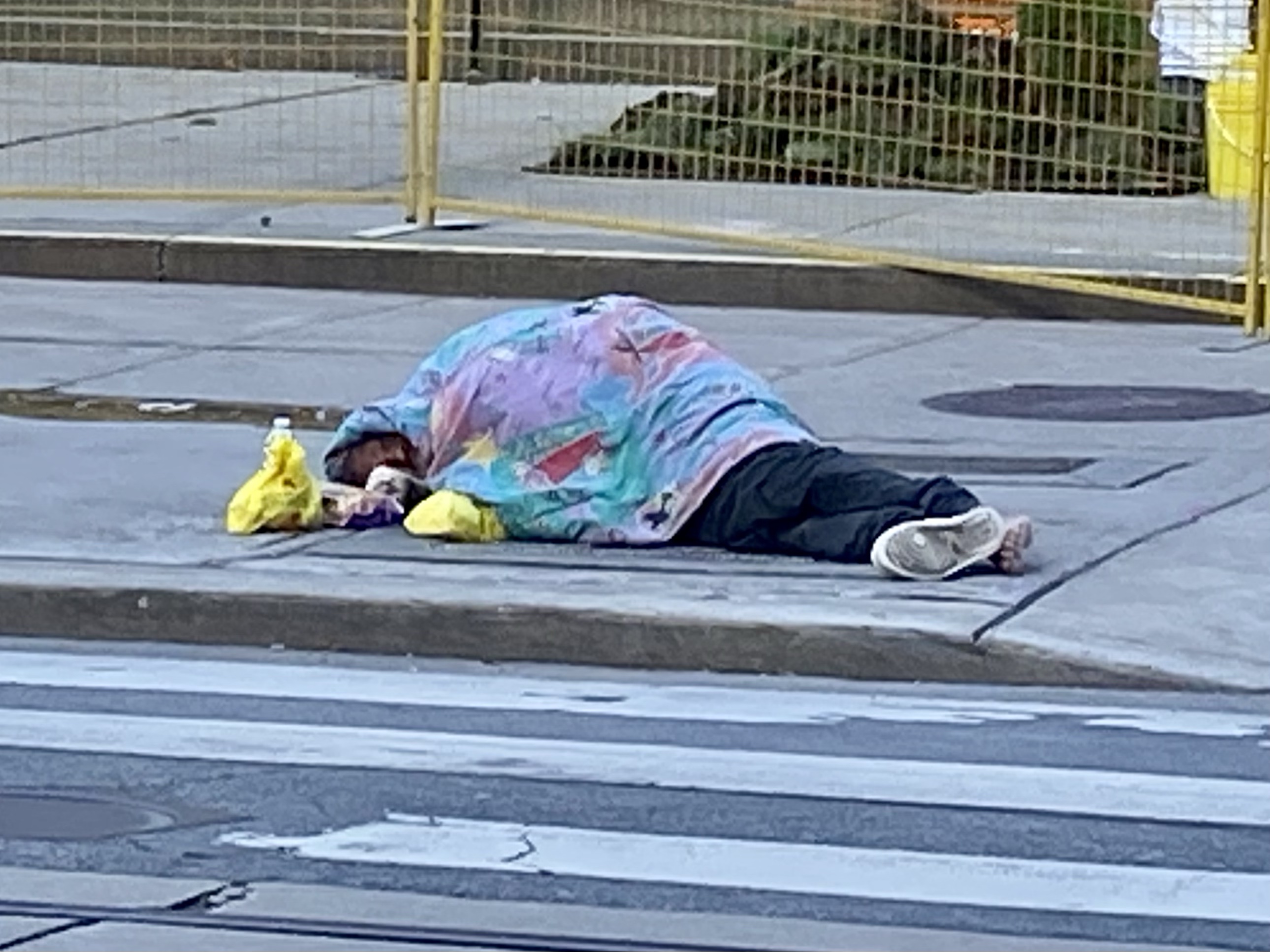 I felt like a cookie so stepped into a 7-eleven where a couple of homeless men seemed to be arguing with themselves rather than each other. Buying a single cookie wasn't possible so I decided on a pack of 6 and thought I could give some away. I exited the shop and one of the men had gone so I offered a cookie to the remaining chap who was having a fierce argument with no one in particular. He stopped immediately and took the cookie with the best he could muster for gratitude. With four cookies left I was in search of more homeless people. Of course I only wanted a single cookie so they were actually doing me a favour by accepting my offer.
My next target was a woman sitting on a foldout stool with a nice polite sign. She was the most grateful of the cookie recipients. I stopped and chatted to a pair of cops on bicycles and asked them about the number of clearly disturbed homeless people. I got a bit of a frosty reception and I think they might have been slightly offended that this guy from England was being critical. I wasn't – I was just curious. Suffice to say that they weren't offered any cookies!
No surprise that I tucked into a second cookie before finding my last victim. He was reluctant at first but when he noticed they were chocolate chip, he couldn't resist. He accepted the last two and I was cookie free.
My final excursion was to see Toronto's version of the Flatiron building called the Gooderham Building. The shorter side of the triangular building is below.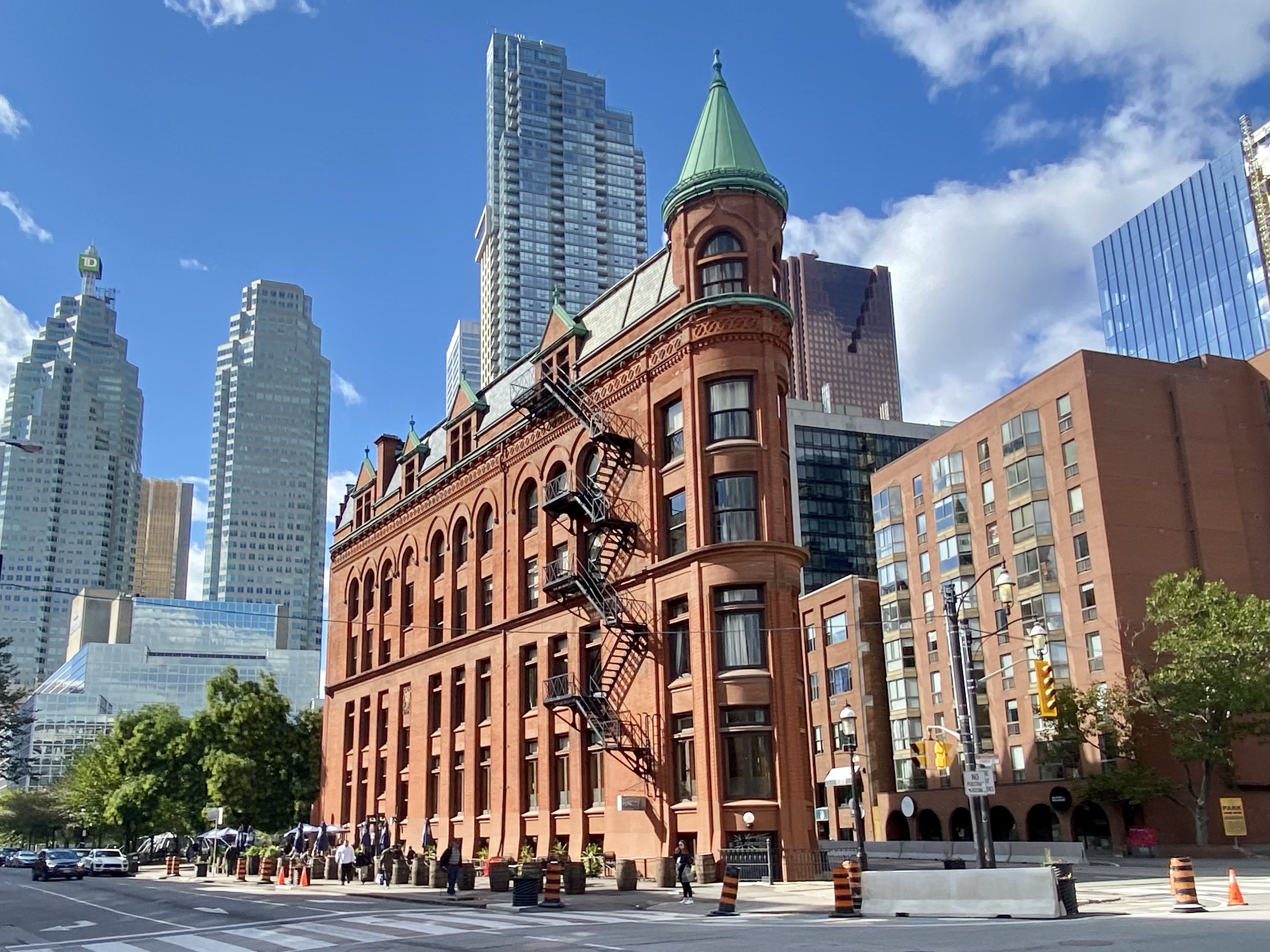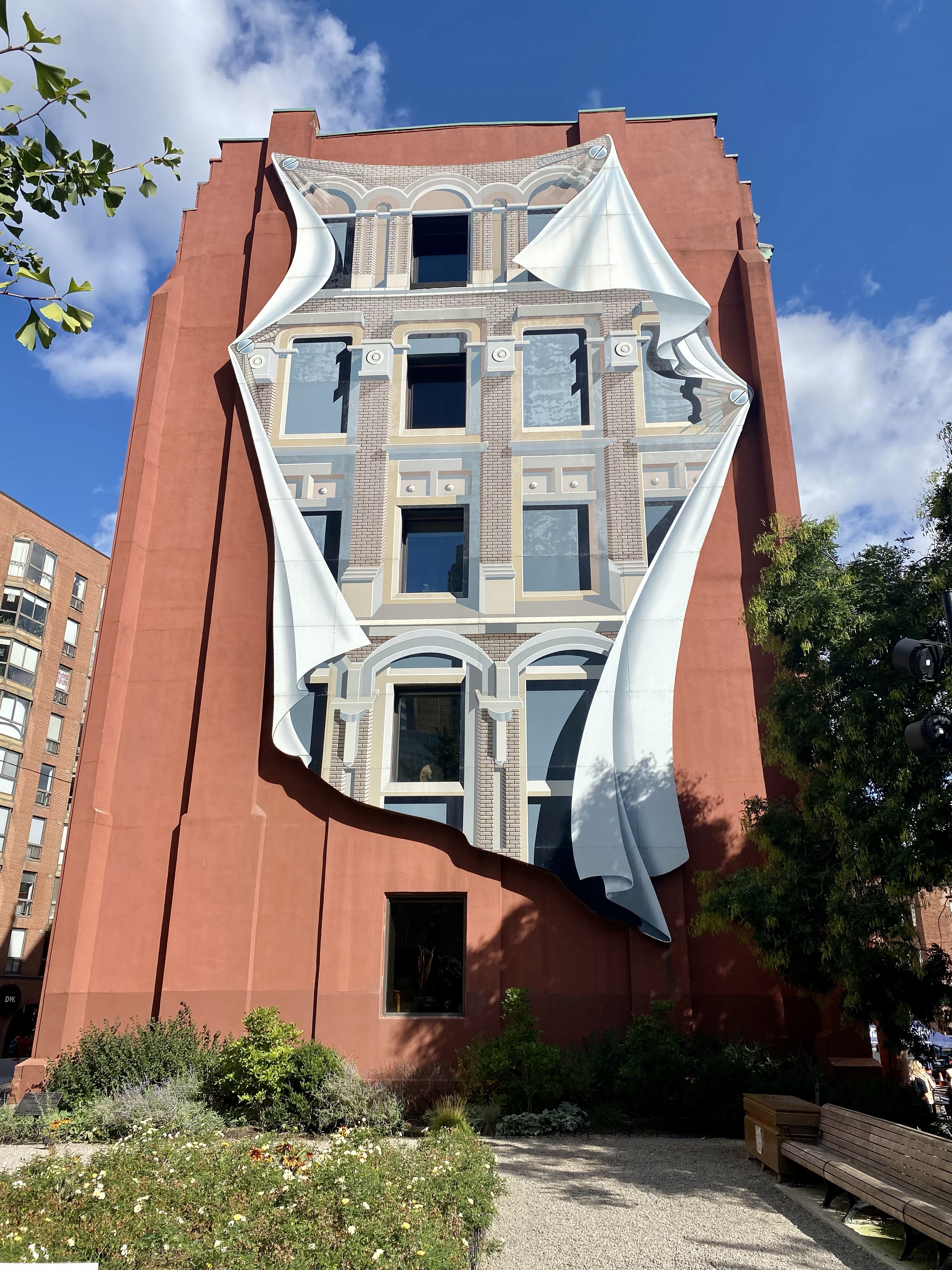 I returned to the hotel and took advantage of the sauna, steam room and pool. I passed on the revolving restaurant at the top of the CN Tower – I'd rather do that with someone special than alone. I enjoyed my short stay in Toronto. Off to the Bahamas tomorrow.