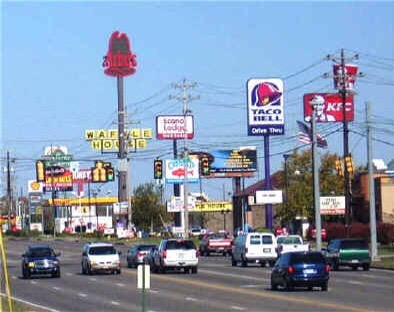 After the Biltmore Estate I'd planned a relatively small 370 mile drive to Clarksville in Tennessee. What was I thinking? 900 miles in two days.
The journey started out as an 8 on the pleasant scale as I drove through the Great Smoky Mountains but it wasn't long before the remnants of Irma started and continued for the rest of the day. I thought about stopping at Pigeon Forge, Tennessee where Dollywood is located but I think a whole day would be needed to see all of Dolly Parton's best bits.
The weather was absolutely atrocious and I arrived in Clarksville at 5pm ready for a stiff Pinot. No bar! I mean who booked this place? It made the Asheville Holiday Inn look sophisticated. Even the cowboy boot shop next door couldn't revive my flagging spirit. I did get a lift by the Shoney's burger offer – 70 cents and the best burger I've had in ages.
Why did I stop in Clarksville you may ask. Well, Nashville 50 miles ago was crazily expensive and at the time of booking I was feeling parsimonious. Don't let me do that again.
Clarksville is famous for being in the title of the first hit by the Monkees in 1966, The Last Train to Clarksville which was actually a protest song to the Vietnam War. Clarksville was chosen arbitrarily as it fitted well with the lyric. I have to point out that I very much doubt Clarksville is famous for anything else.
So the driving tour is off to an inauspicious start but I'm ever the optometrist and I'm expecting great things in Columbia, Missouri which looks like another winner!
There was a mall next door so I popped in and was pounced upon by a Chinese masseuse (Lee Ping) offering me one minute free. Twenty dollars later I was refreshed.
Then I found a sports bar and had some Chardonnay in a tumbler. Classy joint. I chatted with Naomi the bar girl about cruises and had a splendid hour and half. Then it was back to the room to see some more hurricane porn.
By the way, the photo isn't of my own creation. That's what my motel road looks like on a sunny day!