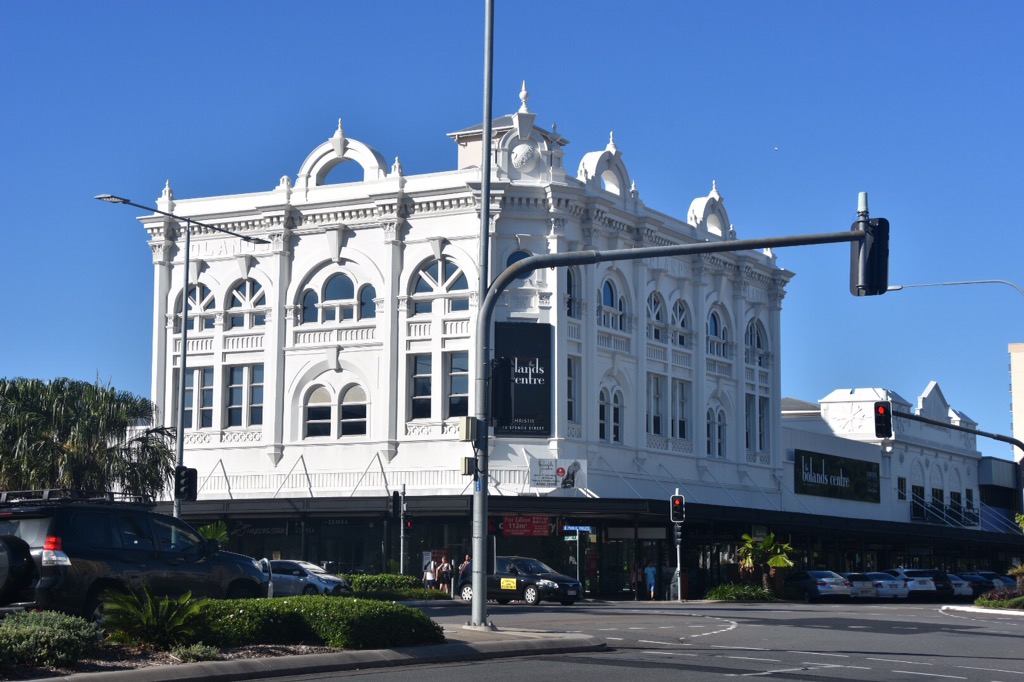 The night before we arrived in Cairns, Ben and I found ourselves in the piano bar with the pianist Barry from Boston. Ben volunteered to sing the male part of a song from Phantom of the Opera and Jules (middle aged woman from the UK) volunteered to do the female part. Well, Ben can sing quite well. As for Jules, now how can I describe it. It was a high-pitched warble which at first raised a smile. There were only about half a dozen of us left around the piano so when my smile developed into a giggle I knew I had to leave. Within seconds I was convulsed in a giggling fit as I turned and walked away toward the bar. It took a while before I was able to speak. Luckily Jules didn't notice. She was too busy reading the lyrics (and warbling).
Cairns lies about 1200 miles north of Sydney with a population of 150,00 ranking it only the 14th biggest city in Australia. It was named after William Cairns, a former Governor of Queensland. As we sailed into port I was yet again struck by how attractive it looked as a city. We passed the marina heading for the cruise terminal and docked in the heart of the city. Certainly one of the prettiest places I've ever docked at right on the esplanade and a short walk to the centre of town.
Cairns is the gateway to the Great Barrier Reef and as such is a tourist destination with numerous boat trips on offer. The gang for the day was Heidi, Astrid and me and we were off to the rainforest. Rather than book a ship tour which as you know are a little on the expensive side, we opted for the independent seat of the pants method.
A shuttle bus with a highly entertaining driver drove us to the start point of our adventure which was a 7km gondola ride over the rainforest canopy. We shared the gondola with a couple from the ship Lee and Joanie who dance most evenings very well. I'd seen them around but not spoken to them before. Funny how being suspended hundreds of feet above the ground in a small box makes you start up a conversation. Delightful couple maybe early sixties who live in the retirement community of the Villages in Florida. The scenery was spectacular and after a couple of scheduled stops we arrived in the cute town of Kuranda. We strolled, we shopped, we ate. It was Heidi's last day as she fell and broke her radius about three days ago and her arm was in a sling. She was getting off later that day and after an overnight hotel stay had four flights in a 30 hour period to get back to Portland, Oregon. Terrible luck really. She lost her balance in the gym.
We returned to Cairns on the scenic railway train covering a distance of 21 miles in two hours. Anecdotally, I've found that the slower the train, the more it costs. Our cheery driver was there to return us to the ship. I said my farewells to Heidi and went for a scoot round town. Neatly laid out streets with a mixture of old colonial architecture and modern low rise buildings produced a visually splendiferous experience. Definitely a place to return to (already planning trip 4). I bumped into Astrid during my walk so we had a snifter on the esplanade and got talking to a couple from the Barossa Valley near Adelaide who invited us out for the day when we get down there in a few weeks.
Shortly after we sailed last night a guest became ill and needed to be evacuated. The captain called the pilot back and offloaded the passenger to the pilot boat. Normally the pilot jumps on and off a moving ship but with this incident they had to come to a compete stop. You can't ask an ill guest to leap onto a moving boat. All very dramatic. I only know about this because the captain explained what had happened. I was too busy playing trivia in the bar.