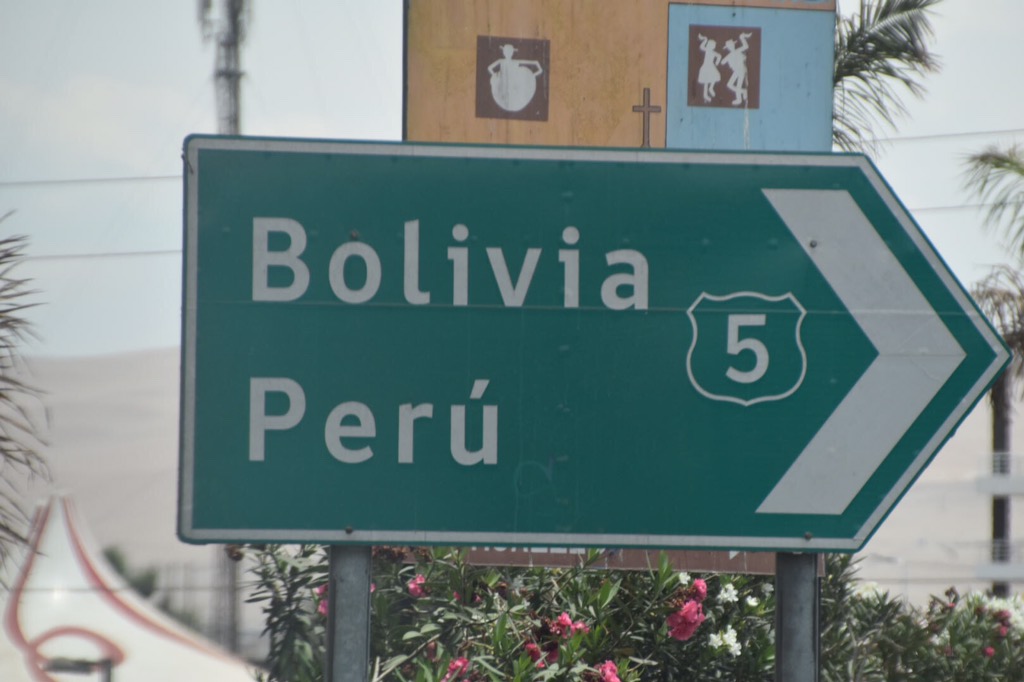 We have six stops in Chile which north to south is the longest country in the world at 2,672 miles. With an average width of only 112 miles it is 24 times longer than it is wide and it covers 38 degrees of latitude with the Andes running the entire length of the country. Chile is also the home of the Atacama desert which has some of the driest places on earth. Some places haven't seen rain since records began. The absence of clouds also means Chile is the centre for looking at the heavens through telescopes with a number of observatories enjoying 300 clear nights each year. Chile has 17.5m people with a land mass of just over 750,000 square miles making it larger than any European country and about three times the size of the UK. A quirky fact for you – Chile has the largest swimming pool in the world at the San Alfonso del Mar resort. At 3323ft long and 115ft deep it is so big that small boats sail on if. Google it – looks incredible.
Arica, Chile
Our first stop was the town of Arica only ten miles from the Peruvian border. Lydia, Sheryl and I decided to go freestyle and we hooked up with Brian (from the world cruise 2016), Elsie and Linda (67 each) from trivia, both of whom have lost their husbands in recent years. Linda is the giraffe feeder at her local zoo in Birmingham Alabama which I guess is a problem because she's been on the ship nearly three weeks.
We found a guide and agreed a price with him and a driver (which is quite unusual as normally it's just a driver) but the guide had good English and the driver might as well have been mute. We had the three hour tour and our first stop was the Anzota caves which were remarkably pleasant and also free which added to their attraction. They were actually more like tunnels than caves but none of us were feeling pedantic enough to point this out (not even Elsie). The second stop was atop a huge hill right by the port which promised tremendous views over the surrounding area. There was a museum on the top which was supposedly our destination but unbeknownst to me I was travelling with five other museum dodgers. Hurrah! Next up was the Valle de Azapa where they have another museum with the oldest mummies in the world. This apparently was worth visiting even for those with a low boredom threshold. Well it was a half hour drive to the famous Chinchorro mummies which date back to 5050bc and we probably spent all of five minutes in the museum. There wasn't a great deal to see and even the mummy exhibit was underwhelming. I mean how excited can one get.
Once the tour ended we divided and Lydia, Sheryl and I went in search of something alcoholic. We found Deanna and Anthony wandering around and all five of us went for a Pisco Sour which is the national drink of Chile and we obviously needed to try it out. We had a pleasant luncheon laced with alcoholic substances which caused Anthony to get louder and louder which was a real hoot. Just one of the most delightful people you could ever meet.
A good evening in the casino followed where I believe it might be accurate to say that some of us actually walked away winners. Quite a rarity for this casino.
Coquimbo, Chile
Our second stop was another port town called Coquimbo which looked nice enough as we sailed in. Lydia, Sheryl and I mooched about until we decided that the Cruz del Tercer Milenio was worthy of a visit. High above the city we had to climb up some winding pathways similar to Lombard Street in San Francisco and then some more climbing through what looked like the ghetto areas of Coquimbo. We were warned a couple of times by locals about people robbing tourists of their valuables. We pressed on regardless with cameras round our necks. The girls aren't shy and in truth I pity anyone who might try to rob them.
The cross of the third millennium as its know in English is 83m tall, made of concrete and it looks like the transformer equivalent of Christ the Redeemer. It was actually a great place to visit despite Sheryl grumbling about having the wrong footwear. We walked back down through the badlands and en-route found a wine shop. We decided to buy some wine even though there is a strict corkage policy on the ship -unless you've been on a wine tasting tour in which case you can bring one bottle back onboard without paying the $18. As there was a ship organised wine tasting tour that day, Lydia thought she could get away with a bottle but she was rumbled and the x-ray machine thwarted her and now her and Sheryl have been identified as contraband smugglers. I bought a wine "box" figuring it wasn't shaped like a bottle and got away with it.
In the evening we had dinner at the Pinnacle Grill which is the high class restaurant on all Holland America ships to celebrate Julie's 53rd birthday. All very pleasant followed by a trip to the casino where I didn't lose…again.
Valparaiso, Chile
Valparaiso used to be capital of Chile before Santiago. It was a big deal prior to the opening of the Panama Canal when ships travelling from one ocean to another would stop off in Valparaiso. Lydia and Sheryl were on a wine tour (they do like wine those two) so I went off ship with Dutch Chris (82) from last year's world cruise. Chris has homes in Amsterdam and Florida and was the Managing Director of a division of Greyhound but retired over 20 years ago. We walked around for a few hours and again we were warned about getting our cameras out in public. I wanted to ride one of the 16 funicular railways they have but we failed to find the one we were looking for and the others looked uninspiring. Not a particularly attractive town and certainly not a place I'd rush back to.
We left Valparaiso at 11pm which is abnormally late for a sail away and the captain said we should expect rough seas en-route to Isla Robinson Crusoe. He was right. At 3am I awoke and we were being thrown around good and proper. Although I didn't feel nauseous, I do struggle to sleep when the waves are crashing at my porthole. I'm on a low floor and fairly central which is the best place to be in rough seas.
My impression of South American cities so far is that they don't have as much about them as do European cities. Aside from the half dozen natural wonders and a famous statue you'd be hard pressed to name a famous church or museum or gallery or skyscraper or bridge in the whole continent of South America.
I've had five acupuncture sessions now and I have to say I haven't felt this good for years. I'm quite surprised at the effectiveness of the treatment and there is little or no pain. The weather in Chile has been near perfect although it is getting cooler by the day as we head towards Antarctica which I'm told is quite chilly. I wanted to sign up for the Antarctica Landing tour but they are strict about what clothing you have and insist on sturdy walking boots, lots of layers and waterproofs. The best I could offer was a pair of thick socks and a snood.