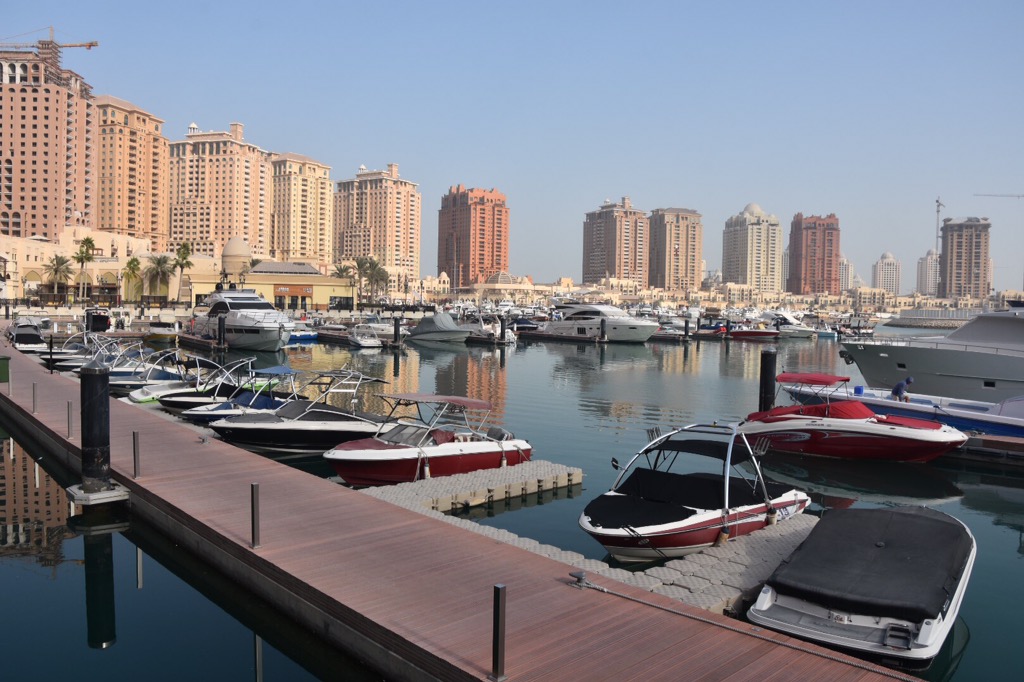 Qatar occupies a small peninsula in the Persian Gulf with a single land border with Saudi Arabia. It gained independence from the United Kingdom in 1971 after 55 years as a British Protectorate. It came under British rule on November 3rd 1916 after the collapse of the Ottoman Empire. Of course back then it wasn't the wealthy nation that it is today. Oil wasn't discovered until 1939 and until that point pearling and fishing were the main sources of revenue. In the late 1960's Qatar and another seven states including Bahrain formed the Trucial States but Qatar and Bahrain chose independence. The other states are now known as the United Arab Emirates.
The population of 2.7m is made up of about 300,000 Qatari and 2.4 expats or immigrant workers and despite the Qatari being outnumbered 7 to 1 and the influx of foreign workers it still has the highest GDP per capita in the world by a margin. At $127,000 it's three times that of the UK. The reason for this is that Qatar has the third largest reserves of natural gas and oil in the world. For a small country that's quite a claim to fame. For this reason I'd liken it to Brunei which is also rich in natural resource with a similarly low population to divide it by. Having said that the GDP per capita in Brunei is only $76,000: a long way behind Qatar.
So the immigrant workers are brought in from all over the world to do the lower paid jobs which is not dissimilar to lots of countries around the world. Even Thailand brings in construction workers from Bangladesh because they work for half the amount that a Thai worker will. It goes on everywhere. And then the country at the bottom of the pile gets volunteers from the wealthiest countries working for free as part of a gap year or philanthropic mission. I digress. As such there isn't a single Qatari taxi driver in Qatar. I met four: Buta Singh from the Punjab who is going back home in March for an arranged marriage. He's not met her. Abdullah from Mombasa in Kenya who looked and sounded like a Somali pirate (I got him to say "I am the captain now"). Drove me around for a city tour then drove me mad. Wouldn't shut up. Then a chap from Nepal and a chap from Egypt. All four moaned that there was no money in driving taxis any longer.
The Al Jazeera news network which has become very respected worldwide was started in Doha back in 1996. Qatar will also host the 2022 football World Cup which has been heaped in controversy. Now I'm here in mid-December and it's a pleasant 22 degrees. The June average is 108 degrees which is a little warm to be running around in thick socks.
This year Saudi Arabia, Bahrain, UAE and Egypt have cut off diplomatic relations with Qatar on the grounds that it supports terrorists. The response has been that Qatar now imports the consumer products it needs from other sources. They have money so it's not a big issue.
In recent years Qatar has become a world leader in aviation with the top ranked airline in the world Qatar Airways knocking Emirates off top spot. Hamad International Airport also got in on the act and was voted sixth best airport in the world. It was rather impressive and upon arrival I have to say it was the calmest airport I've ever perambulated around. That was arriving. Seamless. But they kept my hold bag as I was going through to London (with a 20 hour stopover) so I had to make do with the stuff I had in my carry on. Departure was a slightly different affair and we went through six checks before getting on the A380. Longest and most tedious departure passport control I've encountered. I made my grievances known. The A380 is the largest passenger plane in the world with two decks and 517 passengers. I sat next to a middle-aged Malaysian couple who live in Sydney who were most pleasant.
Anyway back to Qatar. My city tour with the Somali pirate was rather enlightening. Many many dealerships for Bentley, Ferrari, Porsche, Maserati, Rolls Royce etc. In fact I didn't see a dealership for any other car type. A great many Qatari men walking around in their white dish dashes
Qatar is basically a flat desert but Doha does have an impressive skyline with a number of modern skyscrapers including the Doha Tower. In London we have the Gherkin, the Cheese-grater and the Walkie Talkie. The Doha Tower is known locally as the Condom. It's got lights at night when it becomes the illuminated condom. I'm not sure the Qatari royal family are very happy about it. There is so much construction going on in the city so the skyline will be changing over the coming years.
Doha is clean, uncrowded with signs of affluence everywhere. Crime is low and it's not overly expensive. The sun shines a great deal and although the summer months can be on the hot side, humidity is low. Bangkok is dirty, crowded (especially the roads) with signs of poverty everywhere. It can be a dangerous city and the weather is humid as hell. But it has a soul and a beating heart (and massage parlours) and I'd choose it over Doha any day.
So I'm on the way home after 105 days. I've been to 9 countries, 18 US states, crossed an ocean, crossed two continents, and circumnavigated one, 11 islands, all 6 Australian states and one territory. Great trip but I do miss home just a little…