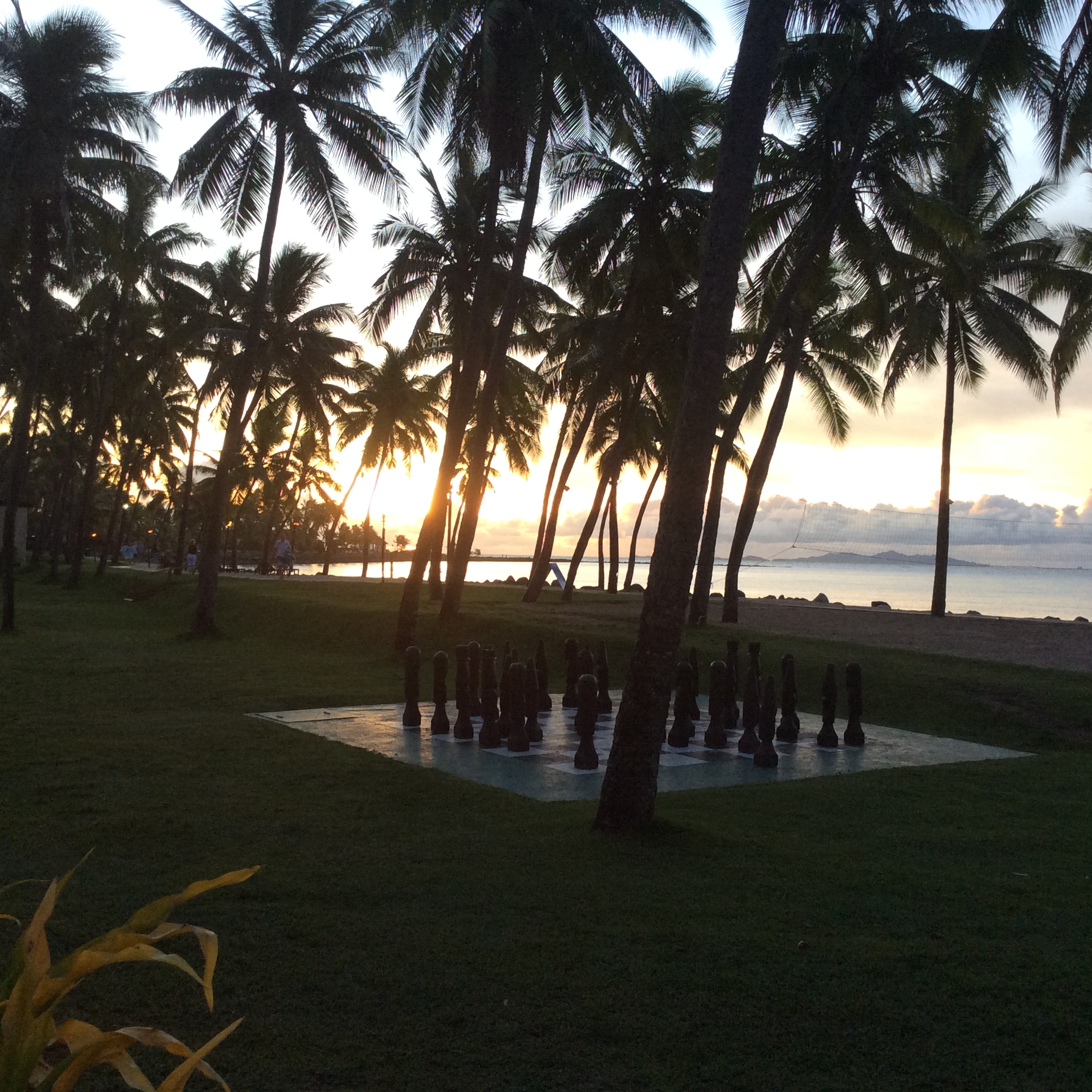 I'm starting to regret using the pavlova joke before I'd experienced Fiji Airways. I will go out of my way to avoid them in future. Since I am geographically removed from most of their route network this should not pose a problem.
Arriving at the airport I was greeted by a huge queue and once I finally got to the desk I understood why. They have the strictest baggage rules I've ever encountered. I was 3kg over on the hold bag and the hand luggage a) wouldn't fit in the box thingy and b) was over the 7.5kg limit. Twice over. I also didn't have any documentation showing that I was leaving Fiji in three days time. Only an email on my iPad which wasn't good enough. I threw myself at the mercy of the ground staff and their solutions were real corkers. "Remove three kilos from the large bag sir". And do what with it? Squeeze it into my already overweight and bulbous hand baggage or shall I just wear an additional 3kg of clothing. Having one problem at check-in is bad enough but a trio of tribulations had me contemplating staying an extra night in Sydney and assessing the value of everything I had with me in an effort to reduce the weight. The morning flight had been cancelled so this one was packed and the Fijians aren't known for their sylph like physiques.
Hannah managed to help with with the documentation issue and I was advised to go and buy another hold bag to resolve my issue. I found a small Samsonite for 157AUD and stuffed a load of bits in it that must have had a total value of fifty quid. The false economy of extra baggage…
I returned, quite pleased with myself having reduced both bags to their required limits by purchasing a third bag. Then came the additional baggage charge of 16AUD per kilo  and I had 10. Another 160AUD. as I finished at the desk the plane started to board so it was a quick dash to security which is normally pretty good in Australia except when you're behind a woman from Bangladesh who couldn't grasp the concept of standing on the two yellow feet and looking into the camera. Another five minutes lost.
The queue for scanning hand baggage was even longer so I asked for a fast track line which they pointed me towards without showing them any paperwork at all so I may try that again. I was directed towards the body scanners – nothing like a bit of positive discrimination for the Caucasian with the highlights. I mean when did a Rod Stewart lookalike last hold up a plane?
True to form my bag was stopped and as she was rifling through my bits we talked Fiji Airways and she confirmed that they are Barry White. Then she found what she was looking for. The Swiss Army Knife that should have been in the hold, the weapon of choice for hijackers everywhere – especially the hoof pick. Anyway I relinquished it after several years of ownership.
When I boarded most of the passengers were seated and I had a aisle seat next to a Chinese chap (they're everywhere). I managed to whack him with my tennis racket whilst he was on the phone. It wasn't deliberate but I think the trade delegation visit to Shanghai planned in March might be in jeopardy.
Saw a fabulous movie on the plane called Black Mass – highly recommend it. Everyone on the ship was talking about it as it was shown one movie night.
Flying over the cyclone proved uneventful but my run of luck continued with a damaged bag with the extending handle no longer doing the job of extending. After a quick moan to someone who really wasn't interested, I jumped into a taxi and 20 minutes later arrived at the Westin on Denarau Island. In the dark it looked fabulous. I was upgraded to something called a Sea Breeze room. Hmmm! When I awoke in the morning I wasn't expecting to see the sea but simply to feel a gentle wafting of air. Then I headed straight to the bar for the Katy glass of champagne. God I miss her.
The overnight monsoon left a beautiful sunny morning and I could look around the resort in the light. Not much of a beach but aside from that very lovely indeed. Either the Chinese are following me or they're everywhere. I know there's over a billion of them but I reckon at any one time, at least half of them are on holiday.
Fiji facts (for Chatters)
1. The national anthem is God Bless Fiji
2. After English and Fijian, Hindi is the third language with a strong Indian influence. More Indians here than native Fijians.
3. Population 860,000
4. Independence from the UK in 1970
5. Fiji is in Melanesia as opposed to Polynesia and Micronesia. They are the three nesias in the Pacific. Of course there's also Indonesia and Milk of Magnesia but they aren't Pacific Islands.
6. Fiji is made up of 300 islands of which 100 or so are inhabited. The largest is Viti Levu where I am which is also home to the capital Suva.
7. Most of the people I've met have unpronounceable names except for June the housekeeping maid. Her name though is pronounced Waiontongaiya.
8. Fijians are made to retire at 55.
In the daytime I went to the driving range where half a dozen balls went vertically hitting the corrugated roof. I didn't think it was possible. There are so many different types of water sports activities to do here and in all honesty I was exhausted just reading the brochure so I had a massage. 90 minutes of skin pummelling from Lorini who was the school shot-put champion, I would have paid her double to stop. When people ask me what I do I say retired which is often a boring answer so they then ask "what did you do". I'm alternating between shepherd, therapist or lingerie designer just to spice it up a little. Having realised you can make up any old rubbish it can be quite fun. I told Lorini therapist and after 90 minutes I wasn't sure who should charge who. Fencing and landscaping just didn't do it!
Despite trying to escape to a far corner of the world, the Fijians go a bundle on Valentine's Day. Oh spiffing! Having tortured myself all day long with my ballad playlist the evening outdoor bar and restaurant were playing back to back love songs. Lots of lovebirds all around gazing into one another's eyes. You're the inspiration, right here waiting, immortality…Sadly music is what sparks emotion in me more than anything else except of course when Superman stands in front of the United Nations and says he's going to get rid the world of all the nuclear weapons in Superman IV – always gets me.
I sat watching the sunset after a glorious day of about 90 degrees thinking about all the sunsets Katy and I watched together. It was one of our favourite things to do. A tearful few days and I'm looking forward to February 15th, that most inconsequential of days.
Monday
I awoke to a cloudy morning but the skies showed promise and it wasn't long before the sun made an appearance. I had breakfast which is a rarity and even though it's not included in my rate, the lady at the front desk gave it to me for free. A Valentine's present as she called it. So I got one after all albeit from a Fijian weightlifter.
I took the one dollar local bus to the town of Nadi and had a mooch about the main shopping district. It wasn't much to look at but the people seemed pleasant enough. On the return trip I stopped at the Denarau Island marina which was far more sophisticated but again not much going on. I wish I had something more riveting to report but aside from my free breakfast from Fatima the Fijian snatch specialist it was a pretty dull day. Even the sunset didn't impress. I need to walk up some more alleyways to see where they lead or start talking to local weirdos.
Nadi is 192km from the capital Suva and almost diametrically opposite on the map. The western side of the island is much drier which is why Nadi was chosen as the site of the military/ international airport. In world war 2 it was used my the Americans during their Pacific campaign.
Later in the beach bar I was befriended by an American chap called James. He was also on his own as his Australian girlfriend had flown back to Sydney earlier that day. James was 27 and in the U.S. Army stationed in Hawaii. His rank was lieutenant but come May he will be a captain. We talked politics and the U.S. Military and I had a thoroughly pleasant evening.
Tuesday was a beautiful day so I spent it loading up on vitamin D. James found me at lunchtime and we lay next to each other talking about all sorts of stuff looking like a couple of nancies. James' father was in the FBI and he filled me in on how they work. My knowledge was confined to the TV detective series. His decision to join the military was in response to 9/11. He was home from school that day when his mom rushed in and said turn on the TV. We met later in the bar before I left for my late flight and he stayed with an even later flight back to Honolulu.
My taxi driver to the airport was a Fijian called Joe and we discussed the divide between the Indian community and the Fijians. There's not much inter marriages and if there are, the kids are called half casts of half bloods. The Indians speak Hindi and the Fijians speak Fijian but when they converse with one another it's English. There is certainly resentment and the prime minister (Fijian) has a deputy who is Indian who apparently walks all over him. The Indians are taking over and Joe did admit that they work hard as opposed to the Fijians who are on Fijian time which is slower than Caribbean time. The Indians were first brought to Fiji by the British to work in the sugar cane fields. That was three generations ago. He also mentioned that the Chinese community is growing at a pace. They're everywhere.
At the airport it was like a ghost town and the couple in from of me had been stranded at the desk as the Fijian chap went on a break. When he returned he finished them off and called me over. I was half expecting him to go on his lunch break while processing me but it must have been my lucky day. Business Class so no issues with "that airline that I'll never fly with again". Except today.
Since arriving I've found the Fijians to be far friendlier. Apparently the first Indians to arrive were convicts and the general attitude of the Fijians is that the Indians are not to be trusted and the best Indian is in a grave. A bit harsh I thought! It's worse than Glasgow!