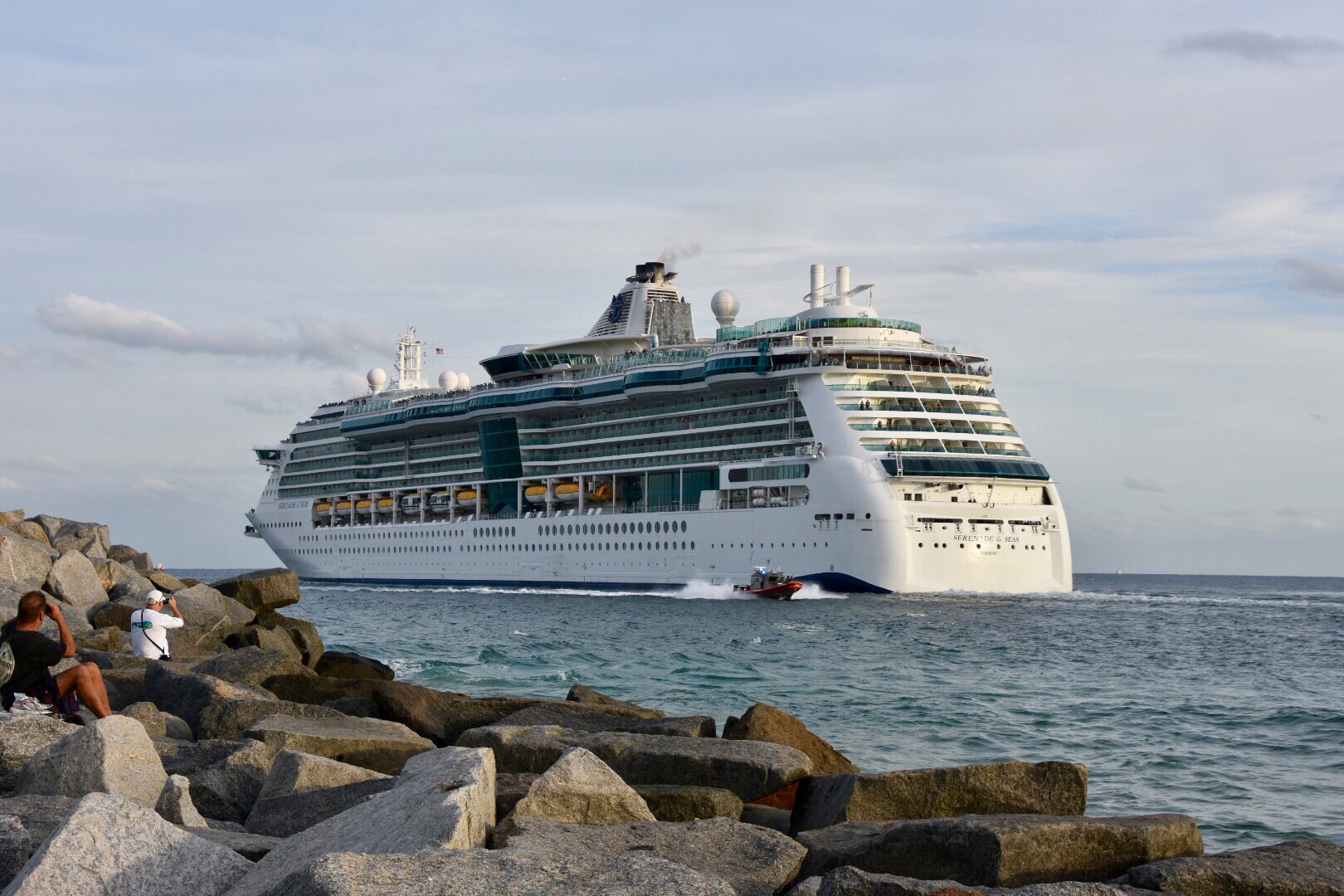 The singles cruise had come to an end and after thinking I'd persuaded Dianna that we could spend some time together doing something in Florida or the Caribbean or wherever she wanted to go, when we met on the outside top deck the next morning reality had kicked in and she said she couldn't do it and that the timing was all wrong. Her and her brother Tony had driven down and had a 600 mile drive back. It's funny going from a euphoric afternoon and evening to a heart wrenching goodbye the following morning. And that was just the passers by. It felt like I was in the cruise ship version of the final "will she, won't she" scene from The Bridges of Madison County.
Well I can do stoic quite well and I both accepted and respected her decision and once again I walked my bags off the ship. I regard carrying 60kg down five flights of stairs, off the ship, through the terminal building and to a waiting taxi as a gym substitute. But I was sad wondering if I'd ever see my special friend again. I'd only really started to get to know her on Thursday and now it was Sunday and my liaison was at an end.
I was also suffering from a week of drinking wine and little sleep because those singles sure can party. I needed a holiday. After arriving at the hotel Lago Mar which is right on the beach, I was told that I couldn't check-in for about 4 hours so I attempted to sleep by the pool. Australian Barbara had arranged to meet me there so we chatted about her week sailing and my ephemeral romance. Then the rain started and it was torrential for ten minutes. I went inside feeling sorry for myself.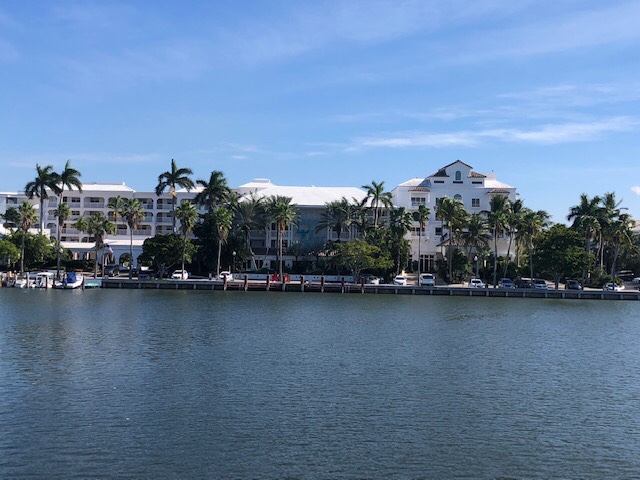 I had a ticket to the Dolphins vs. Patriots but was in no physical or emotional state for an hour in a taxi and lots of whooping so I didn't go and boy do I regret it. Corker of a game with the Dolphins winning with 7 seconds remaining with a 69 yard touchdown which looked more like the Keystone Cops. How they scored remains a mystery. Anyway I shall have to try to go again.
In the evening we had plans to meet Steve and Leslie from the Celebrity cruise and Leslie's twin sister, Lisa. We met in a beautiful boutique hotel called The Pillars and had a fun evening. I wasn't feeling great and my appetite had been missing since Thursday (linked to a rampant change in brain chemistry according Dr. Love on google).
Monday I had breakfast with Barbs before she headed for the airport for her long slog back to Sydney via Dallas. I really enjoyed her company. A smart lady indeed.
I was due to get on ship number four but I'd decided I was cruised out and couldn't face another safety drill (first world problem) and I was going to return to the UK a week early. I needed to change my flight and the plan was to get back for Saturday and go to a party but the business reward flight option from Miami got me home on Sunday but there was one from Atlanta leaving Friday evening. It just so happens that Dianna lives in Atlanta. So a plan was hatched and she would pick me up from the airport on Wednesday. I'd exercised my usual restraint in such matters and lasted all of two days without her. I'd done well.
I went strolling and bumped into Seattle Matt so we had lunch together which was very pleasant. A really nice guy. In fact the nicest pest controller I think I've met in a long while. I headed back to the hotel to grab my camera for the special event of the day. A ten minute walk down the beach brings you to the perfect spot to watch the cruise ships leave the Stranahan River heading out to sea. Normally I'm on the ship looking down at this area. There were four ships in port and first out was the ship I was due to be on. The Serenade of the Seas, first stop Curaçao. Actually it left ten minutes late. I hope they weren't waiting for me. I was a little sad seeing it sail off into the distance but life has taken an unexpected turn. There are also a number of reasons I'd like to get home earlier not least to see Matt and spend more time with family and friends before Australia. And do my washing. It was a weird moment so I FaceTimed Jo so she could experience it with me. I've told Anne I wouldn't be coming back to St Lucia on the 17th for a kitesurfing lesson with Keith and she forgave me. I'm not really sure what's going on.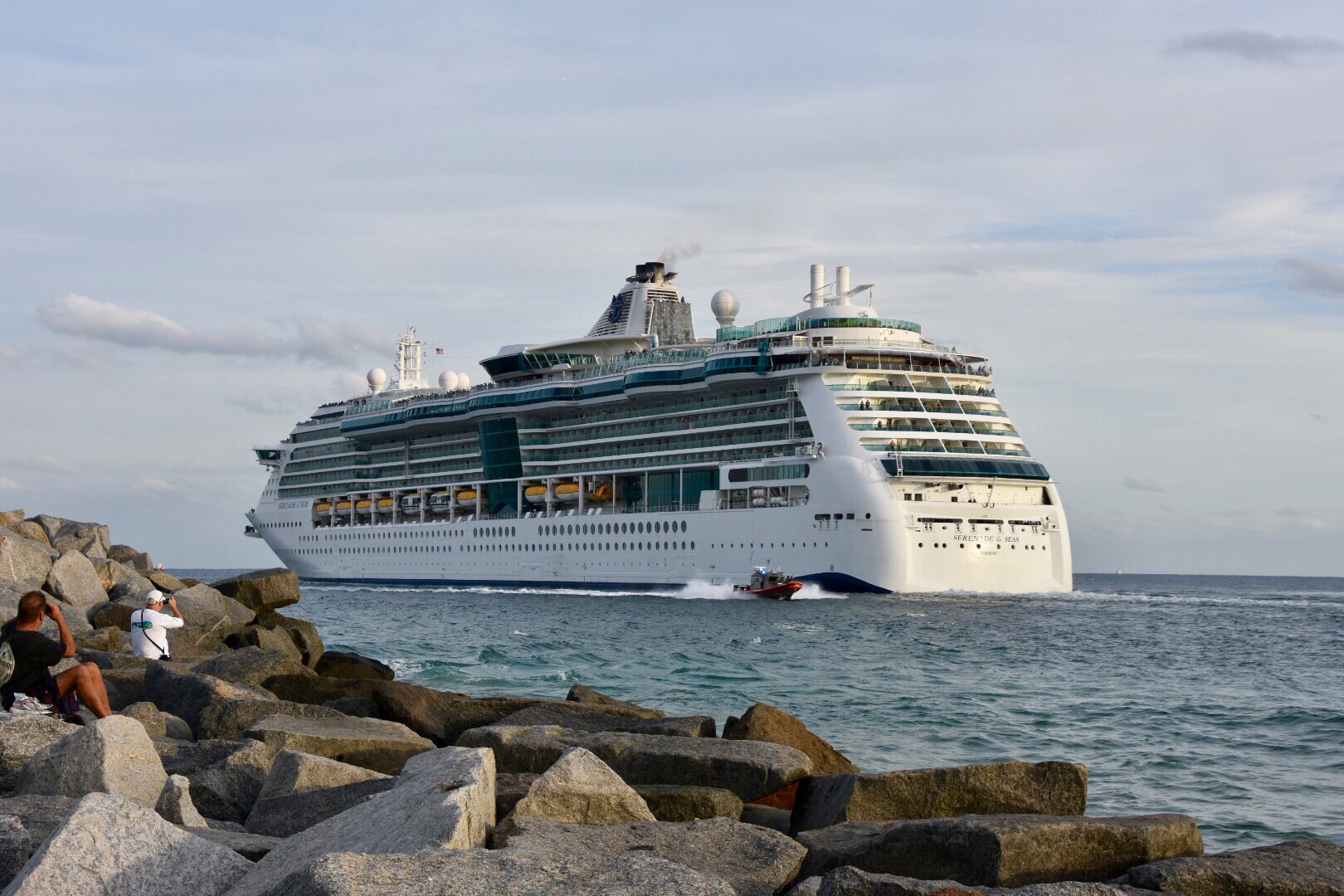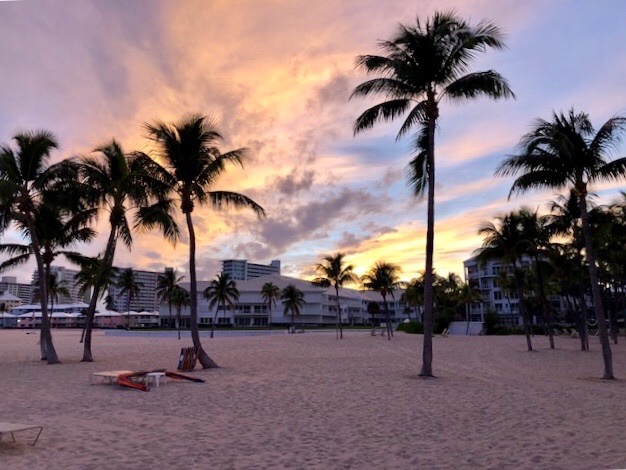 In the evening I ventured out to the hotel pool bar for a candlelit salad (couldn't see a thing and ended up eating things I'd normally avoid). I can report that my appetite has returned after four days of the dopamine and norepinephrine monkeying around. Of course it could be guilt after leaving most of a $44 filet steak the night before. Anyway, today I was Hank Marvin – nothing was safe. Even the lizards looked scared.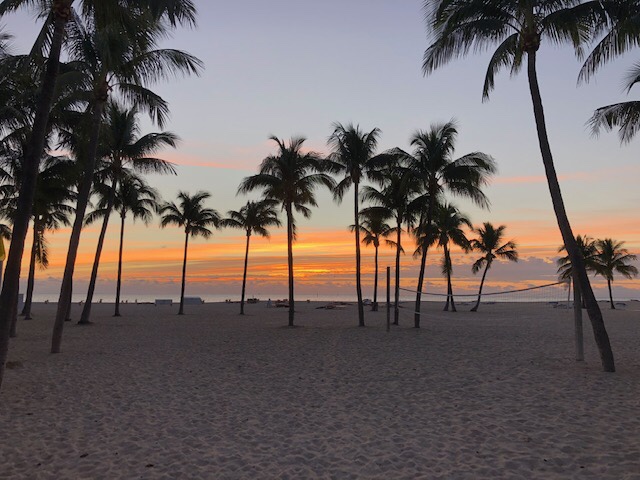 Tuesday was sunny but cool, so face and hand tanning only. I was also scheduling time for strategic packing. I really do have a lot of crap with me. I've booked a first class ticket with Delta to Atlanta for luggage purposes. Next trip it's just 7 kilos. Good luck with that.
I ate, I strolled, I ate some more, I sunned, I listened to Christopher Cross. At 5pm Steve picked me up and he drove me down Las Olas which is one of the main thoroughfares of Fort Lauderdale and a real revelation. I'd though FL was just the beach area but this town/ city has far more to it. I'd been here three or four times before but nothing beats being taken around by a local.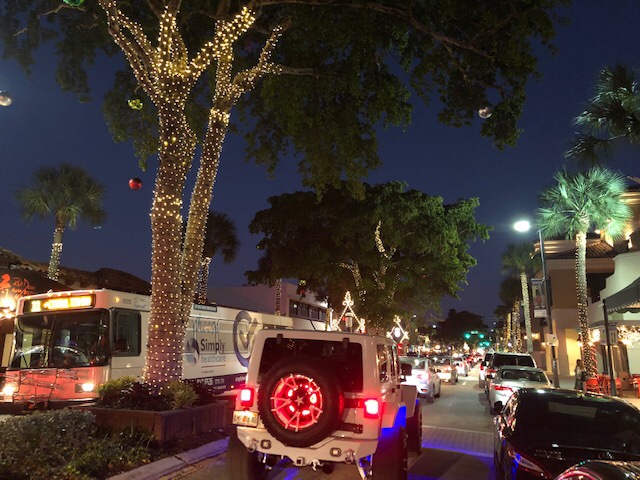 We started in the Boat House bar on the river and progressed to meet Leslie, Lisa and three other friends at the Wilder Bar before ending up in the Royal Pig sports bar for tucker. A really good evening and I'm so grateful to my new friends for their hospitality. I'd like to spend some more time in Fort Lauderdale.
Next stop Atlanta.