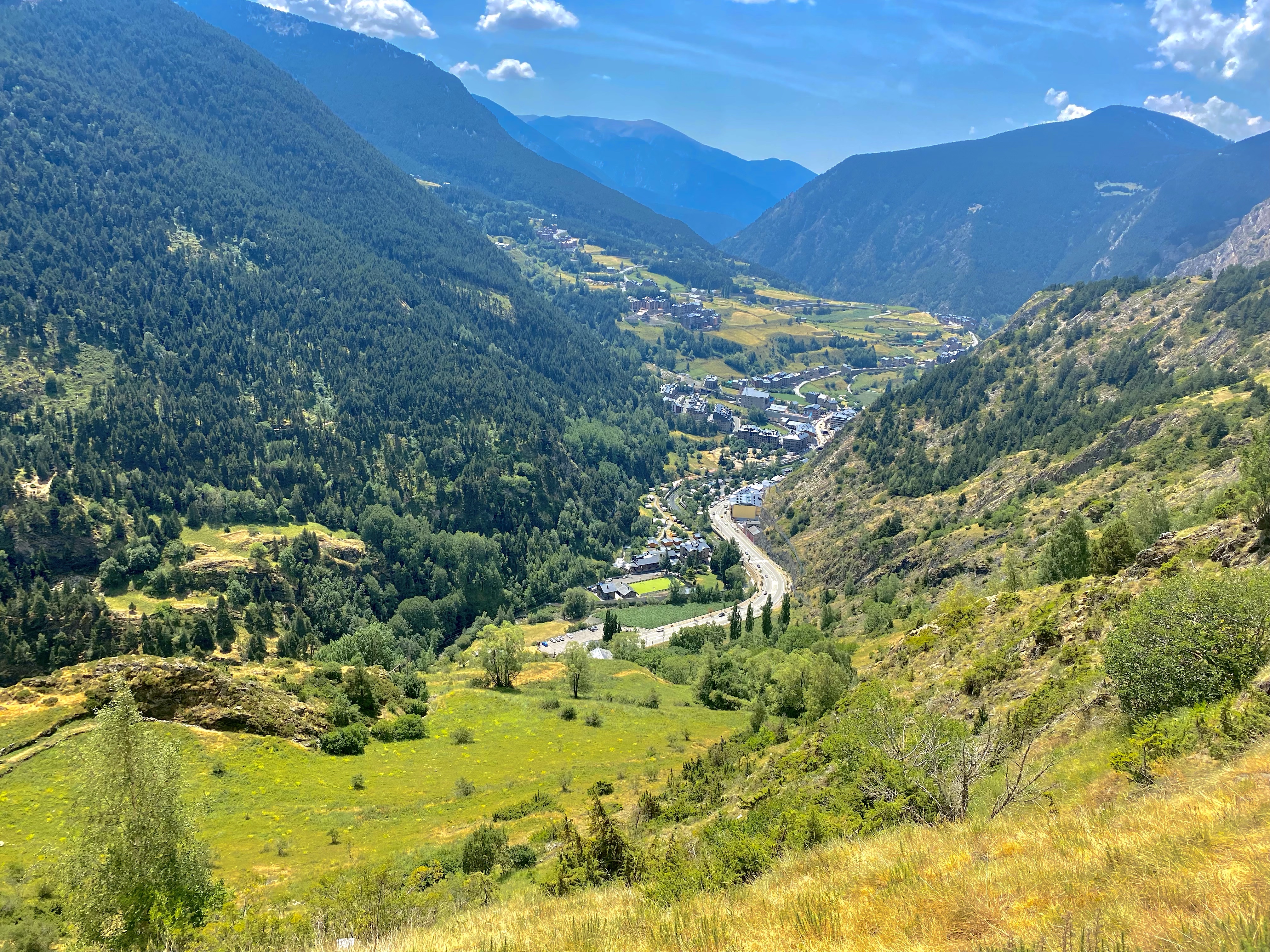 Hiking the Pyrenees in Andorra – Part 1
For the second time this year I was on a Vueling flight to Barcelona. You'd think I would've learnt my lesson the first time round. No "bag drop" so the queue was going all the way to Crawley. It took an hour to check my bag.
After the trauma of check-in, I found a sad little table with a single chair in the corner of Wetherspoons. I was off to a flyer.
The flight was uneventful and the people either side of me weren't bothersome. At BCN I was able to use my Irish passport for only the second time.
I had a couple of hours before the official meeting time, so I amused myself in the bar. I was the first to find our group leader, Donal, who was from Northern Ireland. He seemed like a nice chap. The others in the group soon found us. David & Elaine, Debbie, Faye, Georgette, Josh, Jo, Madeline and Sandra. Three others would join us later. Their plane had been delayed.
The drive to Andorra was four hours in a plush minibus/ coach, with a stop halfway at some one horse town with a one star hotel called the Pedro Negra. It needed the business. Having said that, it had the largest toilets I've seen for a very long time. Fourteen urinals and 7 cubicles.
During the journey I spoke with Debbie who was a science teacher. It turned out there were four teachers in the group. Teachers must like hiking. Also four left handers. Debbie was telling me about her house rabbit called Oliver, who was apparently in charge of things at home. I disguised my disturbance. Apparently, cabbage and curly kale is his favourite. There was little that I could add to the conversation so I just asked questions.
We left Spain, entered Andorra, drove through the capital, Andorra la Vella, and continued to the ski town of Soldeu, 8km from the French border.
After settling in, we dined as a group in the hotel restaurant, where late arrivals, David (2), Ilka and Kate joined us. The Hotel Soldeu Maistre, located exactly 6000ft above sea level (higher than anywhere in the UK), was perfectly adequate as a base for the week. I particularly liked that the bar was just inside the front door. I retired to my single bed after a very long day.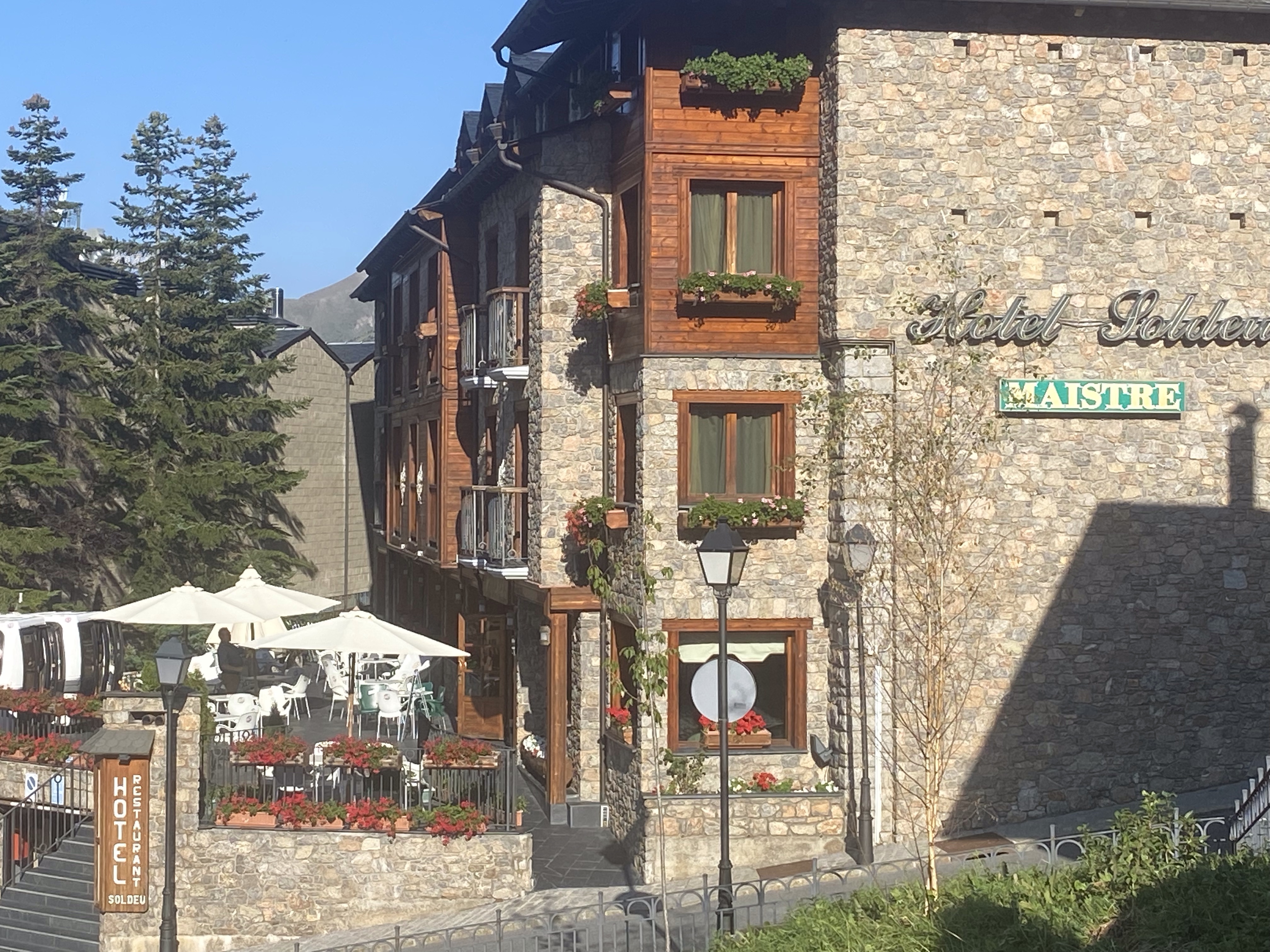 Sunday
We assembled at 9am and were bussed about an hour away, for our first hike. Donal promised us a nice easy first hike at just five hours. I guess "easy" is a relative term. It wasn't too vexing and we all survived. I say all, German Ilka had injured herself in the days leading up to the trip so wasn't with us. She ended up flying home three days earlier than planned.
At the end of the hike we found a small bar run by a couple of Belorussians, and rewarded ourselves. The blue skies of the morning had been replaced by heavy rain as we ran back to the minibus. It was a good "starter hike" and my legs didn't complain too much. We reached a height of 6332ft. Most of the group were experienced hikers. That didn't include me.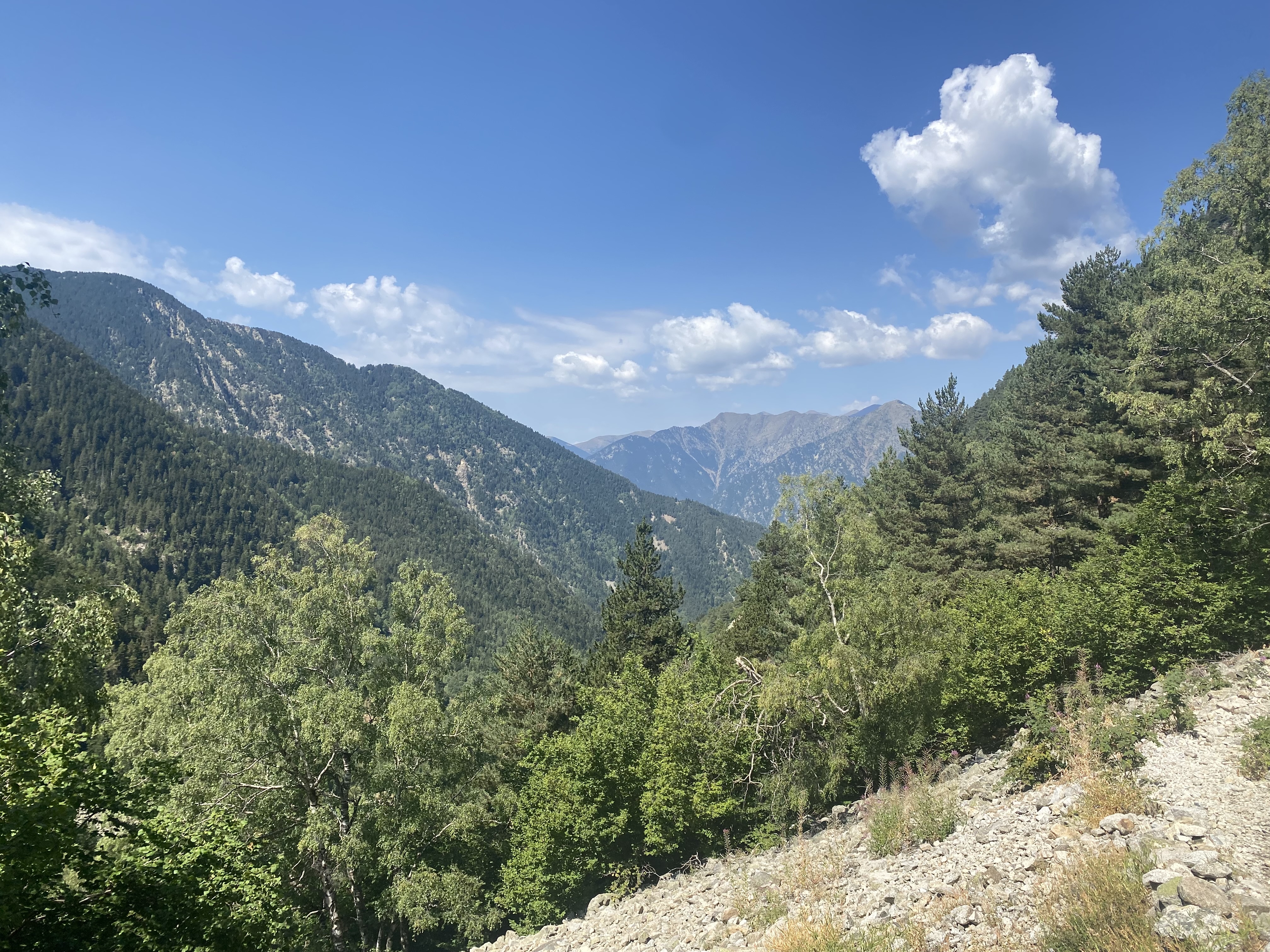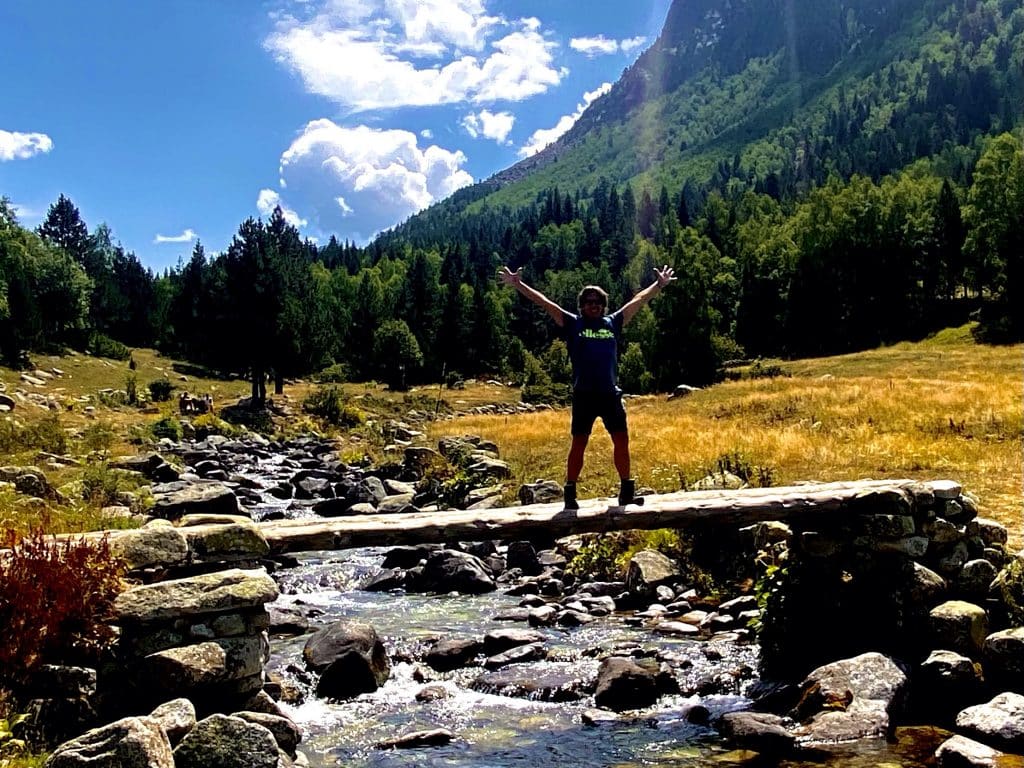 There were 13 of us in the group – four chaps and 9 ladies. The youngest in the group was Josh at 23 followed by Georgette at 29. I think rabbit Debbie was 39 and Sandra could have been a similar age. Kate and Madeline were both 49 and the remaining 7 of us, (magnificent), were over 50.
Monday
I nearly overslept but managed to make the minibus which transported us to our second hike. We had an ascent of 500m and a descent of something or other. I was really only interested in the amount of walking "uphill".
The total time was about 5 1/2 hours and the first hour was brutal. Thighs all around weren't happy. We eventually reached a height of 7086ft.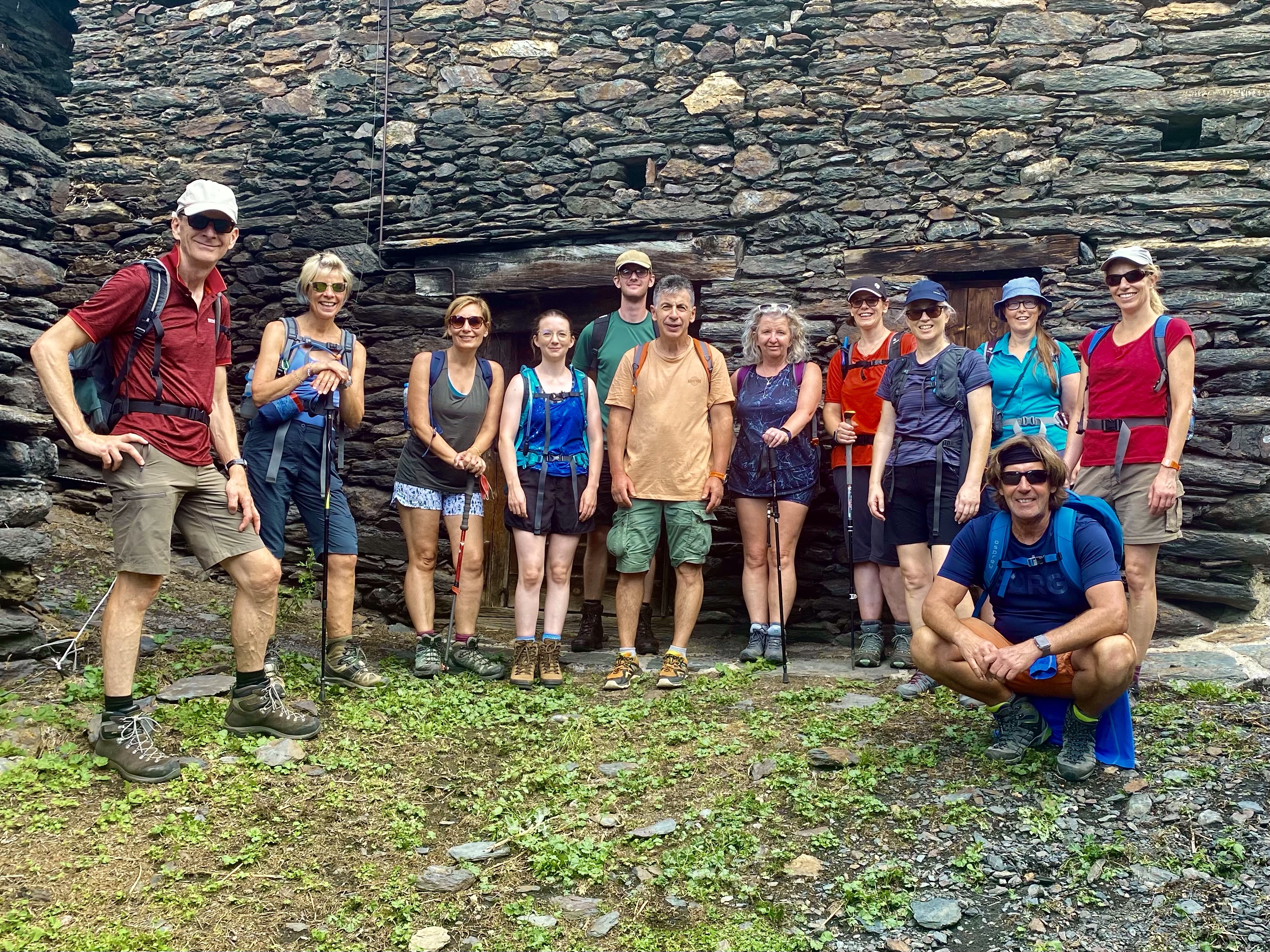 For the second day running we stopped by a babbling brook for lunch – a wonderful setting. I'm getting some great photos. On our journey down to the town of Canillo, we passed Andorra's newest tourist attraction – a Tibetan bridge, which only opened at the end of June. At 603m long it's the second longest Tibetan bridge in the world.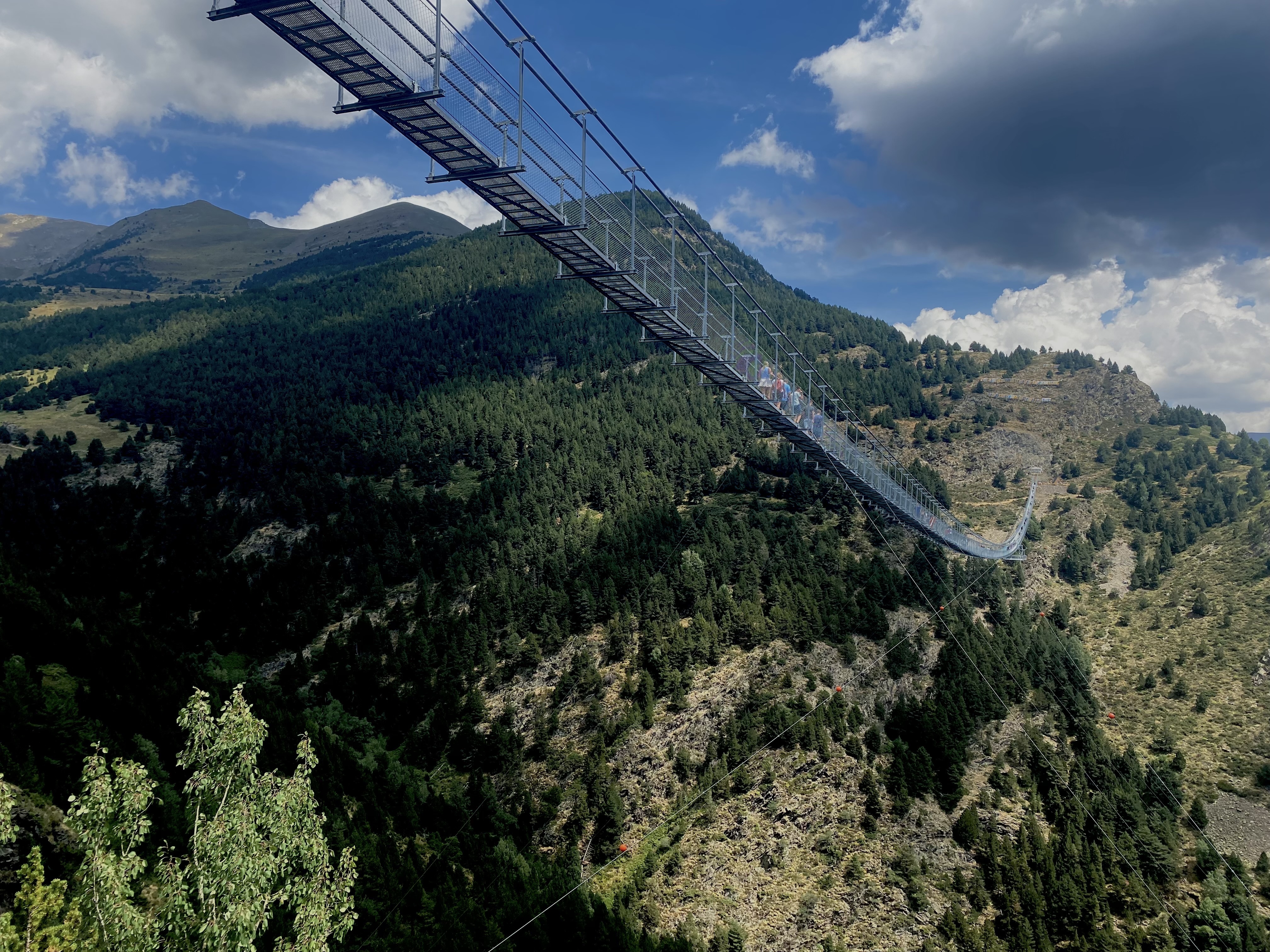 For those of you keeping abreast of Tibetan bridge building, it sounds as if it's become quite competitive. In May of this year, the longest suspension footbridge opened in the Czech Republic, at 721m. If it hadn't been for that, the Andorran one (opened a month later), would have the record.
I got the yellow bus back. Andorran buses are some of the nicest buses I've ever been on. The team dined together again but I declined and decided to work on my book. A great day.
Tuesday
Tuesday was a free day with many options. I had a late breakfast and decided to head up the mountain on the gondola thing. I spent an hour at the top where there was a golf course of all things (the highest in Europe),and lots of little marmots hopping around the fairway. It was a beautiful sunny morning at 7400ft.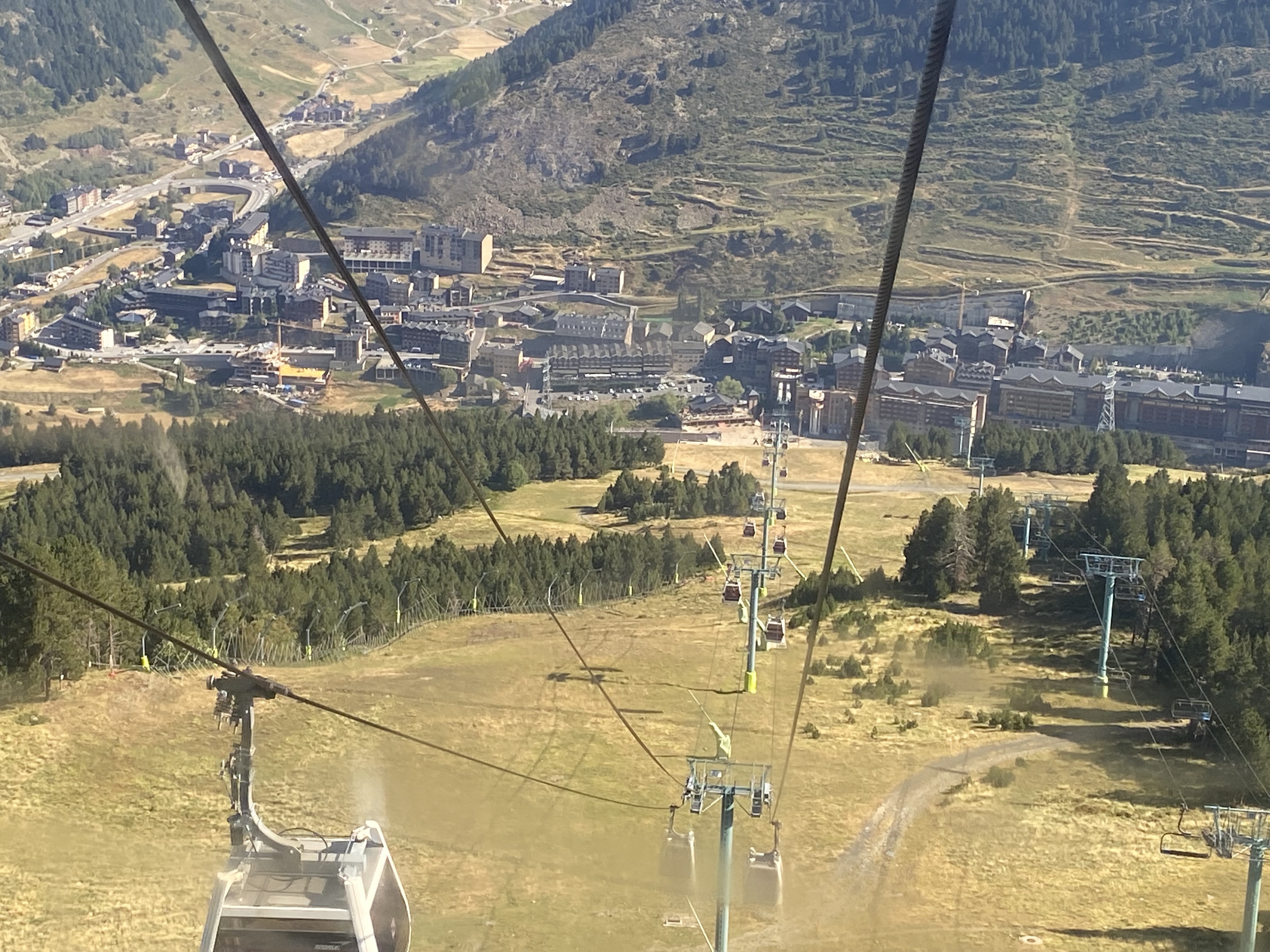 I'd booked a well earned spa and massage at the hotel down the road, so late morning I headed to the Park Hotel. I was the only one in there, and had the freedom of the sauna, steam room, jacuzzis and pool. Others in the group decided to do another hike. I think I had the better deal. This was followed by a massage from Lola. It was a little too gentle for my liking. No pain at all and at one point it sounded like she was playing the bongos on my legs.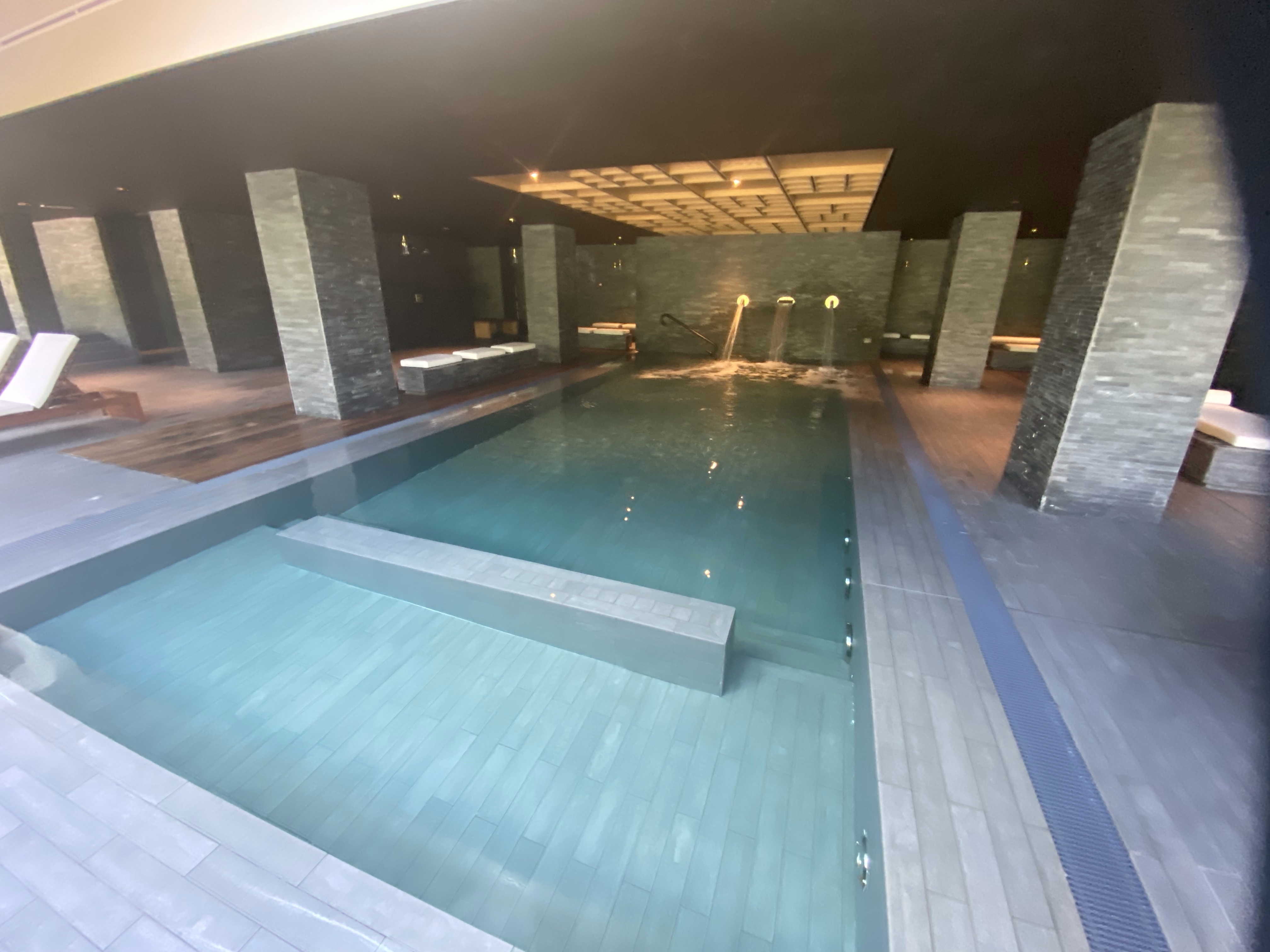 We dined as a group in some French place across the road, however, my appetite had deserted me somewhat, so I just had a rather unsatisfactory starter.
I do like the married couple, David and Elaine (60 and 59), despite them being from Norwich. Both good value and probably the most experienced hikers in the group.
Andorra is a principality nestled in the Pyrenees Mountains between France and Spain. With a population of just over 77,000, it's known as a tax haven and for its duty free shopping. It's the 16th smallest country in the world at 181 square miles, and the 11th smallest in population. And it's the only country in the world where Catalan is the official language.
Andorra la Vella is the highest capital in Europe and they do not have an official currency, but choose to use the euro. It has the highest number of tourists per capita in the world with around 10 million flocking, mostly to ski slopes, in the winter.
Although they have been represented at every Olympics since Montréal in 1976, they've never actually won a medal. Andorra gained independence in 1278 and has never been involved in a war. Apparently they did declare war on Germany during the Second World War but never actually sent any troops to fight. As a result, they were not mentioned in the treaty of Versailles and didn't formally declare peace with Germany until 1957.