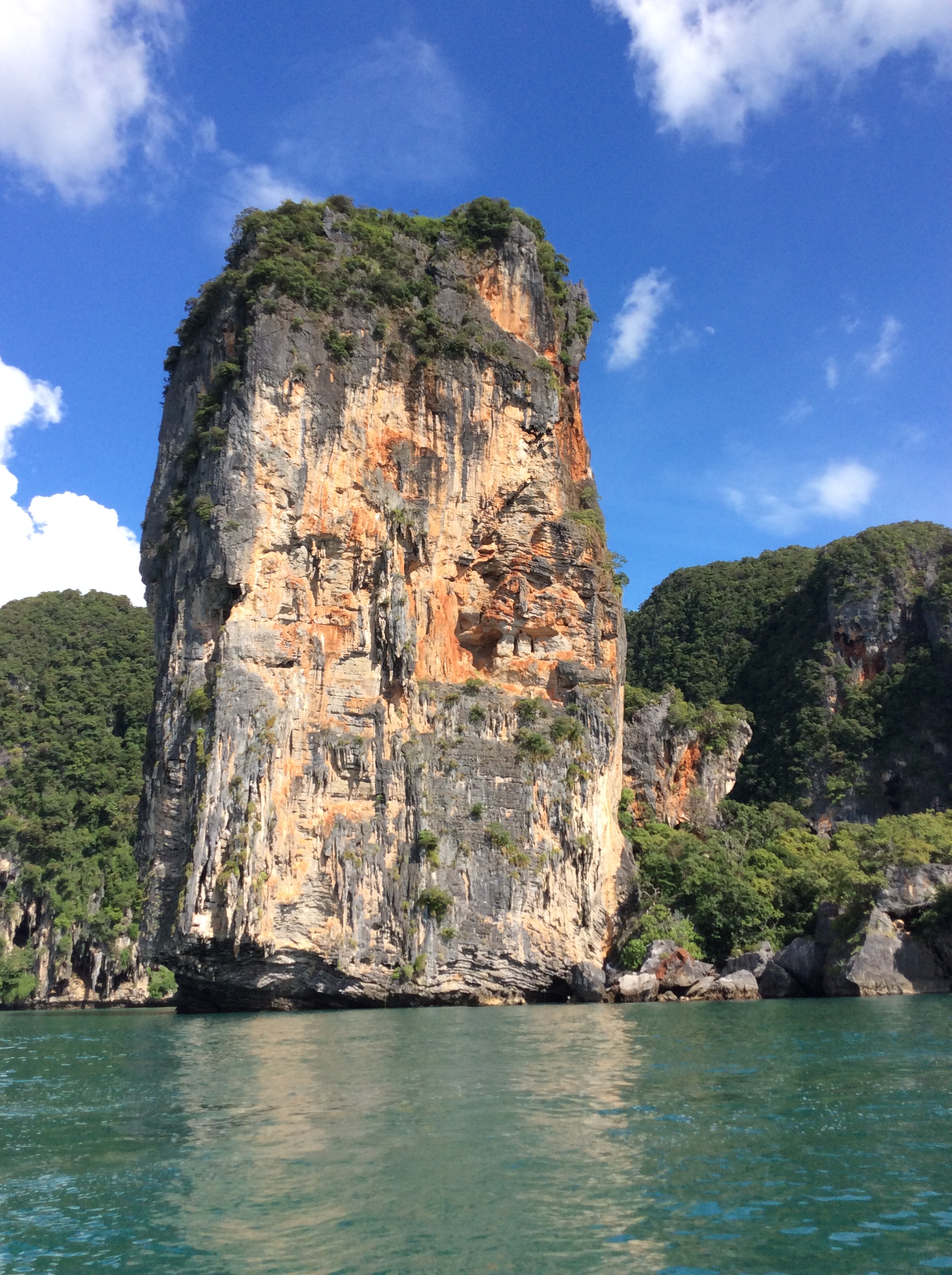 Wednesday
Krabi was one of the locations used in The Man With The Golden Gun – Scaramanga's private island and they have tours to "Bond island".
I thought I was going to miss out on this place after spending an extra day in Singapore with Karla and it really was "the place" I wanted to visit. The photos online looked fabulous, and this from a man who has been to camber sands!
However when I arrived after a five hour taxi ride from Satun (I thought it would take an hour) my first thoughts were this place is ghastly. Lots of tourists with tattoos – it's a deprived version of Blackpool mixed with Benidorm. The photos make it look beautiful but as with so many beautiful places they become spoilt when the masses arrive and the locals are just clamouring for a few extra baht so they don't particularly care.
Then I had an hour to kill before I could pick up my air ticket for Bangkok on Friday (I've had enough of land transport) so I had a Thai massage which consisted of pressure, stretching and a modicum of rubbing. The happy ending was that an hour only cost me £3.85!
When I emerged there was the most beautiful sunset I've seen in years. Crowds were on the beach all taking photos and I suddenly thought Krabi isn't so bad after all.
It's funny how high expectations can lead to disappointment and I'd built Krabi up to be this wonderful place but so many factors need to be considered rather than just a few carefully selected images on a website. As Barry Schwartz once said "the secret of a happy life is low expectations". I've now re-calibrated and tomorrow I'm expecting a fair to middling day…
Back to the massage: halfway through, Goy was walking up my body starting at the feet all the way up my back at which point I was glad I chose the smaller of the two girls.
After dinner I took a wrong turn (that old chestnut) and ended up down this alley with bar after bar full of short dresses with girls inside them. I ran the gauntlet and managed to find an empty bar at the end and had a beer. It was about 9pm and very quiet. I said to the bartender "where are all the men" meaning tourists but I guess it was ambiguous. Before I knew it I was playing pool with a young Thai boy (he was rubbish) A few more beers and games of pool with girls too and out comes connect 4. In fact I could see connect 4 games going on in all the bars. It must be an aphrodisiac for some people. Personally I find scrabble far more "arousing" and as for ker-plunk well that turns me into a rutting rhino.
My curious nature set me off in search of lone tourists and I found this Swedish chap in his fifties who seemed to know the ropes. I think it was clear to everyone that I didn't. I was a fish out of water. I chatted with him and felt more like an investigative journalist than a punter looking for some action. I left, alone, at about 11 after winning pool but losing at connect 4.
Thursday
I decided to escape Butlins and go somewhere less crowded and I found a beach nearby and walked down it for about an hour thinking about Katy. Then I jumped in a motorbike cab and despite his English being worse than my Thai we managed to find a few places to visit although when I jumped in, I had no idea where I wanted to go. From his perspective "one of those annoying customers". I went to a small waterfall and then a rather average beach before he delivered me back to Blackpool. Then it was off to Railay beach which is on the mainland but only accessible by boat.
Absolutely gorgeous (picture below) and these were the images I'd seen online. Well worth the trip which only took 15 minutes in a longtail boat. This is where I wanted to stay but its quieter and the taxi driver probably took one look at me (middle aged man on his own) and thought I wanted the nightlife…I didn't!
One curious thing about this place is that they have zebra crossings. In England put your foot on one and the cars stop. Here the cars and motorbikes have priority so you have to wait until there's a gap in the traffic. So completely and utterly useless.
Then I found O'Malleys a good old Welsh pub and sat there having a few beers and then the heavens opened so I was stuck there for hours. Terrible.
So I'm sending this before my last night out in Krabi. It's 20:01 and I hear there's a bar down the road where clothing is optional. Will report.
Next email from BKK
P.S. I've met someone. Absolutely gorgeous with long silky hair and legs as smooth as a baby's bottom. A fabulous smile, speaks great English. Perfectly proportioned and with the cutest laugh you've ever heard. May need an extra seat at Christmas. I just hope you like Eric as much as I do.