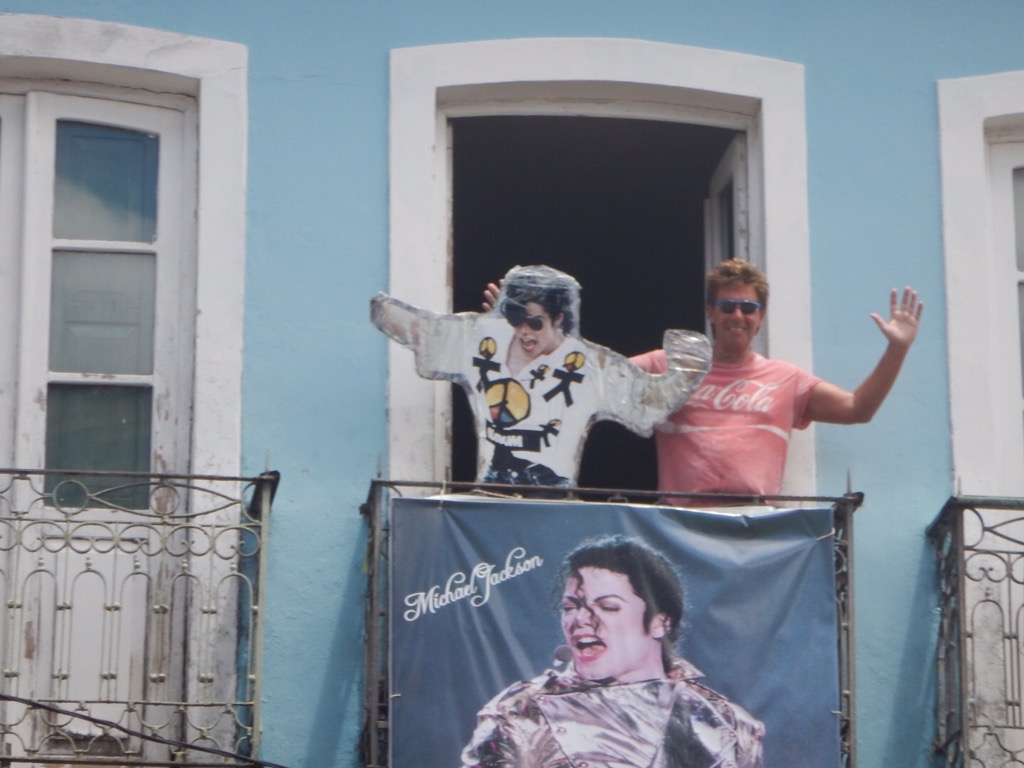 Salvador, Recife, Fortaleza – Brazil
Well Brazil is living up to its reputation as one of the most dangerous countries in the world. We'd been given numerous warnings about not going ashore wearing jewellery or watches and to be discreet with cameras and other electronic devices but some guests obviously didn't get the memo. There were four incidents in Salvador (14th most dangerous city in the world) including Fred having his necklace ripped off and a couple of incidents in Recife (37th most dangerous) including one at knifepoint and a scuffle resulting in a broken wrist which cannot be treated locally so she is flying home.
In all we are due to visit five Brazilian cities which appear on the list of top 50 most dangerous in the world where the criteria used is murders per 100,000 people. It's a worthy measure however it doesn't encompass the broad range of dangers in cities around the world. Crossing the road in Phnom Penh without being hit by a Toyota Camry for example or walking down pavements in Ho Chi Minh City avoiding speeding mopeds and in Manila its dangerous just breathing whilst sitting in a motorcycle sidecar. Most murders in these top 50 cities are gang or drug related therefore limited to segments of the population. Interesting that four U.S. cities made the list.
In Salvador I stepped out with Linda and Elsie from my lunchtime trivia team and we hired a guide/ bodyguard called Adrian who showed us around the old town including an area where a bit more of the Michael Jackson video of They Don't Care About Us was filmed and I got to stand next to a cardboard cutout of MJ on a balcony in the main square where the king of pop stood about twenty years ago. How's that for an underwhelming claim to fame!
Salvador is Brazil's third biggest city and was the first capital of Brazil when the Portuguese first arrived. At one point it was the capital of the Portuguese empire making it the first and only European capital located outside of Europe.
After another hellish sea day 😉the next stop was Recife Brazil's 9th largest city with 1.8m people. The city spreads for miles along the coastline with beaches and skyscrapers at one end and bridges and canals at the other. The Venice of Brazil they call it. We docked in a rather unattractive part of town. It was a great advert for staying onboard but I didn't. Sheryl, Lydia and I went to the 10km long city beach. Five minutes after arriving the heavens opened and we huddled under a beach umbrella for thirty minutes or so. After three hours on the beach the sun finally came out but despite the challenging meteorological conditions we had a super time. Recife is the shark capital of South America so our water activities were limited to the shallows and staying close to large people.
In the evening it was 27 for dinner celebrating 25 years since Anthony had his accident (Celebration of Life). He was a policeman in Delaware and in pursuit of a suspect fell 78ft from a fire escape. He was pensioned off at 27 years old. The rehabilitation took years and he still has physical injuries and suffers psychological issues but he and Deanna are just delightful. An incident that changed their lives forever. The Jack Pack (Britain's Got Talent 2015) are on the ship and they came to the dinner and I sat opposite Andrew who is the main singer. Lovely chaps.
The consensus at the blackjack table was that Recife was a shit-hole and with the safety concerns passengers were wondering why on earth we stopped there – Salvador at least had some charm to it (and a cardboard cutout of MJ).
The following sea day we were lucky to have two dozen albatrosses following the ship and they put on a display for us including diving into the water in pursuit of fish.
Now have you ever wondered how excited or aroused you can get in a given situation. What is your limit for enjoying x? In general we tend to achieve higher states of stimulation when engaging in things we enjoy and the anticipation which precedes it. I guess these are constructs of the mind built over years of ongoing experiential data. But every now and then we get surprised. Our data is thin on the ground and could easily swing violently one way or another with the next encounter.
So a question. How much enjoyment can you get listening to the flute? Well the same for me. I'm not sure I even had a construct for flute playing therefore my expectation level was appropriately lacking. No surprise to learn that the evening entertainment was a flautist from Scotland and I was quite moved in ways that I never thought a flute could move me. I mean I don't think I'll be rushing out to buy "20 Flute Classics" or "Fluty Love Favourites" but he certainly raised the bar for my appreciation of the flute. Danny Boy was particularly emotional 😂.
Tuesday was our third stop since Rio in the port of Fortaleza which is Portuguese for Fortress and sits 3 degrees below the equator – the world's 12th most dangerous city. As we pulled in to the dock I'd never seen so many men ready to catch ropes. The security risks meant that some passengers weren't even going to bother getting off which is a real shame. We've had such a great cruise and it's so sad that the Brazilian stops are taking the shine off it. Separate from the safety fears, we've lost Dutch Chris today as one of his sons who lives in the Bahamas was involved in road accident and has been airlifted to Miami.
As for me, well I'm embarrassed to say that I had a fabulous day. I managed to convince the group to go to Futuro beach so ten of us jumped into three taxis and off we went. We had a time of it fending off beach hawkers who had the persistence of enthusiastic woodpeckers. The waves were particularly lively so the highlight was frolicking in the surf. It was a vibrant place with lots of facilities including a beach massage so I had to have one. Seven bucks for half an hour. A bit steep but there you go! The massage included the "ears" which was a first but they feel more relaxed than they have in (y)ears so no complaints.
Next stop Aleppo.