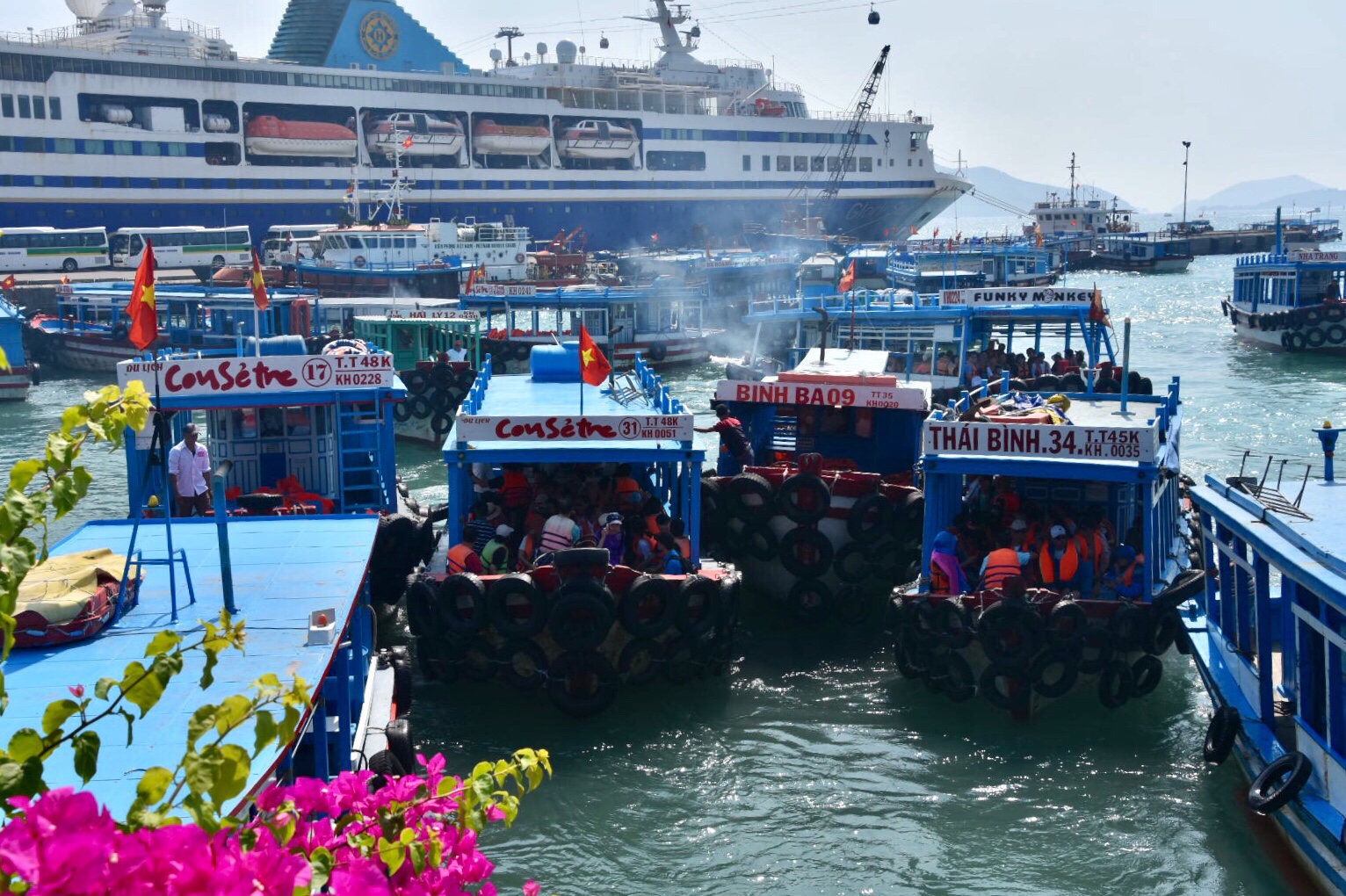 We left Quy Nhon, which I have to say looked quite a nice place and headed out of the city a few miles before being reacquainted with our bikes. We were due to ride 95km which was the longest of the trip but the sun was shining and the scenery above average, including parts of the reunification railway, so all was good. The first 20 was pleasant. The second 20 less so and the third 20 which turned into 30 was very tough. 90 degrees, humid and the psychological issue of going beyond the planned 20km. I have an app which tells me the distance travelled so at 60km I knew I would reach the bus. But it wasn't there. Nor at 61, 62 etc. At each bend I was hoping to see the red and white bus in the distance but kilometre after kilometre it wasn't there. I was cycling alone -behind the leading group and in front of the back markers and it was quite soul destroying. I had to stop and buy water twice. I was rescued at 70km which was quite a morning ride. Then a Vietnamese noodly lunch which as you know would have been as welcome as a fart in a space suit.
The afternoon ride was cut short after the morning debacle. Riding a coastal road in sunshine sounds ideal but into a strong headwind made it hard work/ rather shit. I ducked out after 10k having completed 80k in the day. It was a PB so I was happy. The top riders did the final 10k. Well, the top riders and Raj. The rest of us on the bus were surprised to see the fluorescent Raj disappear with the elite riders. He'd been struggling all day and looked cooked in the second twenty during the morning session. At one point I thought he might be dead by teatime. His morning performance even made Fiona look good.
Anyway he made it albeit being escorted by Gary and Suzanne who wouldn't let him quit. It was like watching a stricken spitfire being escorted home flanked by two wingmen. It's possible that Hollywood might be interested in the film rights. Raj's Final 10.
We ended up in Nha Trang which is a resort city by the sea. Cruise ships stop there so I was familiar with the name. When it comes to holidaying in Vietnam, Nha Trang is pretty much the only place the Russians go. Personally I think containing them is a good thing.
Tuesday was a no cycling/ arse recovery day and we had morning activities including a boat trip which was splendid. We stopped for snorkelling and Raj, despite having buoyancy as a constant companion, opted for the lifejacket. I got in trouble for diving in. Son is a real safety freak. The other day it was taking off my cycling helmet. I've been branded as the rule breaker.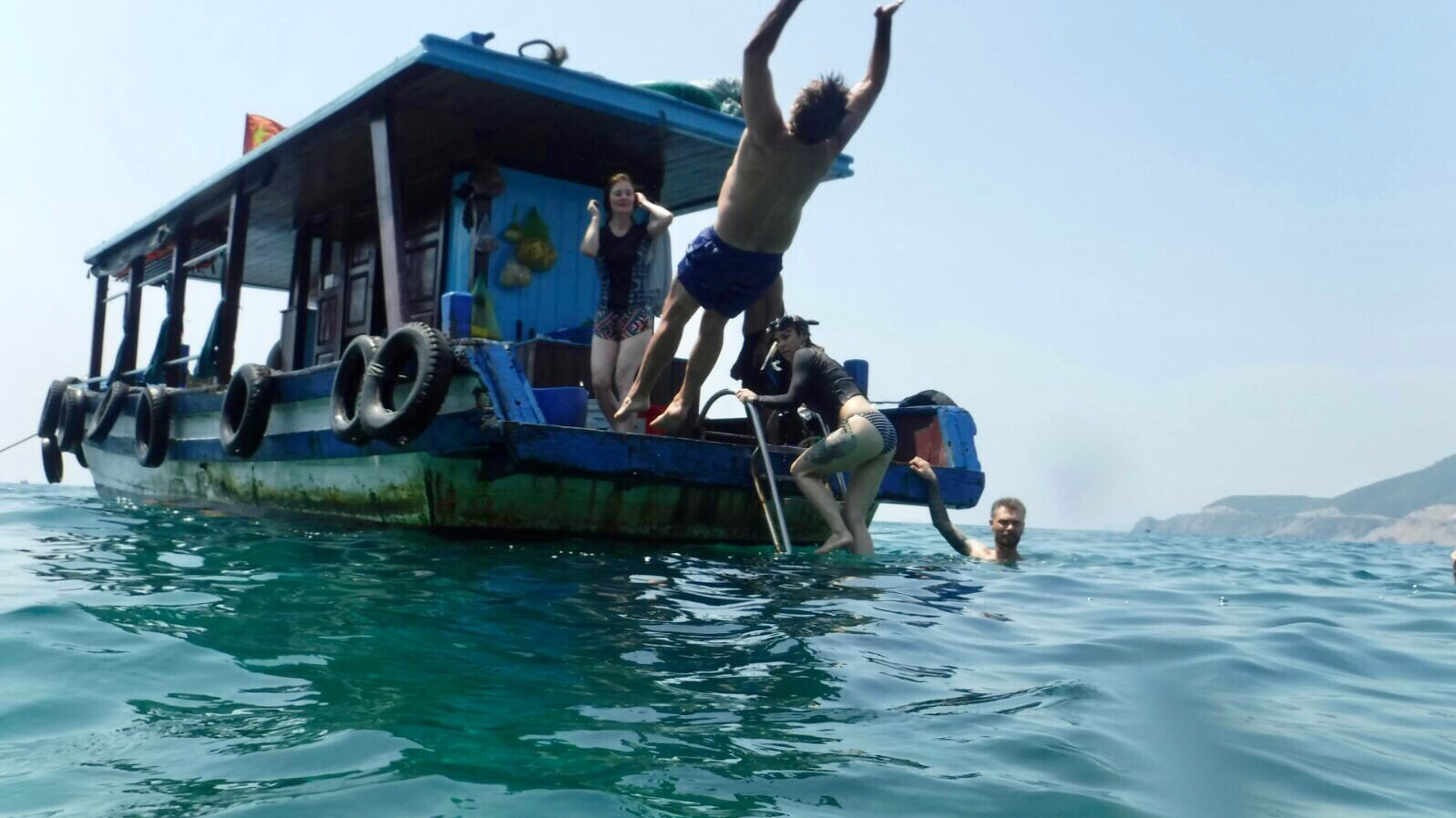 Then it was to a floating fishing village where we were treated to a ride in a coracle. This ancient type of boat is quite popular in Vietnam and we've seen them go at quite a pace despite their ridiculously inefficient design. We had five in ours and I had a go at oaring. It was surprisingly dull but the overall experience lasting about fifteen minutes was a perfect way to spend fifteen minutes.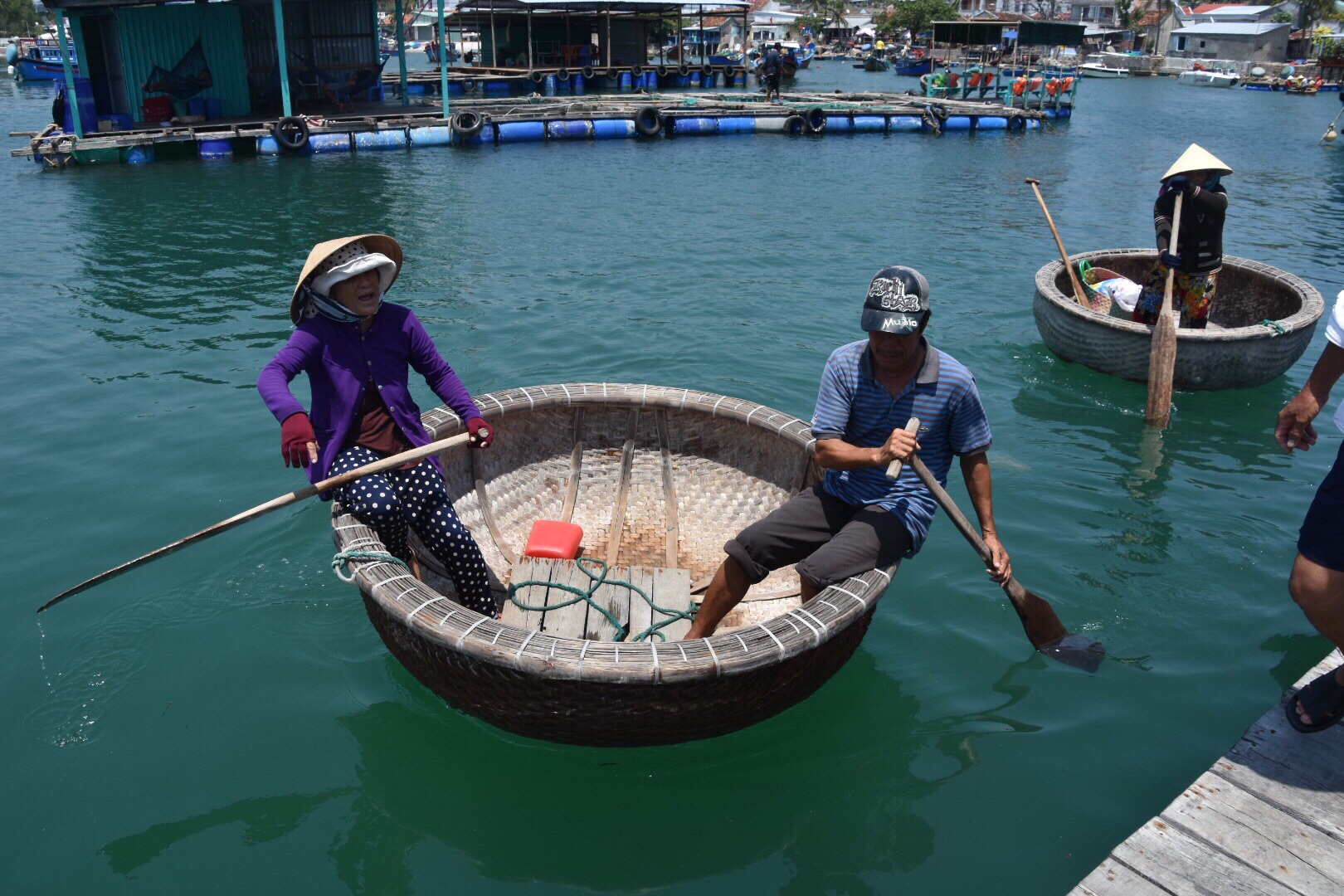 We stopped mid-sea for lunch which yet again provided way too much food including the old favourites – noodles, rice, tofu. The tofu acts purely as a table ornament as none of us are keen and Son hasn't realised yet. He should phone ahead and say "don't bother with the tofu". Justin came out with the line of the day when he asked Raj who he'd now witnessed cycling for a week and snorkelling with a floatation device "so what's your sport".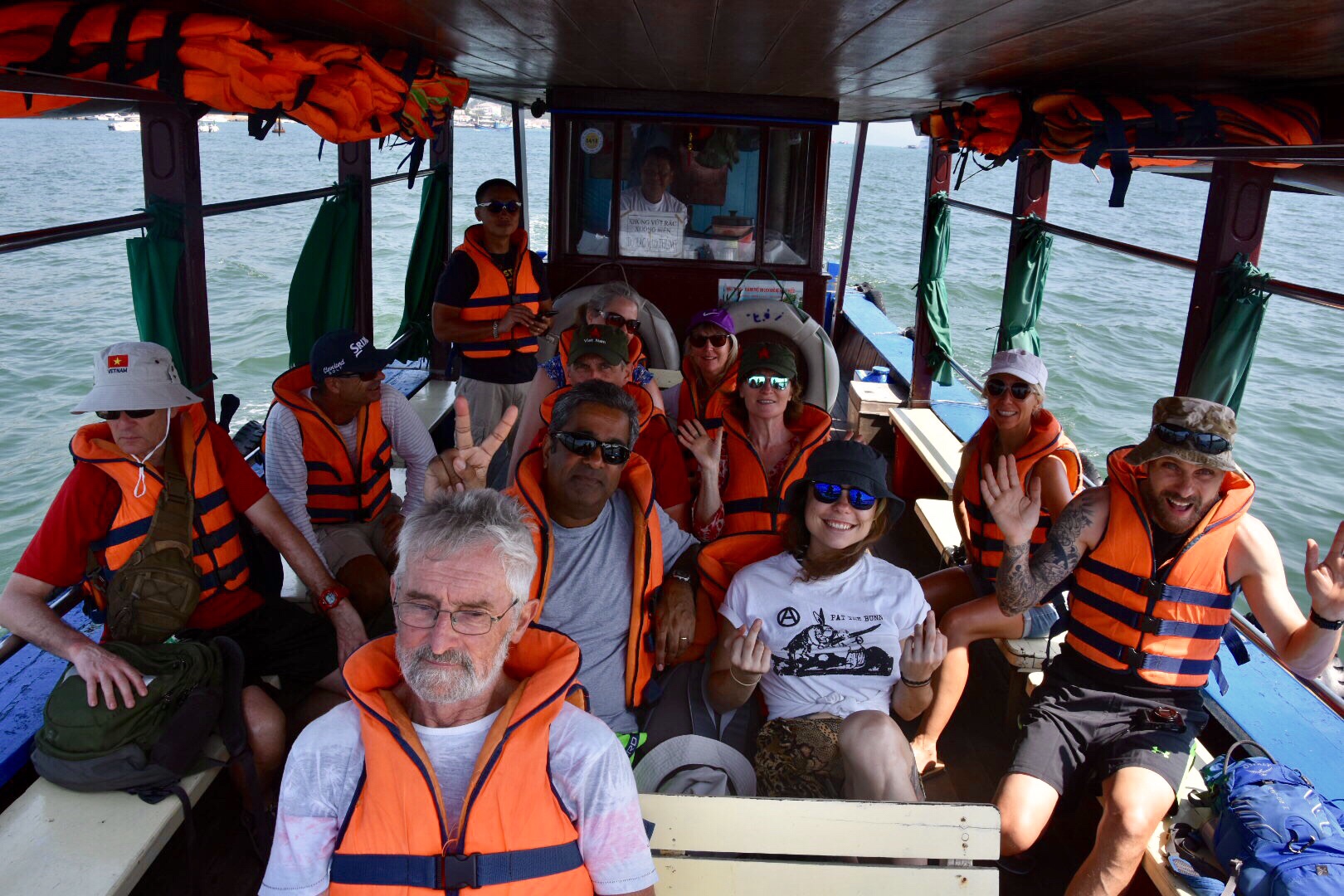 As an aside, I'm a little concerned about the sexual intentions of our bus driver. The other day he picked me up with his hands close to me nethers, then he wanted to wrestle and I happened to share a lift with him yesterday and he had his arm around me and it lingered a little too long. I swear I'm not encouraging his behaviour.
The afternoon was free so I went to the beach and got talking to a Korean guy with a drone. He was in Vietnam on a fact-finding mission in preparation for launching his drone hire business (pun intended). His drone could reach heights of 500m and a speed of 40mph. I'd lose the thing. I can't even track a golf ball over 100m. Dinner with the happy trio was Greek after an Italian the night before. There's nothing wrong with Vietnamese food except the taste, the ingredients and the lack of variety. Other than that it's culinary arousal like you never experienced.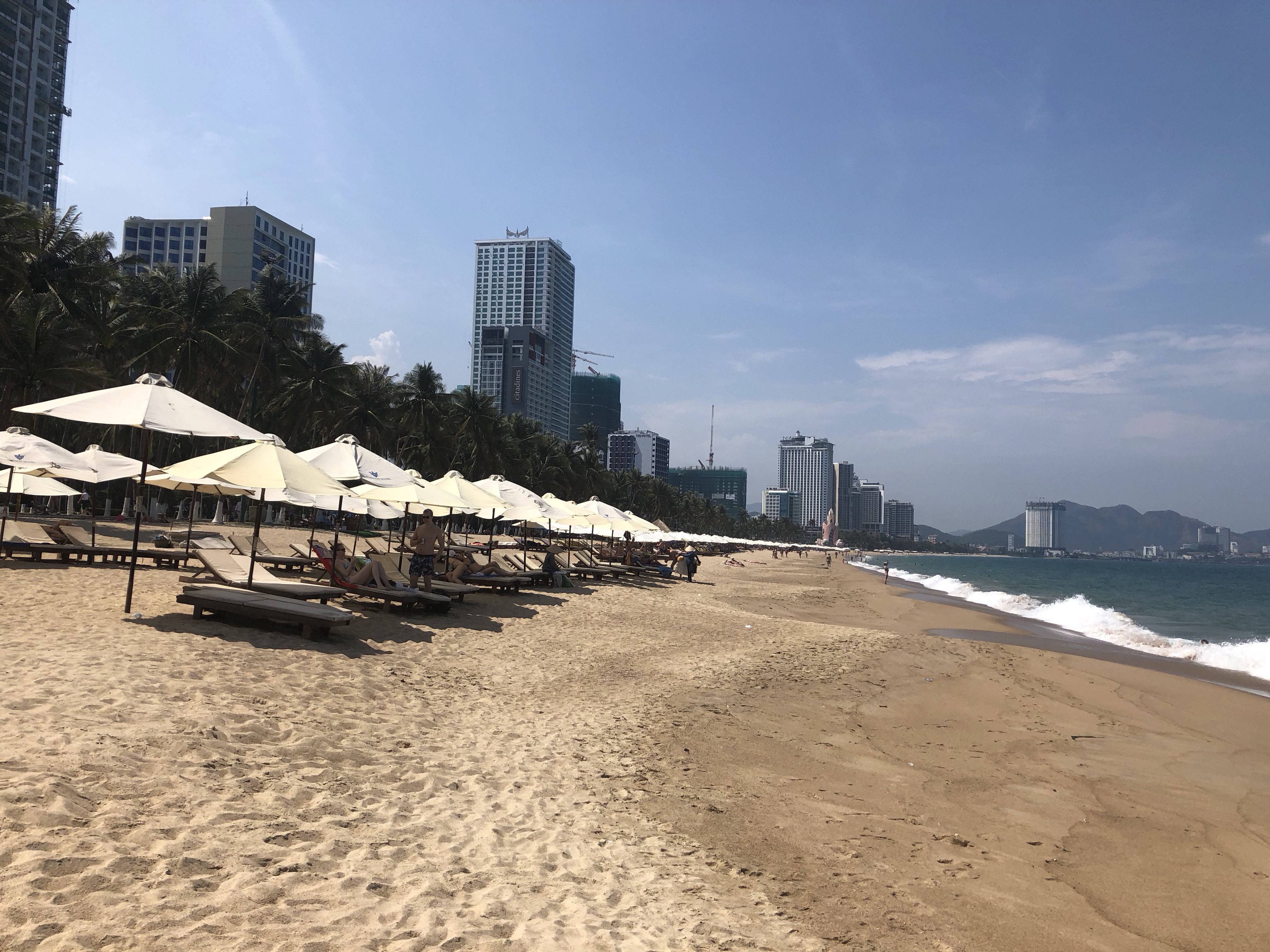 Crossing the road in Vietnam is just bonkers. Zebra crossings are just places for pedestrians to congregate but cars, buses, lorries, motorbikes all ignore them completely. You just have to take a chance and slowly start crossing when a gap appears and keep going as each new opportunity arises. It's perilous but it seems to work.
We left Nha Trang (again I could have stayed for a week) and headed inland to the Dalat which is a fairly mountainous region where they make Vietnamese wine cunningly called Dalat. It's barely drinkable but after a few it no longer matters. Cycling was 65k today which was most pleasant. It gets easier and easier as the fitness level improves. Son treated us to a few stops before we reached the Sammy Hotel the first being Dalat Railway Station where we all did a great job of containing our excitement and the second was the Crazy House which was actually quite interesting. It was Salvador Dali on drugs with oddly shaped concrete stairways curving in all directions. I'm already making plans for another cycling holiday. 😉